Modern Wedding Cakes
The term "modern wedding cake" may mean different things to different people. Here at A Wedding Cake Blog, we take the term to mean anything with a contemporary feel; a cake that eschews the traditional white on white, piped and buttercreamed and trimmed with swags or roses. Modern may refer to a bold use of color, or a contemporary decor or shape. It may also refer to choosing something other than the grand, traditional tiered cake – a cake of macarons, for instance, or an assortment of individual cakes. Modern means that you are updating the tradition: perhaps you aren't entirely throwing it out. You're just giving it a breath of fresh air.
0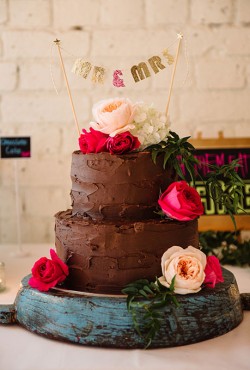 It's that time of year again – when I am finally over summer and just want it to be fall.
I need cooler temperatures, warm sweaters, and pumpkin spice everything. A chocolate cake would be nice too!
I love the idea of having a chocolate cake as your wedding cake. It's so non-traditional – even if I keep seeing it mentioned on wedding websites. Read More
0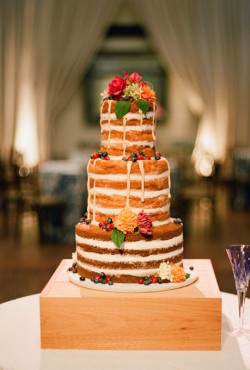 It's been a bit chilly around here in the evenings, which makes me think about fall.
Oh how I love fall. It's my favorite season – full of apples, sweaters, and all things pumpkin spice.
Of course I know we still have weeks of summer left. That's how it is in August and September in the Midwest. We get teases of fall for weeks. Read More
0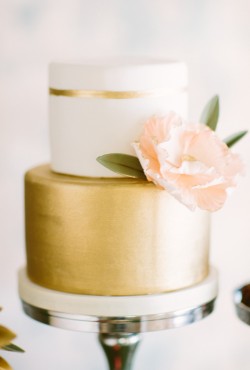 I don't know about you but I'm still glued to the television every night watching the 2016 Summer Olympics.
I'm cheering on Team USA every night (although I will admit to rooting for Usain Bolt the other night!).
And since we are winning a whole lotta gold medals in Rio, I wanted to find a gold wedding cake to keep with the Olympic theme. Read More
0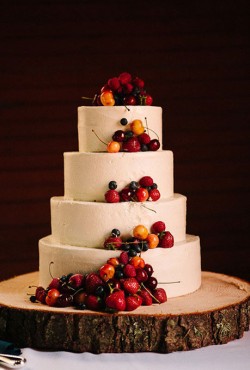 One of my favorite things about mid-to-late summer is the abundance of fresh fruit at my local market. Peaches, plums, cherries, berries, and more.
And I can't think of a better way to showcase all those gorgeous fruits than on a lovely white wedding cake!
People don't often think about using fresh fruits as an embellishment on a cake, but it really is genius. Read More
0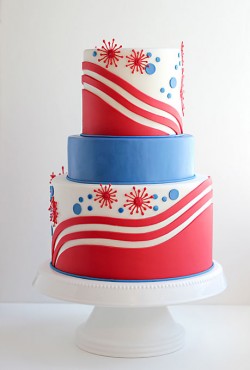 I don't know about you, but I've been glued to the television every night watching Team USA at the 2016 Olympic Games.
So that got me thinking about red, white, and blue wedding cakes – of course! – so my mission today was to find a patriotic-themed cake in honor of Team USA.
I think this cake fits that bill! Read More
0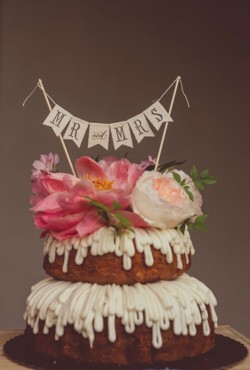 Ah, bundt cakes. The ubiquitous cake of the 1950s and 1960s.
They're so retro that they're cool again – just ask my mom. She loves to bake bundt cakes for family birthdays, complete with homemade chocolate drizzle.
Imagine having a bundt cake as your wedding cake – now that would be cool. Plus, they're basically the original "naked" cake, with only a drizzle of frosting. Read More
0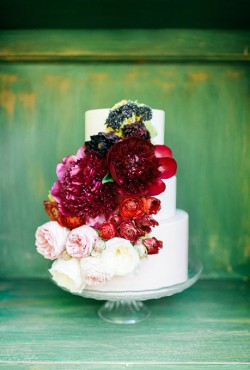 I'm a big fan of fresh flowers on wedding cakes.
My own wedding cake was adorned with bunches of Black Magic roses and those dark red blooms made the white cake really pop!
Today cake goes floral in a really big way!
The three tier cake is almost taken over by bright flowers, but oddly enough it works without being "too much." Read More
0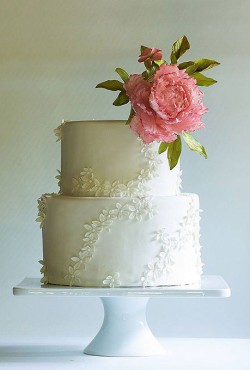 I'm back with another lace-inspired wedding cake because I honestly just can't get enough!
Today's cake is one that I could stare at for hours, it's so gorgeous.
The lace effect on this cake was painstakingly created by creating dozens of tiny sugar blossoms and then arranging them in a trail on the cake. Imagine the time it took – this cake is really too pretty to eat! Read More
0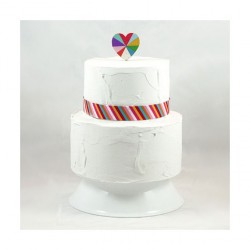 Since we're in the dog days of summer it seems like a good time to showcase another simple rainbow wedding cake.
Rainbows and summer go hand-in-hand, right?
I love the simplicity of this cake. It's not fussy or over-the-top. It's just a simple two-tier white wedding cake with a little bit of color added thanks to a cute little cake topper. Read More
0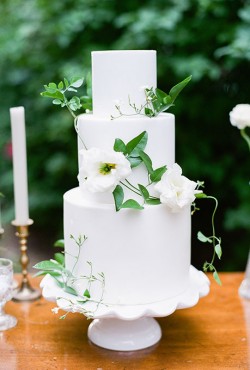 I love an over-the-top, non-traditional wedding cake just as much as the next non-traditionalist. But I also love simple wedding cakes that are both elegant and gorgeous.
Take today's wedding cake as an example.
There isn't a lot going on with the cake but that's what makes it special. The 'wow' factor is in the cake's simplicity.
A stark white tiered cake topped with fresh white blooms. It's simple and beautiful and makes a statement by not being over-the-top. Read More