Modern Wedding Cakes
The term "modern wedding cake" may mean different things to different people. Here at A Wedding Cake Blog, we take the term to mean anything with a contemporary feel; a cake that eschews the traditional white on white, piped and buttercreamed and trimmed with swags or roses. Modern may refer to a bold use of color, or a contemporary decor or shape. It may also refer to choosing something other than the grand, traditional tiered cake – a cake of macarons, for instance, or an assortment of individual cakes. Modern means that you are updating the tradition: perhaps you aren't entirely throwing it out. You're just giving it a breath of fresh air.
0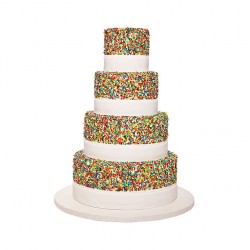 Happy February! We're thismuch closer to spring now!
And we're thinking warm and cheery thoughts today with this fun rainbow wedding cake.
Who needs a plain ol' white wedding cake when you can add sprinkles for some fun and whimsy? Read More
0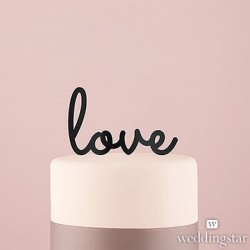 All you need is love.
And all your wedding cake needs is this script 'love' cake topper.
It's simple and elegant and says it all with just one word.
I love this cake topper because it is so simple and yet it would work on just about any cake design you choose. Read More
0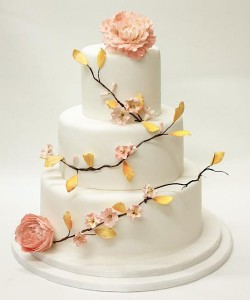 It seems like a good time to start dreaming about springtime wedding cakes adorned with gorgeous blooms.
Never-ending winter weather will do that to a girl, ya know?
I'm loving this wedding cakes thanks to its simple elegance and charm. Read More
0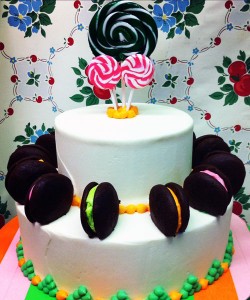 OK, here we are. In the middle of January. It's cold and snowy and we need something to cheer us up!
Well I'm happy to report that I found something – this wedding cake!
How can you not smile when you look at this fun and whimsical wedding cake? It is decorated with whoopie pies for crying out loud.
Whoopie pies. On a wedding cake. My day is complete. Read More
0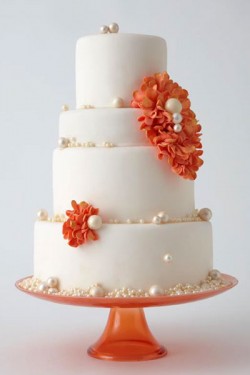 There's a fresh blanket of snow around here today, which has me daydreaming about spring and sunshine and flowers.
So of course that means that I had to find a cake that featured a bright, springy flower!
This elegant white cake with the peach flowers is the perfect antidote to a gloomy winter day.
The multi-tiered white cake features classic white icing that could have been boring but for the addition of the different sizes of pearls. Read More
0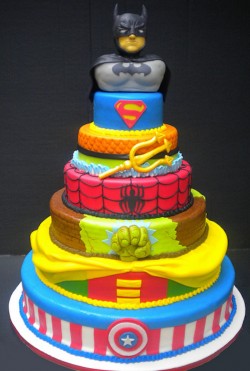 Happy New Year!
Since we're just a few days into 2016 it seemed like a good time to ease into the week … especially for those of you who might have been enjoying time off for the last week (or two).
So today's cake is all about fun – check out the superhero wedding cake!
Now granted, they're mixing Marvel and DC Comics which might be a big superhero no-no, but we don't care. This cake is COOL! Read More
0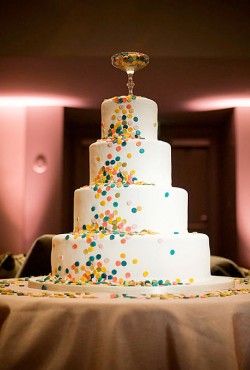 As we move deeper and deeper into the dreary, gray months of winter it's always nice to showcase a cheery and bright wedding cake.
Take this lovely rainbow cake. I love the elegant yet whimsical take on using rainbow colors to decorate the cake.
The cascade of rainbow candy from the champagne glass is so much fun. Read More
0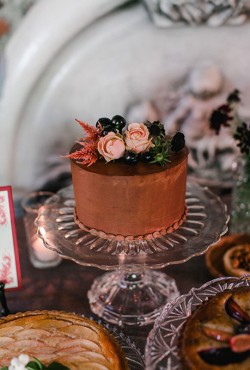 I love simple wedding cakes.
And if that simple wedding cake happens to be a chocolate wedding cake that's even better!
This one-tier chocolate cake would be ideal for a small, intimate reception.
Or it would be great if the bride and groom want to have their own cake while letting the guests enjoy a dessert bar filled with sweet treats like candy, cupcakes, or even mini cakes. Read More
0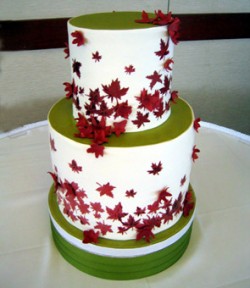 It's beginning to look a lot like Christmas around here so it seemed like a good day to find a green and red wedding cake!
I love this cake. It's fun and modern and whimsical. And it would be great for a winter wedding.
The three-tiered cake features bright green icing one the top of the tiers which really makes the cake pop. Read More
0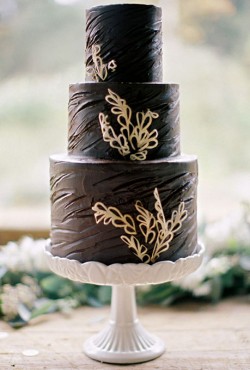 Chocolate cakes as wedding cakes is a trend I can completely support.
I love the idea of serving up something nontraditional – like this dark chocolate wedding cake.
It's so dramatic and unexpected which makes it perfect!
Of course a cake like this would be great at a winter wedding when it's cold outside. Read More