Modern Wedding Cakes
The term "modern wedding cake" may mean different things to different people. Here at A Wedding Cake Blog, we take the term to mean anything with a contemporary feel; a cake that eschews the traditional white on white, piped and buttercreamed and trimmed with swags or roses. Modern may refer to a bold use of color, or a contemporary decor or shape. It may also refer to choosing something other than the grand, traditional tiered cake – a cake of macarons, for instance, or an assortment of individual cakes. Modern means that you are updating the tradition: perhaps you aren't entirely throwing it out. You're just giving it a breath of fresh air.
0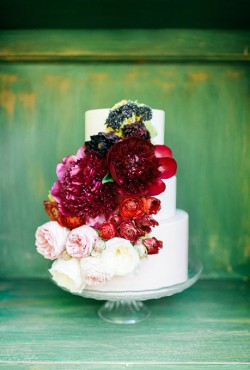 I'm a big fan of fresh flowers on wedding cakes.
My own wedding cake was adorned with bunches of Black Magic roses and those dark red blooms made the white cake really pop!
Today cake goes floral in a really big way!
The three tier cake is almost taken over by bright flowers, but oddly enough it works without being "too much." Read More
0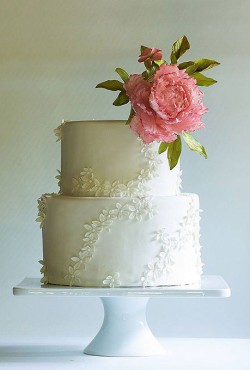 I'm back with another lace-inspired wedding cake because I honestly just can't get enough!
Today's cake is one that I could stare at for hours, it's so gorgeous.
The lace effect on this cake was painstakingly created by creating dozens of tiny sugar blossoms and then arranging them in a trail on the cake. Imagine the time it took – this cake is really too pretty to eat! Read More
0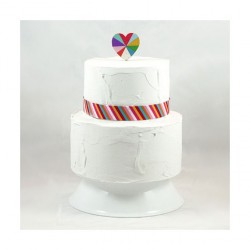 Since we're in the dog days of summer it seems like a good time to showcase another simple rainbow wedding cake.
Rainbows and summer go hand-in-hand, right?
I love the simplicity of this cake. It's not fussy or over-the-top. It's just a simple two-tier white wedding cake with a little bit of color added thanks to a cute little cake topper. Read More
0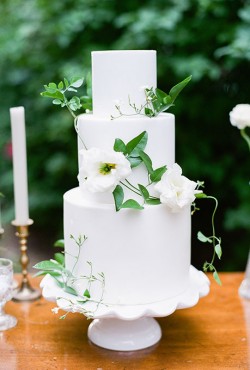 I love an over-the-top, non-traditional wedding cake just as much as the next non-traditionalist. But I also love simple wedding cakes that are both elegant and gorgeous.
Take today's wedding cake as an example.
There isn't a lot going on with the cake but that's what makes it special. The 'wow' factor is in the cake's simplicity.
A stark white tiered cake topped with fresh white blooms. It's simple and beautiful and makes a statement by not being over-the-top. Read More
0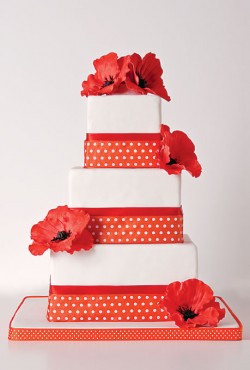 I am a huge fan of all things polka dot. There is something so fun and yet classy about those polka dots.
Plus, it's fun to say (and type) polka dot. 😉
While my favorite polka dot combo is black and white, I am loving today's wedding cake featuring red and white polka dots! Read More
0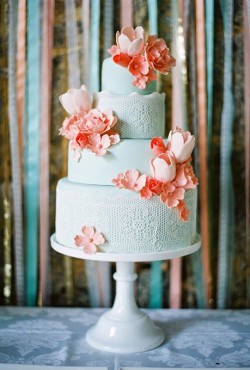 Lace-inspired wedding cakes are a trend I could definitely get behind, especially for summer weddings.
I love the idea of incorporating lace into the design of one's wedding cake.
You could even take a sample of the lace from your wedding dress and have the design appear on your cake. Read More
0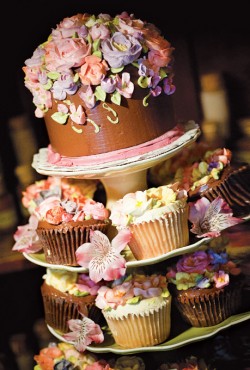 I love the idea of serving cupcakes at a wedding reception.
They're fun and functional. And everyone loves cupcakes!
But what if you want to serve cupcakes but still have a traditional wedding cake to cut too? Simple – serve both!
This is a fun concept – have a small, one tier wedding cake as the "main" cake – basically for the couple to cut – and then surround it by gorgeous cupcakes. Read More
0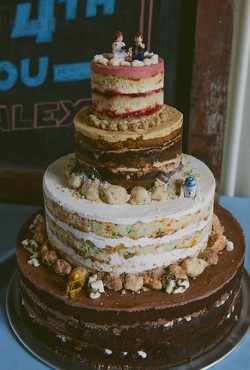 Today I'm showcasing another naked, unfrosted wedding cake simply because it's like nothing I've seen before.
Not only is it part of the whole "naked wedding cake" trend that just keeps hanging on (what do you have against frosting??) but look very closely at the cake.
Do you see what I see?
Yep! That's right! Star Wars Lego figurines.
That. Is. Awesome. Read More
0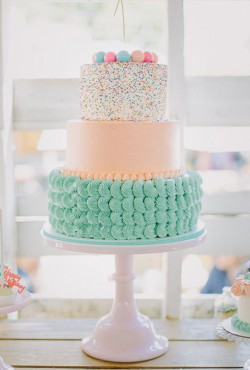 We're halfway through summer and I'm still loving wedding cakes with sprinkles!
I don't know what it is about these cakes – other than they are fun and whimsical and sometimes even elegant. And, they're totally not what you think of when you think "wedding cakes."
After all, sprinkles are the kind of thing you find on a child's birthday cupcake.
But I am loving this trend and I hope it sticks around. Read More
0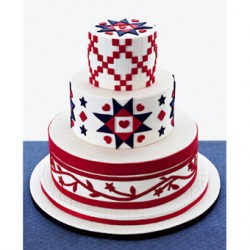 Happy Fourth of July!
While I hope you're enjoying a family cookout and lots of fireworks, it seemed only appropriate to showcase a patriotic red, white, and blue wedding cake today!
I love the abstract look of this cake. It's modern and fun with that all-American vibe thrown in for the holiday. Read More