Modern Wedding Cakes
The term "modern wedding cake" may mean different things to different people. Here at A Wedding Cake Blog, we take the term to mean anything with a contemporary feel; a cake that eschews the traditional white on white, piped and buttercreamed and trimmed with swags or roses. Modern may refer to a bold use of color, or a contemporary decor or shape. It may also refer to choosing something other than the grand, traditional tiered cake – a cake of macarons, for instance, or an assortment of individual cakes. Modern means that you are updating the tradition: perhaps you aren't entirely throwing it out. You're just giving it a breath of fresh air.
0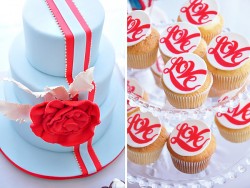 Oh, are you having summer attacks, too?  I don't know if it's the cruise I'm about to take, or the vacay that's coming up in a few weeks, or my close proximity to the beach, but I have a wicked case of the Summers!  Right now's the right time to be relaxing by the pool, icy cold drink in hand.  Makes for a difficult work week.  Well.  Except that I work with, you know, Read More
0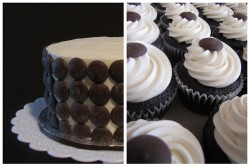 Check out these adorable Chocolate Button Cupcakes with matching six inch cutting cake.
Ah-dor-ah-bull.
These chocolate cupcakes are frosted with Vanilla Buttercream and topped with a sweet chocolate button. The cutting cake Read More
0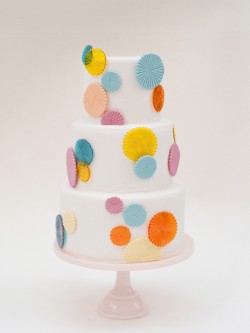 Scream it with me…summer…Summer…SUMMER!!!!!!
The ice cream truck has been circling my neighborhood, the kids are out of school, and the weather is just a touch below 100 degrees everyday here in South Carolina. After a long, snowy winter during which I stared at my neighbor's Christmas decorations from November to the end of FEBRUARY, I welcome the heat. For a little while at least. By July, Read More
2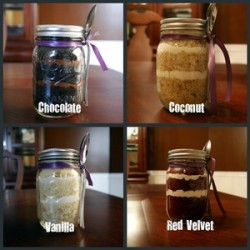 Oh yes..I have shown you cupcakes. I have shown you cake pops. I have shown you cake push-pops..and now I bring you cake jars.
Yes…yes. These delicious treats are made by Pickle's Bake Shop out of the Washington D.C. area. Have no fear if you aren't in the DC area because she has an online bakeshop right here. These little cakes come in a cute little glass jar with an adorable little spoon. They come in a variety of flavors..Red Velvet with Cream Cheese Icing, Chocolate with Chocolate/Vanilla/Marshmallow Butter Cream, Vanilla Read More
0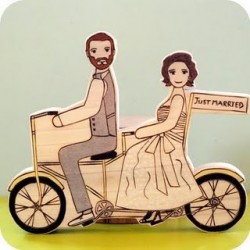 My recent fascination with all things homemade and vintage has lead me into a wonderful word of handmade Wedding Cake Toppers & that includes this beauty.
This topper makes me want to ride my bicycle barefoot with my groom singing songs about my beautiful balloon. Is that just me? Not only would it make an adorable cake topper but it would also look great on a bookshelf as a wedding day memento for years to come. I originally found this beauty on Pinterest but after some digging I discovered the Etsy store Read More
4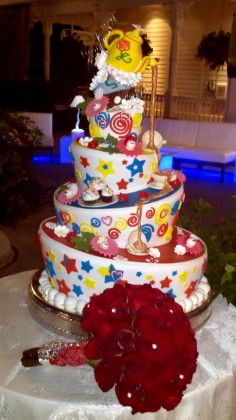 I'm late..I'm late..for a very important date!
You know what that means. I'm getting all Disney on you again. In the hub-bub of the Royal Wedding I forgot to showcase one of my favorite themed wedding cakes. This cake was made by the Grand Floridian Resort Bakery at Walt Disney World Resort in Florida. It was made for the All Night Royal Sleepover Celebration held at Disney's Wedding Pavilion the night before Read More
0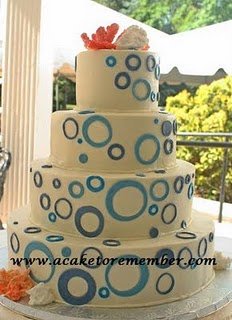 What a pretty week it has been!  While my BPIP (Blog Partner In Pretty), Christen, has been out and about, scouring the best and most delicious treats for the boys out there (HELLO – ice cream groom's cake! Brill!) I've been taking note of all the busy bakers that I have the pleasure to hobnob with.  And yesterday evening, I had a real treat, as I got a peak at the Waldorf Astoria Orlando's wedding salon.  Can you say opulence-to-die-for?  I'm hoping to have LOTS of pretty pictures and details to share with you about that experience soon!  But in the meantime, Read More
1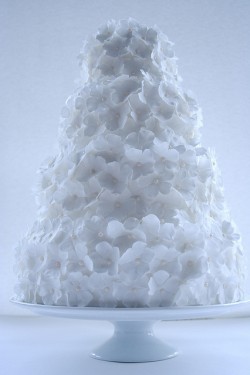 Isn't this just one of the prettiest things you have ever laid your eyes on?
I fell in love with this cake the MOMENT I saw it.  Ethereal, lovely, lady like, gossamer blossoms.  What description would you add?
Four layers of stacked cake, absolutely blanketed with lovely white sugar flowers, each with Read More
0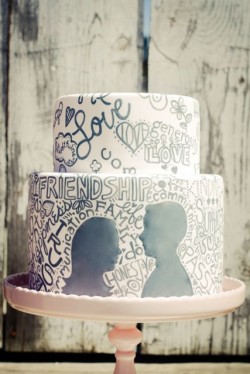 I'm a woman of many hats. I'm a mom, wife, blogger, teacher, sewer and DIYer. There are lots of things I like to do..and I spend lots of time on the interwebs looking for inspiration (lesson plans, sewing patterns, house decorating). Some might say too much time.
Recently I saw everyone talking about the Pinterest website. It took me a few weeks and then after a gentle nudge from my friend AJ at the Disney Food Blog I requested my invite. A few days ago I got my official invitation and it's been ALL downhill from there. There are wedding cakes ALL over that piece.
I have scoured pages & pages of wedding cakes. From big wedding websites, to small bakeries they are tons and tons and tons of cakes and I cannot wait to start featuring my favorites. So I am going to start here.. Read More