Simple Wedding Cakes
Sometimes simple says it best. You might choose a simple wedding cake because you prefer a minimalist approach, or because you like you like to stick with the basics when it comes to cake, or even because you are interested in showcasing a particularly fancy flower or cake topper, simple wedding cakes never go out of style. The basic, stacked, white wedding cake, frosted in a smooth coating of buttercream or covered in a snowy blanket of fondant, may hide beautiful flavors and colors beneath its exterior – the best of both worlds. Or maybe you and your groom prefer the traditional "white cake, white frosting" approach – or "chocolate cake, chocolate frosting" – after all, simple doesn't necessarily mean traditional. On the other hand, a simple cake may be the perfect way to showcase a special caketopper or flower that has personal meaning for you. A topper that shows your style or a hobby that you and future hubby share becomes all the more visible when it doesn't need to compete with a fancy cake. Maybe you have a family heirloom that can nestle atop your cake. Alternatively, some dazzling orchids or floppy peonies may be all the statement that you need to make. A simple cake need not be boring, after all.
0
Ah, fall.
The temperatures are turning cooler. Everyone is busting out sweaters. The leaves are falling.
It's pretty much the most wonderful time of year.
And if you're planning a fall wedding there are so many amazing ways to incorporate fall into your reception.
Take today's wedding cake as an example. This tree-inspired cake would be perfect at your fall wedding, especially if you're hosting a rustic party. Read More
0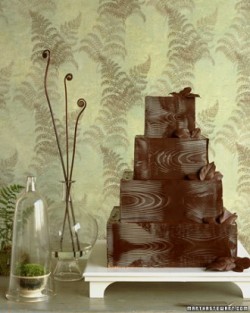 We're getting closer to Halloween which means the store shelves are stocked with all kinds of chocolate. And that's not a bad thing in my opinion!
Fall seems like the perfect time to have a chocolate wedding cake – especially one that is frosted with deep, rich chocolate icing.
I'm particularly fond of today's chocolate cake thanks to the rustic vibe the icing gives off. Read More
0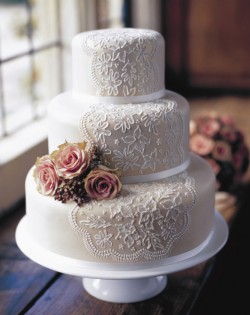 Having recently celebrated my own wedding anniversary, it's always fun to think back to my wedding cake.
It was eight (yes, EIGHT) tiers of heart-shaped cakes. It was massive. But it fit my wedding theme – which was hearts. Everything was hearts.
I like a cake that fits in to a wedding theme or incorporates something from the wedding.
Just like today's cake. Read More
0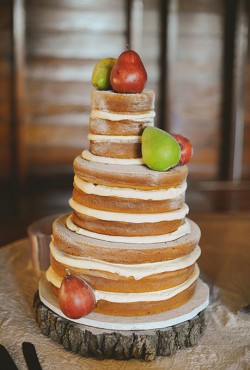 There's a chill in the air and we're all looking to cover up in sweaters and jackets as the days turn cooler.
So, it seems like a perfect time to showcase a naked cake, right? Of course it does!
Naked wedding cakes are still somewhat of the rage and I'll admit that I have found a few that look amazing. But I'm still a frosting kind of girl, so as pretty as these cakes are I prefer more icing.
But that's not to say that there's anything wrong with naked cakes. Take today's cake for example – it is stunning. Read More
0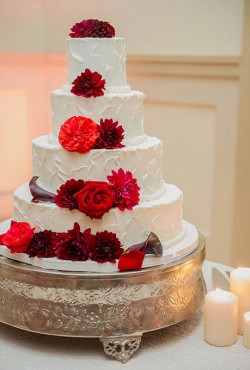 It's finally here! Today is the first official day of fall.
And despite the on-going warmer temperatures, the leaves are starting to change and the nights are getting cooler.
Which means it's time to talk about wedding cakes that are inspired by fall – especially those inspired by fall colors.
Just like today's wedding cake. Read More
0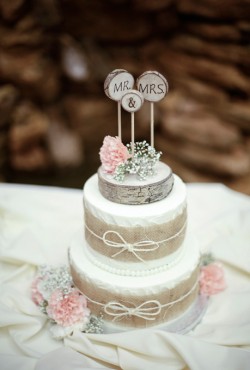 I woke up this morning to very chilly fall-like temperatures and the reality that fall really is just around the corner.
So what better time to start talking about fall wedding cake, right?
I love the idea of having a rustic fall wedding – especially if it's still warm enough outside to host an outdoor reception.
Which brings me to today's wedding cake – it's very rustic but also elegant, which isn't an easy combination to pull off. Read More
0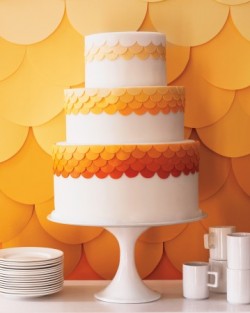 So now that we've "officially" said goodbye to summer, it's time to start thinking about fall.
More specifically it's time to start thinking about ideas for fall wedding cakes.
Now I'm not normally a fan of the color orange – it's just one of those colors that rarely wows me. Plus most orange cakes end up looking like pumpkins, which is OK if that's the look you're going for. Read More
0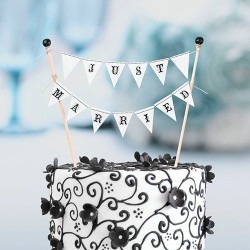 I was at a friend's wedding recently and her cake topper was a simple yet elegant banner.
And I thought to myself how perfect and lovely the banner was. There was nothing over-the-top about it and it fit perfectly with her vintage, shabby chic theme for the reception. Read More
0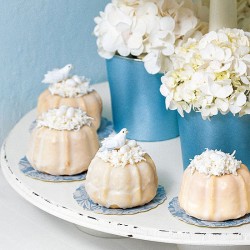 It's no secret that I love cake. Especially wedding cake.
There's just something extra special about wedding cake that makes it taste better than your average every day cake.
So how amazing would it be if you could serve your guests their own wedding cake?
I'm not talking about a slice of cake – I'm talking about miniature wedding cakes. One for every guest. Read More