Square Wedding Cakes
Square wedding cakes have gained in popularity over the last few years. While they still trail their round counterparts significantly, they are the second most popular shape that cakes take in today's wedding cake world. The couple who chooses a square cake may have a myriad of reasons for doing so. Maybe they just want something a little different. Or maybe a particular design feature that they have chosen works better with a square cake, such as a monogram. Perhaps the couple (or the bride, or the wedding planner or caterer) has a lovely old cake stand to feature, and it just so happens to be square in shape. Whatever reason, square cakes, whether separated by columns, or stacked with tiers directly on top of one another, emphasize the couple's attention to detail. Round cakes are the default; square cakes must be requested, and for that reason, seem just a little more special.
0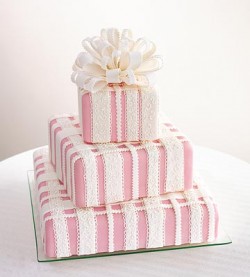 Everybody loves getting presents wrapped in pretty paper and topped with a perfectly tied bow, right?
Sure they do! And that's why I love this pretty in pink wedding cake so much. It's just so darn cute I couldn't resist sharing it with you today.
This gorgeous three-tiered confection would be perfect for a smaller wedding, a winter wedding, a spring wedding, or even your bridal shower. Read More
0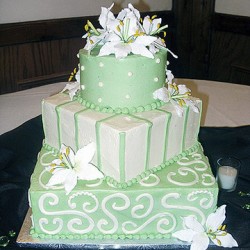 I might have mentioned recently that green isn't a color I often go to, except when it's the holiday season.
However, I am loving this mint green confection and would adore it at any time of the year, holiday season or not.
The color of this cake is so cool and really creates a beautiful cake when paired with the white embellishment and lillies as decoration. Read More
0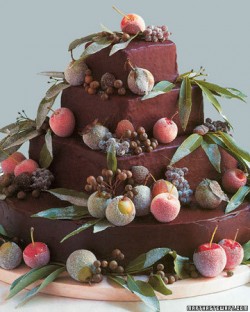 It's around this time of year when I really start to feel the "Christmas spirit" and so I wanted to find a wedding cake that felt like the holidays.
I think this one comes pretty close.
When I saw this cake with the sugared fruit and candied chestnuts I immediately thought of 'sugar plum fairies' and 'chestnuts roasting by the open fire.'
Another reason I love this cake – it's' chocolate. And we all know you can never have too much chocolate cake, even at a wedding. Read More
0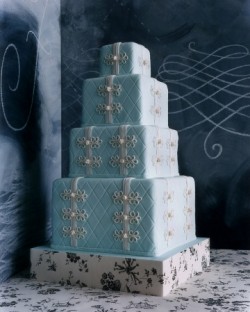 Imagine for a second if your "something blue" was actually your wedding cake!
That would be pretty incredible, especially if you chose something as stunning as this gorgeous blue and white cake.
There's just something about blue wedding cakes that I find intriguing. Every bride should have something blue for good luck on her wedding day so why not make the cake blue? It's certainly not what people are expecting as a wedding cake color. Read More
0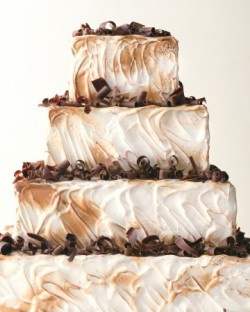 When it comes to ooey, gooey treats nothing beats s'mores.
The marriage of melted marshmallows, chocolate, and graham crackers is one of the best flavor combinations ever.
Now imagine those flavors in a wedding cake. Tell me that doesn't sound amazing.
And so, I give you the s'mores wedding cake.
This very modern twist on our favorite childhood treat is a four-tiered graham cake, with chocolate ganache and marshmallows. The Swiss meringue frosting is even "toasted" with the chef's torch. Read More
0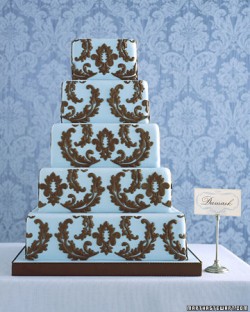 There is something to be said for an elegant wedding cake. And this damask wedding cake is both elegant and beautiful.
We've featured damask cakes here before and each time we do the cake is so incredibly gorgeous that it's almost too pretty to eat.
I love the color combination on this cake more than anything – it's what drew me to the cake, more so than the damask scrollwork.The blue and brown work so well together and they're perfect colors for a late fall or early winter wedding. And with a blue cake, you'll have your "something blue." Read More
0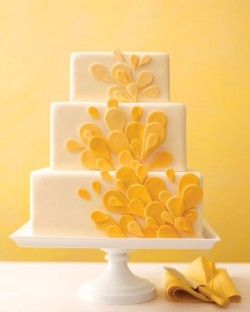 While we all know that crying at wedding is expected, your guests might not expect this tear drop cake.
This cake is so original and whimsical that it is going to leave you and your guests smiling all evening long.
I love the simplicity of the design. It's a gorgeous white fondant cake covered with more fondant "tear drops." Read More
0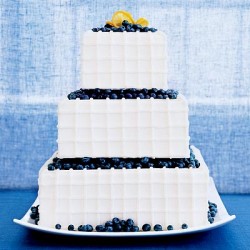 It's official. The end of summer is here and now it's time to start dreaming of fall colors and flavors.
But, before we let summer out of our grasp, I had to share one more summertime-inspired cake with you.
Behold, the lemon and blueberry wedding cake. Isn't it stunning?
I love the square tiers and how the frosting design has a slight basket weave look to it. Read More
0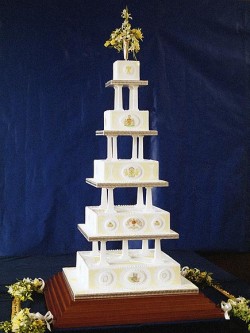 This week's flashback cake takes us all the way back to July 23, 1986 when Prince Andrew married Sarah Ferguson, who became known as Her Royal Highness The Duchess of York, Countess of Inverness, Baroness of Killyleagh, and Princess of the United Kingdom.
Or we can just call her 'Fergie' like everyone else does.
I always liked this royal couple – they seemed a bit more down to earth than Charles and Diana, sort of like an old school William and Catherine – and I was a bit sad when they divorced in 1996.
But maybe you've heard the news this week that Prince Andrew and Fergie are possibly reuniting and rekindling their romance! Read More