Square Wedding Cakes
Square wedding cakes have gained in popularity over the last few years. While they still trail their round counterparts significantly, they are the second most popular shape that cakes take in today's wedding cake world. The couple who chooses a square cake may have a myriad of reasons for doing so. Maybe they just want something a little different. Or maybe a particular design feature that they have chosen works better with a square cake, such as a monogram. Perhaps the couple (or the bride, or the wedding planner or caterer) has a lovely old cake stand to feature, and it just so happens to be square in shape. Whatever reason, square cakes, whether separated by columns, or stacked with tiers directly on top of one another, emphasize the couple's attention to detail. Round cakes are the default; square cakes must be requested, and for that reason, seem just a little more special.
0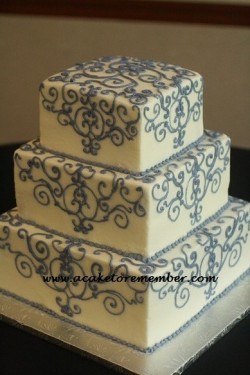 I love blue.  I don't know how I didn't end up with a blue wedding cake myself.  Probably because it Just Wasn't Done as much – you know, color – ten+ years ago.
I also think that scrollwork is lovely.  The lacy patterns made with scrolls really aren't so much feminine, so usually, guys don't object.  And they just seem to dress up the face of a cake without making it fussy.
This beautiful three-tiered square buttercream cake was created by Kara Buntin of A Cake to Remember in Richmond Virginia .  The design piped in buttercream mimics the detail on the couple's wedding invitation.  The shade of blue was used throughout the reception as well on linens and other touches.
Do you love this cake by Kara?  Check out some of her other creations that we've featured, like her lighthouse cake, her snowflake wedding cake, and one of my very favorite ever - seriously, I waxed poetic, y'all – Kara's tartan wedding cake.
Other Posts You May Enjoy:
0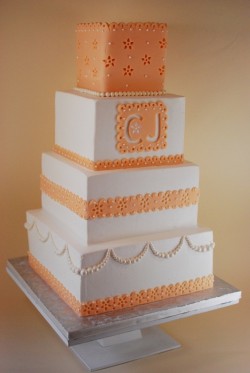 Peach eyelet and pearls make this wedding cake a summer stunner!  And the monogram seals the deal.
Jenniffer White from Cup a Dee Cakes worked with this couple to create a one-of-a-kind cake.  They knew they wanted to use peach and eyelet in the overall design, and Jennifer used a special fondant that would hold up to the cutouts.  The rest of the cake is iced in flawless buttercream, and is trimmed with pearls and the couples' monogram.
There are so many beautiful Read More
Other Posts You May Enjoy:
0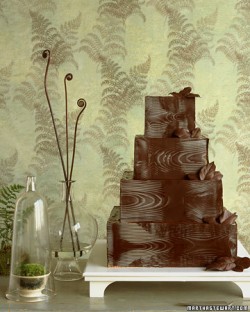 It's time for another installment in "Brooke Fancies Up Your Groom's Cake."
French for "fake wood" (so really, the French sounds ever so much better and we should probably stick with it), the term faux bois refers to a decorating motif.  Here it's made by pressing a wood graining tool into the shiny ganache glaze that coats the cake layers.  Since the tool is applied directly Read More
Other Posts You May Enjoy:
0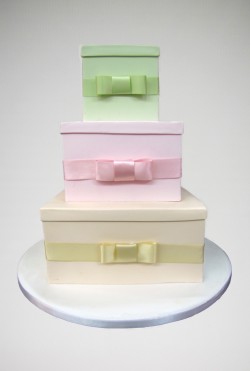 I love me some classic…well, anything. And isn't this pretty? I just want to grab my pencil skirt, cashmere cardigan, pearls, and kelly bag and go shopping with the girls. And then maybe to lunch. At Neiman Marcus.
Whew! Went a little too far into that 1950s movie fantasy right there.
But this cake will Read More
Other Posts You May Enjoy:
0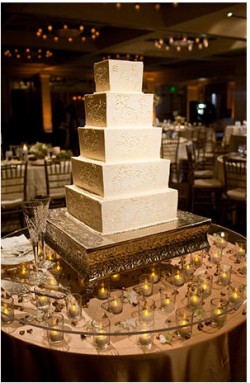 Hey There, Ho There, and Happy Solstice!  What did you do during the longest day of the year this week?  Anything special?  Nah, me neither.  But it's nice to know that, after I've been talking about it seemingly for weeks, summer is finally underway!
This week, I make my way up the East Coast, stopping in to a couple of beaches along the way, as I head to a wedding in Maryland next Saturday.  My, but we are hoping there's a crab cake at the reception somewhere.
But between packing and other prep, I've been looking at what's going on this week in the World of Read More
Other Posts You May Enjoy:
0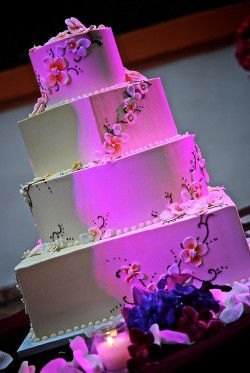 I know, I know.  The angle and lighting are a little funky on this one.  But it's sooooo still worth posting.
I love dogwood blossoms.  We awaited with such joy the blooming of the dogwoods back home, when we knew spring was finally on its way.  And this cake features beautiful versions of the lovely flower, used sparingly and asymmetrically on the various layers.
And speaking of the layers, I love a cake that has alternating shapes.  This one features both squares and rounds, and the second layer from the top is both square AND Read More
Other Posts You May Enjoy:
1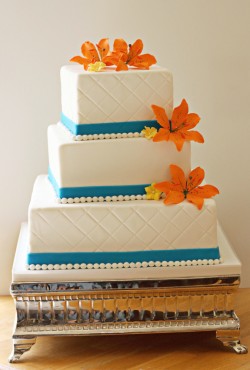 Once again, The Couture Cakery has captivated me with color.
Jasmine Clouser does everything fantastically – from sweets tables to cakes.  And she can create a demure cake with the best of them.  However, so many of her cakes that I have fallen in love with have used such breathtaking color that I simply could not pass them up.  This is a great example.
I love orange anyway, but to have it paired so beautifully here with bright blue is a real plus.  Really, this is just SUCH a beautiful color combination for spring and summer.  And Jasmine's meticulous Read More
Other Posts You May Enjoy:
0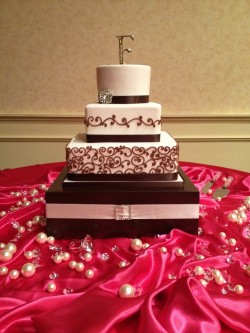 It's the simple touches that really set apart good from fantastic, right?  Anna Hightower from Central Florida's Anna Cakes totally gets that.
I saw this cake for the first time on Twitter, when Anna sent me a pic.  I immediately fell in love!  I mean, pink and brown are such a fantastic color combo anyway, but then I took in the different design elements – the perfectly piped scrolls, the top layer that was round for whimsy, the brooch and the picture-perfect initial cake topper – they all came together to make a beautiful cake.  But truly, what sets it apart for me is the Read More
Other Posts You May Enjoy:
0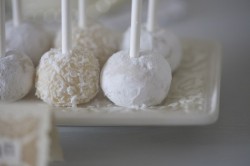 Greetings, Cake Lovers and Seekers of Pretty and *sigh* Moments!
What have you been up to this week?  I confess, I've had one foot in Fantasyworld (or rather, in the Happiest Place on Earth) and the other in the quagmire that is the last month of the school year.  Will it ever end?  I suppose that's counter Read More
Other Posts You May Enjoy:
0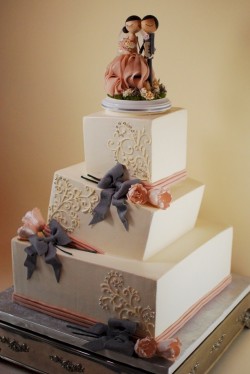 When the wonky wedding cake debuted in the nineties we were all taken aback with by its cuteness and whimsy. This style of  cake, which had asymmetrical layers and looked like something right out of Alice in Wonderland, defied gravity to stay upright.  It was a breath of fresh air.
Nowadays, we've seen lots of wonky cakes.  Some are well executed; some, not so much.  But when I saw this one by Jenniffer of Cup a Dee Cakes in Georgia, I really considered the genre redefined.
I had never seen a square wonky cake!  And this one's wonkiness Read More
Other Posts You May Enjoy: