Floral Wedding Cakes
What's not to love about a floral wedding cake? The trend to decorate cakes with flowers, whether real or gum paste, really became all the rage during the 1980s, when Martha Stewart showed us all how wrong we'd been doing weddings up to that point. Gone suddenly were the little bride and groom figurines made of porcelain or plastic that stood proudly atop cakes. Replacing them were mounds and cascades and accents of flowers of all shapes, sizes, and hues. The trend may have died down to some extent; today, we're as apt to see a bride and groom cake topper – or a pair of birds or bicycles, or anything else the couple might fancy – as flowers. But flowers have not lost favor completely. In fact, florists are still busy preparing floral toppers for cakes that match the bride's color palette and bouquet. Likewise, bakers are kept busy crafting handmade, sugar or gum paste flowers, or at the very least, custom coloring store bought gum paste creations to offset their beautiful cakes. There are a couple of points to remember when choosing to trim your cake with fresh flowers. First, make sure that the bloom you'd like to use is NOT poisonous. Wouldn't you hate to send people to the hospital because they ingested a piece of your cake that had ivy on it? And secondly, if at all possible, ask your florist for pesticide-free blooms. Bug killing chemicals = not tasty. And finally, if it's gum or sugar paste flowers that you're after, remind guests that, although they are technically edible, it's probably not very tasty or a good idea. If you want edible decorations, you should probably stick with real or marzipan fruit.
0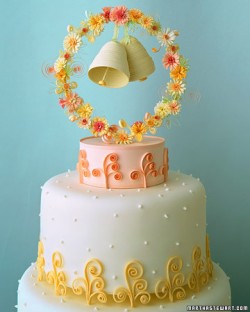 Doesn't this cake just say spring wedding to you?
If you're a bride looking forward to spring or summer nuptials, I super think you need this cake. I adore the nod to tradition with the wedding bells. And the whimsy of the daisies makes Read More
0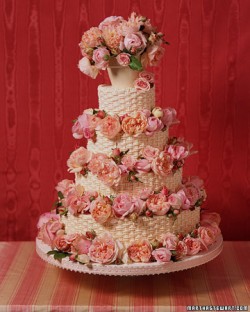 I can't help it. Blame it on living in the mild-weather southeast, but once Christmas is over, I'm on to summer and beach outings. This beautiful wedding cake, with its basket weave motif and full blown roses, shouts "Summer!" to me.
But it could also be shouting Read More
0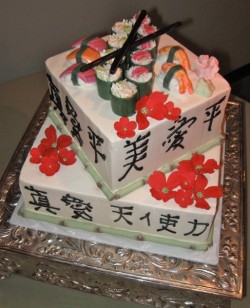 Time for another fabulous themed cake. This one falls in the "juxtaposition of things that definitely don't remind you of cake, but it's so pretty you can't help yourself" category.
I think this cake is absolutely beautiful. The Japanese characters are flawless, and the gumpaste flowers are incredibly lifelike. But the star of the show is the assortment of gumpaste sushi that adorns the top of the cake.
Wrapped in Read More
0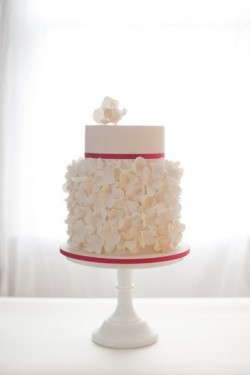 Hello, Dears!
Today, I'm starting to turn away from the sparse winterishness of January, and toward the ardent blush of Valentine's Day, which is just around the corner.
Do you celebrate?  We don't do much with it around these parts, but I love the sentiment of being sweet to everyone on V Day. It can be about romance, or you can expand the scope and make it a day to show love to all or those close to you.  Remember those fun Read More
0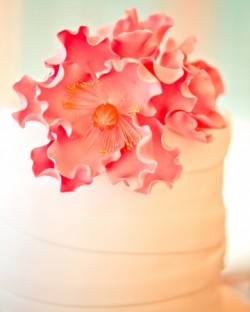 Sometimes in January, you just need a little color, yes? A reminder that spring will come again, and fun summer times will be on her heels.
I adore peonies. And from the looks of this Pink Peony Wedding Cake, this lovely White Wedding Cake with a big, flouncy pink peonies, and this Thai-inspired Wedding Cake with a gold-tinged peony, cake artists quite agree.
But today's Read More
4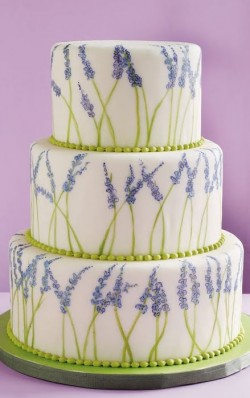 Anybody out there planning a summer wedding with a Provençal theme? You're welcome.
I saw this today on Pinterest and just had to show it to you.  Sadly, I have Read More
0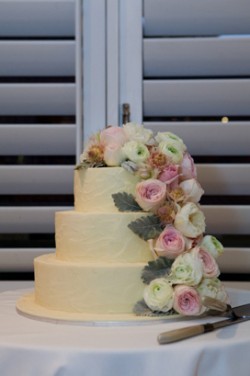 Hey Y'all!
We'll be heading out to Georgia in just a little bit to spend the holiday there.  Where will you be?  Why?  Are you happy about it?  Or just going 'cause you have to?
Well…where ever you find Read More
0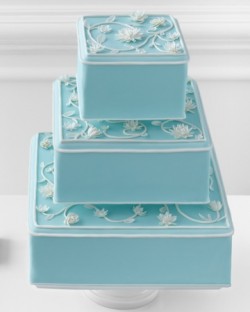 I love when old things are new again.
I remember when I was growing up that there was really no such thing as a stacked wedding cake.  It was the era of plastic columns and rigid structural work.  The first few times that I saw the rig that held cakes together, it was kind of like strolling "backstage" at Disney: the magic was gone.  The Mickey Head was off the guy, and he was Read More
0
So I'm reading my email this morning, and looking at various websites, and suddenly I discover that I totally missed THE wedding that had been on my radar lately (No…not Brangelina.  The other one.)
It seems that Jessica Biel and Justin Timberlake slipped off to Read More
0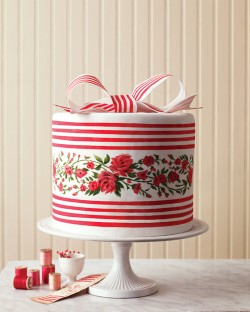 I went in search of something different today, and I found this lovely cake!
Don't dismiss it as just a Read More