Modern Wedding Cakes
The term "modern wedding cake" may mean different things to different people. Here at A Wedding Cake Blog, we take the term to mean anything with a contemporary feel; a cake that eschews the traditional white on white, piped and buttercreamed and trimmed with swags or roses. Modern may refer to a bold use of color, or a contemporary decor or shape. It may also refer to choosing something other than the grand, traditional tiered cake – a cake of macarons, for instance, or an assortment of individual cakes. Modern means that you are updating the tradition: perhaps you aren't entirely throwing it out. You're just giving it a breath of fresh air.
0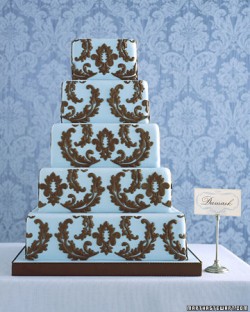 There is something to be said for an elegant wedding cake. And this damask wedding cake is both elegant and beautiful.
We've featured damask cakes here before and each time we do the cake is so incredibly gorgeous that it's almost too pretty to eat.
I love the color combination on this cake more than anything – it's what drew me to the cake, more so than the damask scrollwork.The blue and brown work so well together and they're perfect colors for a late fall or early winter wedding. And with a blue cake, you'll have your "something blue." Read More
0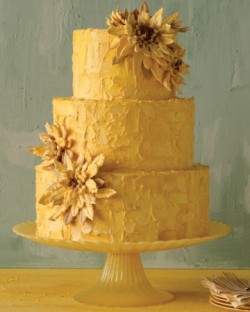 My favorite thing about fall – other than all things pumpkin flavored – are the stunning colors of the leaves in the trees.
I love the contrast of reds and oranges against a blue fall sky, but my favorite fall color is bright yellow.
Those yellow leaves seem like the last connection we have to the warmth of summer. They're also the color of my favorite flower – the always cheerful sunflower.
Which bring us to today's cake. It's a gorgeous three-tier cake and it's all yellow! Read More
0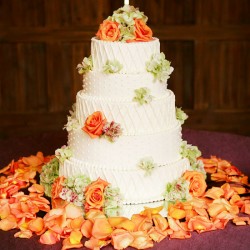 Fresh flowers are one of my favorite embellishments on a wedding cake.
I love the simplicity of using flowers or greens on a cake because there's no need to anything else to the cake. And, there are so many ways you (or your baker) can incorporate the flowers into the cake's design. Read More
0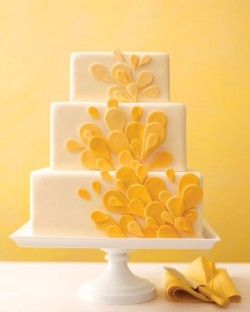 While we all know that crying at wedding is expected, your guests might not expect this tear drop cake.
This cake is so original and whimsical that it is going to leave you and your guests smiling all evening long.
I love the simplicity of the design. It's a gorgeous white fondant cake covered with more fondant "tear drops." Read More
0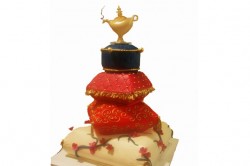 It's Wednesday and since we can all use a little wackiness in our midweek routine, I thought I'd make today "Wacky Wednesday" and feature a cake that is anything but ordinary.
So without further ado, I give you the Genie Wedding Cake. Read More
0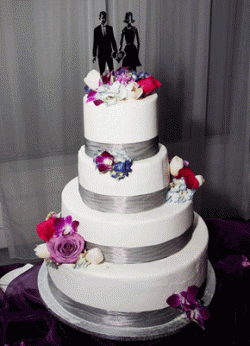 This week's Flashback Friday features another reality TV star – and while they aren't really celebrities – sometimes they do have really amazing wedding cakes.
Jesse Lenoir was a contestant on Project Runway a few years ago, and while his wedding cake is quite incredible I also have to point out that he designed the bridesmaid dresses for his wedding.
But let's talk about this cake. Read More
0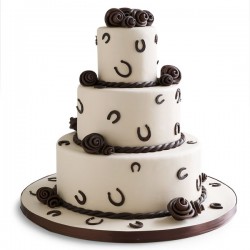 Today is your lucky day – even if it is Friday the 13th!
I discovered that there is a lot of old folklore on the interwebs about how getting married on Fridays can bring bad luck, but I say pish posh! Go ahead and get married on a Friday. And if you're feeling especially lucky, throw all caution to the wind and get married on a Friday the 13th! (In case you're wondering, there's still one more for this year – December 13, 2013). Read More
0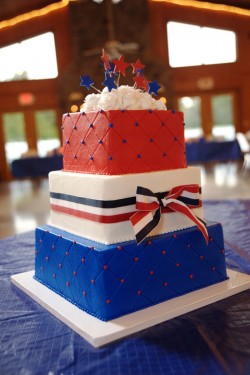 Today I wanted to feature a patriotic, All-American cake. Something red, white, and blue.
Let me tell you, it's amazing what you can find when you Google "patriotic wedding cake."
My favorite cake that I found during my search was this beauty. I love the bright colors of the bottom blue tier and the top red tier. I also love the stark white tier in the middle, accented only by a red, white, and blue ribbon.
I think this cake would be perfect for a Memorial Day wedding, or a Fourth of July wedding, or even a wedding in the middle of September. Read More
0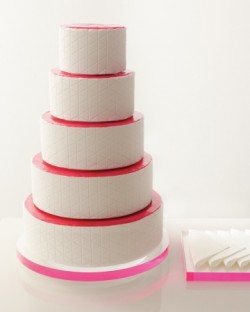 Sometimes when I'm looking for wedding cakes it's all flowers and embellishments. But every now and then I find a cake where simplicity is what makes it gorgeous.
This is one of those cakes.
It's your basic, run-of-the-mill five tier white cake. And on its own that would be a stunning cake and you could add some fresh flowers to make it really pop.  And you'd have a pretty but basic wedding cake.
I love this cake for the simple fact that it goes beyond the flowers with a brightly hued glaze in between each layer. Read More
0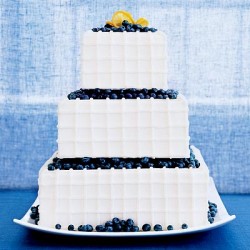 It's official. The end of summer is here and now it's time to start dreaming of fall colors and flavors.
But, before we let summer out of our grasp, I had to share one more summertime-inspired cake with you.
Behold, the lemon and blueberry wedding cake. Isn't it stunning?
I love the square tiers and how the frosting design has a slight basket weave look to it. Read More