Simple Wedding Cakes
Sometimes simple says it best. You might choose a simple wedding cake because you prefer a minimalist approach, or because you like you like to stick with the basics when it comes to cake, or even because you are interested in showcasing a particularly fancy flower or cake topper, simple wedding cakes never go out of style. The basic, stacked, white wedding cake, frosted in a smooth coating of buttercream or covered in a snowy blanket of fondant, may hide beautiful flavors and colors beneath its exterior – the best of both worlds. Or maybe you and your groom prefer the traditional "white cake, white frosting" approach – or "chocolate cake, chocolate frosting" – after all, simple doesn't necessarily mean traditional. On the other hand, a simple cake may be the perfect way to showcase a special caketopper or flower that has personal meaning for you. A topper that shows your style or a hobby that you and future hubby share becomes all the more visible when it doesn't need to compete with a fancy cake. Maybe you have a family heirloom that can nestle atop your cake. Alternatively, some dazzling orchids or floppy peonies may be all the statement that you need to make. A simple cake need not be boring, after all.
0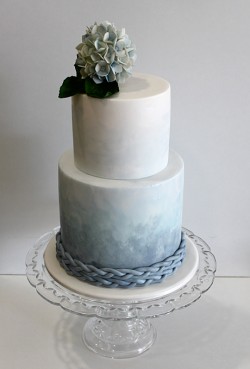 As we slowly inch closer and closer to summer it means we're getting that much closer to beach season too.
And that means beach weddings and wedding cakes the remind us of the beach.
Like today's wedding cake. It's a subtle reminder of the things we love most about the beach – the surf and the sand. Read More
0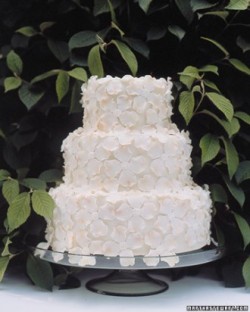 Spring is in the air which means it is the perfect time to start sharing gorgeous spring-inspired wedding cakes.
Today's cake is lovely and spring-y and adorned with flower petals. Sugar flower petals to be exact.
And we all know sugar flowers are better than real flowers because you can eat them. Read More
0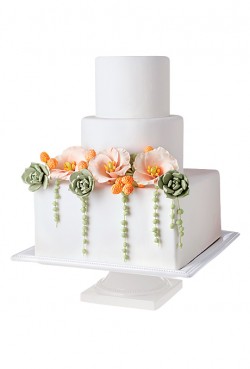 It's the first day of April and spring is in the air and that's no joke!
As I look outside I'm spying buds on the trees and tulips popping out of the ground and I'm convinced that the warmer weather is here to stay.
Which means I just had to find a gorgeous wedding cake today with springtime flowers!
This cake is that perfect springtime confection. Read More
0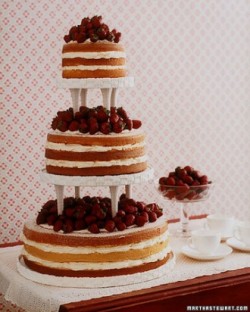 One of my favorite summertime fruits is the strawberry! They're sweet and perfect and can be used in so many ways, even on a wedding cake!
I love strawberry shortcake and today's naked wedding cake reminds of that sweet treat.
This wedding cake was created with pound cake (of course!) and layers of mascarpone cream and strawberries. I think it might be my new favorite spring or summer wedding cake. Read More
0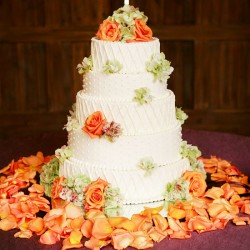 There's something to be said for a traditional white wedding cake.
While I do love the non-traditional, oddly shaped, bright colored cakes that I often feature here sometimes it is nice to just find a lovely white wedding cake.
This four tier cake is simple and elegant and practically perfect in every way. There's nothing boring about it either. The tiers are are iced with traditional butter cream icing.
But instead of leaving them plain the icing is decorated with Swiss dots and diamonds that were piped onto the icing – giving it just the right amount of elegance and pop!
To add even more to the cake – without going overboard – fresh flowers are used to adorn the cake. This is a fun idea because you can use any flower you like. Smaller buds would be ideal for the cake but larger blooms would work for the cake topper.
And, a traditional white cake is perfect in any season.
You can find this cake here.
0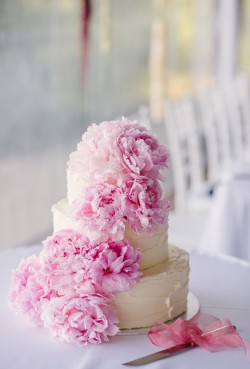 When I'm looking for wedding cakes to share with you I'm always searching for that one cake that stops me in mid-scroll.
That cake that wows me from my computer screen. And today that cake is this one with the pretty pink flowers.
As we inch closer and closer to spring and the much-anticipated blooming of springtime I flowers I just had to find a cake that had lovely blooms as part of the decorating.
I love this cake for its simplicity and elegance. Read More
0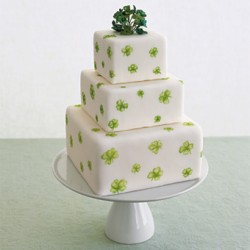 Tomorrow we'll all be celebrating St. Patrick's Day and the wearing o' the green, so today seemed like a good day to showcase a cake with little green shamrocks!
This lovely three-tier cake is iced with gorgeous rolled fondant which is decorated with sugar paste four leaf clovers. Read More
0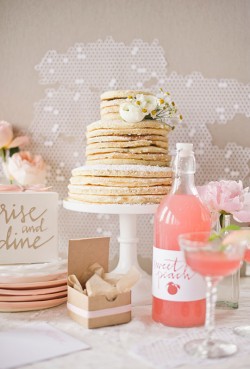 Yesterday was National Pancake Day which is a completely awesome holiday! I mean, who doesn't love pancakes?
And to celebrate (a day late) I just had to find another pancake wedding cake to share with you.
I love the idea of a non-traditional wedding cake, especially if you're hosting a smaller brunch reception (or even a breakfast reception). While I love wedding cake as much as the next person, not everyone wants to eat cake for brunch. Read More
0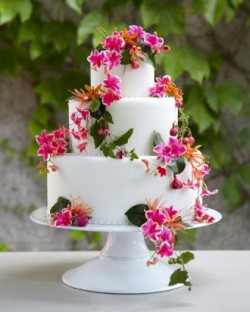 It's March! So that means spring MUST be just around the corner, right?
Well I'm convinced that the snow has to end soon so I'm showcasing spring wedding cakes today. And this all-white cake with cascading fresh flowers is perfect for a spring wedding!
The wedding cake itself is a classic and elegant three-tier white fondant cake. On its own, the cake would be pretty but boring. But when you add a splash of bright colors with fresh flowers it changes everything! Read More
0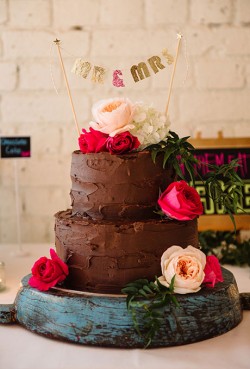 If there's one non-traditional wedding cake that I'll always be a fan of it's the chocolate wedding cake.
Everyone is expecting a cake with white icing, even if the cake inside is a variety of flavors. So why not wow your guests and surprise them with a chocolate frosted cake?
The cake flavors could vary – chocolate, marble, yellow – but to see a wedding cake frosted with gloriously delicious chocolate icing? That would be incredible! Read More