Simple Wedding Cakes
Sometimes simple says it best. You might choose a simple wedding cake because you prefer a minimalist approach, or because you like you like to stick with the basics when it comes to cake, or even because you are interested in showcasing a particularly fancy flower or cake topper, simple wedding cakes never go out of style. The basic, stacked, white wedding cake, frosted in a smooth coating of buttercream or covered in a snowy blanket of fondant, may hide beautiful flavors and colors beneath its exterior – the best of both worlds. Or maybe you and your groom prefer the traditional "white cake, white frosting" approach – or "chocolate cake, chocolate frosting" – after all, simple doesn't necessarily mean traditional. On the other hand, a simple cake may be the perfect way to showcase a special caketopper or flower that has personal meaning for you. A topper that shows your style or a hobby that you and future hubby share becomes all the more visible when it doesn't need to compete with a fancy cake. Maybe you have a family heirloom that can nestle atop your cake. Alternatively, some dazzling orchids or floppy peonies may be all the statement that you need to make. A simple cake need not be boring, after all.
0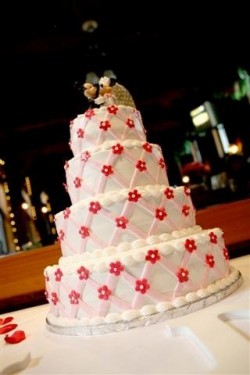 Today on the blog, we're getting an extra dose of adorable.  And moreover, we're seeing adorable done right, which is even better.
Check out this absolutely precious cake.  This four-tiered beauty was the star of the show at Melissa and Heath's wedding, which took place in 2006.  The couple had never been to Disney before going together while they were dating…and they were instantly hooked on the magic.  They even considered getting married at Walt Disney World, but opted for a hometown wedding, and a cake that served as an homage to their favorite vacay Read More
Other Posts You May Enjoy:
0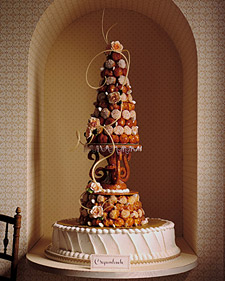 Whew!  Is anyone else dreaming of pumpkin and morning frosts? And jewel toned cakes to replace the summer glaring brightness?
Summer?  I am over you.  It's not your fault, Darling.  After all, I live in Florida, and I can have a taste of you purt near anytime I want.  But the retailers!  They're making me want crisp Read More
Other Posts You May Enjoy:
0
We've talked about black wedding cakes here on A Wedding Cake Blog before, and I have a confession to make:  I didn't love the idea.  Just thinking about all.  that.  dye.  Well, it didn't set well with me.
But here, in my humble girly girl opinion, is the perfect black and white cake for the bride who craves the drama that the stark contrast of this combo brings, but feels the same way I do about the over zealous application of food coloring.  Rather than getting the "black" part of the equation from Read More
Other Posts You May Enjoy:
0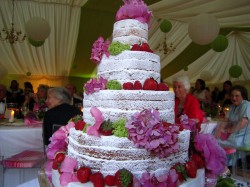 Fondant…buttercream…fondant…buttercream…How about neither?
This is a trend that I've been seeing more and more of lately, especially for our friends across the pond:  a naked wedding cake.  Well.  Not truly nude.  Normally, these lovely and simple cakes feature a filling of fruit preserve and/or frosting, and a Read More
Other Posts You May Enjoy:
0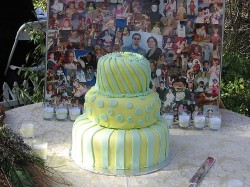 I love when I find a cake that is like nothing else I've never seen before.  After awhile all cakes start to resemble one another and I like to throw in an eclectic cake just to keep it interesting.
The originality in this cake comes with the coloring.  I cannot remember Read More
Other Posts You May Enjoy:
0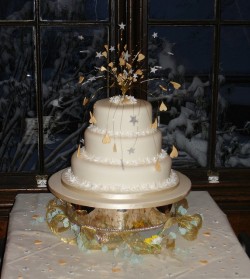 Some cakes are stunning in their detail.  Some are breathtaking in the display of the baker's skill.  And some are flat out…adorable.
This, Ladies and Gentleman, is an adorable cake.
The label adorable is by no means slander.  It's perfect in every detail.  Not a wrinkle in the fondant.  Not a twinkle out of place in the fountain-y, sparkly, headdress-y cake topper.  It really is perfect. 
But I use adorable Read More
Other Posts You May Enjoy:
0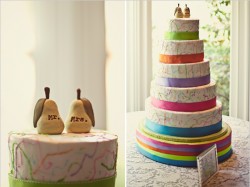 Ah, Weddings.  So many pretty things to see this week.  And we were especially bowled over by all of the incredible cakes that are being shared during this busy wedding season.  The creativity and talent of the bakers we rub shoulders with never ceases to amaze us.  So, if our round-up is a little cake heavy, please forgive me.  We are ALL Read More
Other Posts You May Enjoy:
0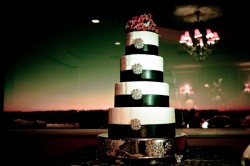 I. Love. This. Cake.
I think it's everything that a wedding cake for an evening wedding should be.  It's stylish.  It's elegant.  It's dressed up.  It's refined.  The colors are used sparingly, but with dramatic effect.  And they are hues Read More
Other Posts You May Enjoy:
5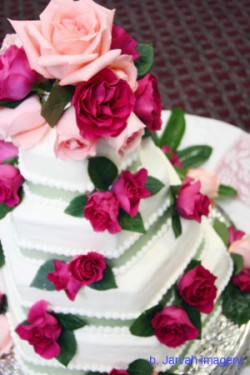 I am SO excited today to bring you all our very first guest post. When I sat down to think about who should have that honor I could think of no other blogger than Blair from The Heir to Blair Blog. There she blogs about her cutie-pie son Harrison, her struggles and victories as a working mom all while balancing her family life.
However, before there was an Heir to Blair there was a man named Nate who she married five years ago today. You can tell just by reading her blog how ridiculously in love and in awe she still is with him. Today she is going to talk about Read More
Other Posts You May Enjoy:
0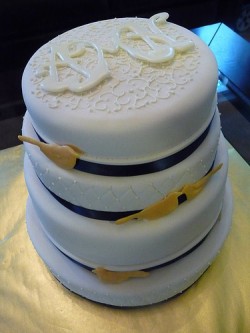 Here we go with those birds again.
Good thing I love them…right?
There is so much to talk about with this cake I am having trouble deciding where to begin…so let's just start with the facts. This is a four tier cake. The tiers have an alternating diamond pattern while the other layers are smooth and clean fondant. The top tier has an intricate swirl design and is topped with a gorgeous Read More
Other Posts You May Enjoy: