Celebrity Wedding Cakes
Is there anything more fun than catching up on the wedding of your favorite celebrities? We think so, too! Who baked it? What did it taste like? What hot trend are they following – or setting? We love to check out the cakes that celebrities commission to celebrate their big day, and we think you do, too. So, let's see them – the grand, the expensive, the over-the-top, the exquisite, the cutting edge. They are all here, ready for your enjoyment! Don't see a cake from your favorite celebrity's wedding? Let us know if you have one you would like to see. We would love to feature it. After all, we love cake. The prettier, the more grand – the better!
0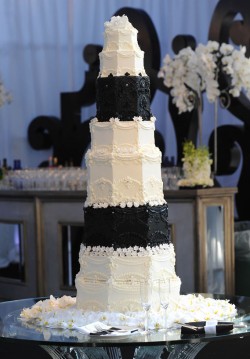 It seems like ages since Kim Kardashian married NBA player Kris Humphries in that over-the-top-made-for-TV spectacle way back in August 2011. And while it is sad that the marriage lasted a mere 72 days, we're here to talk about the cake.
The wedding colors were black and white and the cake was a beautiful reflection of that with black frosted layers inserted between the white frosted layers.
The cake itself was six-feet tall, which makes it shorter than an NBA player but taller than his reality TV bride. Read More
0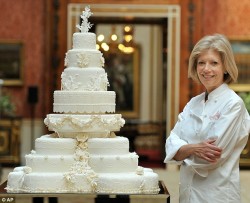 It's time for another wedding cake flashback, and this time it's all about the eight-tier "traditional English fruit cake" served at the wedding of Prince William to Kate Middleton. (I always feel like I should call her Princess Kate, not "Kate Middleton"…I mean, I'm sure she's changed her last name by now, right?)
Anyway, the first thing I want to know about this cake is Read More
0

As we head full-steam into summer, this week's wedding cake flashback is the super colorful and fun seven-foot-tall cake served at the 2004 wedding of Mariska Hargitay and Peter Hermann.
I love this cake because it has a Read More
0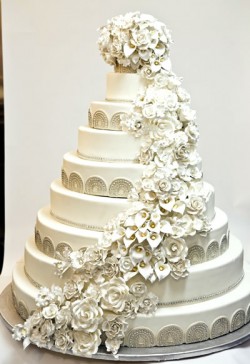 Since it's the start of summer – and the summer wedding season – I thought it would be fun to do some flashback posts featuring outrageous, over-the-top, or just incredibly amazing celebrity wedding cakes. You know, to get us all in the mood for all the wedding cakes we'll be eating this season.
The first cake on my list is Read More
1
Exactly one year ago today I jumped on-board this bandwagon called A Wedding Cake Blog. It's been a great year and I have literally been up to my eyeballs in frosting ever since. I've talked about cupcakes, traditional cakes, very blue cakes and been introduced to Cake Pops and Mini-Cakes. I've over-shared..I mean really..who knew that a simple wedding cake could inspire so much random blubbering? So on the eve of the eve of the New Year I've decided to take a look back at my top ten favorite posts of Read More
0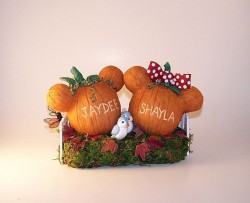 I'm writing to you from the wild, wonderful mountains of West Virginia.  We're up for our annual fall visit, to see the leaves, to eat favorite foods, to hug the necks of people we love.  Sadly, a wild, wonderful wind came through the night we got here after an ungodly long drive.  So the pretty leaves are all on the ground.
But we will try and soak up some fall, and delight in our surroundings.  It really is nice to wear a sweater and not get hot.
I keep noticing wedding cakes everywhere I go!  There's an adorable little coffee shop in Bridgeport that I'm dying to go over and Read More
0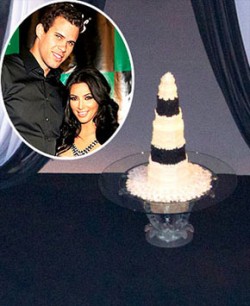 You knew it was coming.
England has Kate Middleton and we have Kim Kardashian.  Our forefathers are probably rolling over in their graves on that one.  Anyhow, I just so happen to be Kardash-crazy and my heart was all a flutter with the release of this photo from Us Weekly.
Unless you are living under a rock you may have heard that Kim Kardashian married NBA player Kris Humphries over the weekend.  Offical pictures have not be released from the Kardashian camp as of yet but of course little teasers Read More
0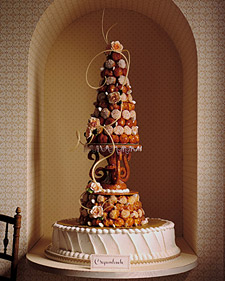 Whew!  Is anyone else dreaming of pumpkin and morning frosts? And jewel toned cakes to replace the summer glaring brightness?
Summer?  I am over you.  It's not your fault, Darling.  After all, I live in Florida, and I can have a taste of you purt near anytime I want.  But the retailers!  They're making me want crisp Read More