Modern Wedding Cakes
The term "modern wedding cake" may mean different things to different people. Here at A Wedding Cake Blog, we take the term to mean anything with a contemporary feel; a cake that eschews the traditional white on white, piped and buttercreamed and trimmed with swags or roses. Modern may refer to a bold use of color, or a contemporary decor or shape. It may also refer to choosing something other than the grand, traditional tiered cake – a cake of macarons, for instance, or an assortment of individual cakes. Modern means that you are updating the tradition: perhaps you aren't entirely throwing it out. You're just giving it a breath of fresh air.
0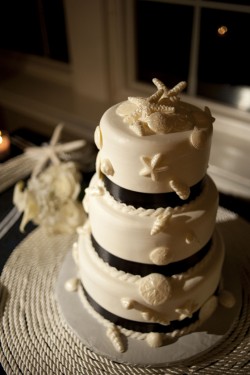 What an awesome week!
While we're resting up from some great time with friends and family and making the last of the last few days of summer, we're still all about the Sweet and Pretty!  Here's what we saw from The World of Wedding this week!  But first, The News:
Kim Kardashian and Kris Humphries made it official yesterday.  Like you didn't know.
How's this for romantic?  The groom surprises the bride with a wedding – and gets all the details right!
Thinking of going green for your nuptials?  Here's how one Kansas Read More
0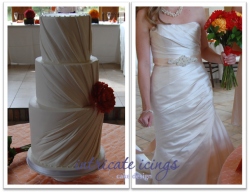 So, I'm clearly inspired to keep the white wedding cake love going for a day or two longer…
Check out this incredible cake by the Intricate Icings.  I was floored when I saw the artistry here…they have actually succeeded in making fondant behave like fabric!  In this case, the bride sent in a picture of her dress as inspiration, and Read More
0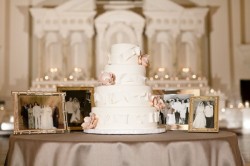 Happy Weekend, Everyone!  I hope some part of this end-o'-one-week-beginning-o'-the-next finds you with your feet up, enjoying a cup of coffee (or a cocktail) while relaxing, and enjoying the last few days of this wonderful, lazy time of the year.  Here, we're enjoying time with friends at the shore, so we'll stop grimacing at the high temperatures, and pray Read More
0
We've talked about black wedding cakes here on A Wedding Cake Blog before, and I have a confession to make:  I didn't love the idea.  Just thinking about all.  that.  dye.  Well, it didn't set well with me.
But here, in my humble girly girl opinion, is the perfect black and white cake for the bride who craves the drama that the stark contrast of this combo brings, but feels the same way I do about the over zealous application of food coloring.  Rather than getting the "black" part of the equation from Read More
0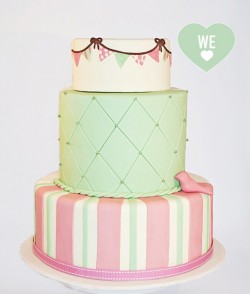 I've been pretty down and out on pink and green as of late.  In fact I think I had pretty much shunned the idea of the pink and green color combo in all aspects of my life.  Seeing the colors together made me want to scream out words like, "dunzo", "passe", "that's so 2009″.
Ahem, now go ahead.  Ask me what my wedding colors were.  Pink and green.  Oh yeah. 
I have a secret.  Today I have fallen back Read More
0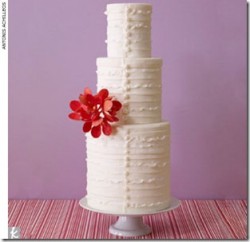 So seven months into 2011 I think it's time we talk trends baby. Cake trends that is. Because let's face it..I am always behind on clothing trends. I try so hard but oh my goodness how do I love a pony-tail and cardigans..I am so boring that way.  However, cake trends?  I think I got it.
Since I've been blogging about wedding cakes five days a week for the last seven months I have begun to take notice of the good, the awesome, and the coveted of wedding cake designs. There are lots of fun options that you can do with your wedding cake. 2011 has definitely been a wedding season of sweet, pretty, and creative. Here are just a few things that I am digging as we make our way into the last five months of 2011.
Double It Up
The Double Height Tier is probably my favorite trend this year.  It's a pretty simple concept: take a simple three-tier round cake and add height to one of the tiers.  It gives the cake height and an asymmetrical quality that takes it from a normal cake to a spectacular one.   Traditionally a cake tier is anywhere from 3-4 inches tall.  To achieve the double height the baker simply adds Read More
0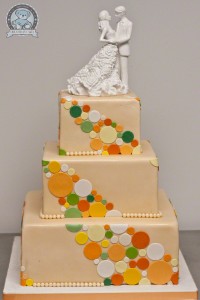 Hiya!
So…how are you keeping cool during this scorcher of a summer?  We're fanning and heading to the beach and drinking plenty of iced tea.  And while summer is scorching the rest of you, it's just plain ole' normal hot here in Florida.
But the heat hasn't stopped the deliciousness that is a summer full of weddings.  We've seen some Read More
0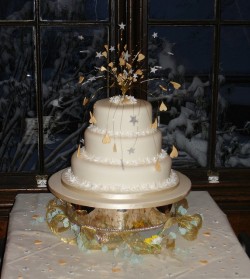 Some cakes are stunning in their detail.  Some are breathtaking in the display of the baker's skill.  And some are flat out…adorable.
This, Ladies and Gentleman, is an adorable cake.
The label adorable is by no means slander.  It's perfect in every detail.  Not a wrinkle in the fondant.  Not a twinkle out of place in the fountain-y, sparkly, headdress-y cake topper.  It really is perfect. 
But I use adorable Read More
0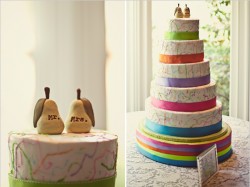 Ah, Weddings.  So many pretty things to see this week.  And we were especially bowled over by all of the incredible cakes that are being shared during this busy wedding season.  The creativity and talent of the bakers we rub shoulders with never ceases to amaze us.  So, if our round-up is a little cake heavy, please forgive me.  We are ALL Read More
1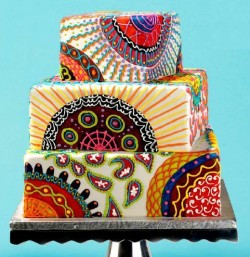 I'm going to give you a second to take in all the awesomeness that this cake is serving…………
Ok, you done?
I found this cake on Pinterest about a month ago.  I think my friend Carla said it best when she commented on the link saying, "Wow, as much as I love cake I just think I would have to sit and look at it".
She took the words right out of my Read More