Modern Wedding Cakes
The term "modern wedding cake" may mean different things to different people. Here at A Wedding Cake Blog, we take the term to mean anything with a contemporary feel; a cake that eschews the traditional white on white, piped and buttercreamed and trimmed with swags or roses. Modern may refer to a bold use of color, or a contemporary decor or shape. It may also refer to choosing something other than the grand, traditional tiered cake – a cake of macarons, for instance, or an assortment of individual cakes. Modern means that you are updating the tradition: perhaps you aren't entirely throwing it out. You're just giving it a breath of fresh air.
2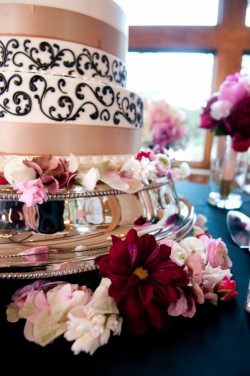 Ah, post vacation blues.  Don't you feel sorry for me?  Well, you should.  Here I sit, tanned and rested, with lots of pretty pictures (and not a few shopping bags.)  With a trip behind me, and not so much as a weekend getaway planned before me.  Sulk.  Sulk.  Sulk.
BUT – I do have friends coming – my very best friend, in fact.  I have visits to plan for, and new recipes to try – and, oh yes…I live 45 minutes from the beach.
Um, k.  Sulking over.
I do need to be honest with you, though.  I didn't think a whole lot about weddings during my week in paradise, so this round up might be a little on the Read More
0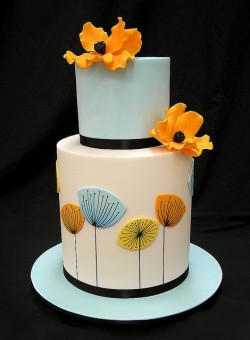 Anemones: a species of plant in the buttercup family. Also known as a Japanese wildflower.
I had no idea what those were so I had to look that up. I figured I'd help out any others who weren't born with a green thumb. I may not have known what they were but put them on a cake…….aaaaahhh-mazing!
I love this cake. Adore it even. It's sweet, simple, Read More
0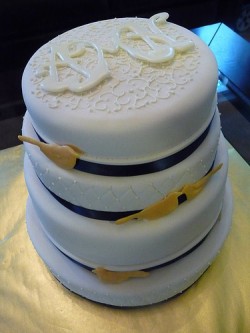 Here we go with those birds again.
Good thing I love them…right?
There is so much to talk about with this cake I am having trouble deciding where to begin…so let's just start with the facts. This is a four tier cake. The tiers have an alternating diamond pattern while the other layers are smooth and clean fondant. The top tier has an intricate swirl design and is topped with a gorgeous Read More
0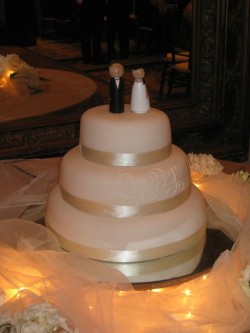 On my first day of graduate school I didn't know a soul.  By the end of the day I had two brand new friends and a date for sushi later in the week.  One of those friends was named Bea and she was the first person I'd ever met that owned more than one piece of Chanel.  Not just the kind of Chanel that I had (that my cousin bought me off the streets of NYC from a guy named Paco) but the real kind. Her collection not only included a purse but sunglasses and a pair of shoes.  The good thing about Bea was that she wouldn't rub it in your face.  If you asked her if it was real she would tell you that it was but other than that she was pretty low-key about the whole Chanel thing.  Another cool thing about Read More
4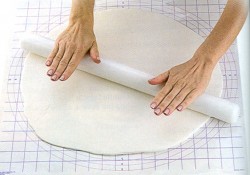 To fondant or to fon-don't. That is indeed the question.
I was originally going to call this post Fon-do or Fon-don't: The Truth about Fondant, but then all I could think about was dipping various things in chocolate…or cheese. Or both. So I switched it. I think it's much more socially acceptable Read More
0
In this corner we have the traditional wedding cake.  The modern wedding cake was introduced in the 20th century and the tiered wedding cake became popular in 1902.
In the other corner we have the cupcake.  The cupcake can actually be traced back to 1796…over one hundred years before the first modern wedding cake.  Their popularity at weddings only happened in the 2000's as cupcakes became trendy.  According to Wikipedia, the cupcakes first gained publicity in 2001 after Magnolia Bakery in New York City was featured on an episode of Sex and the City.  Thank YOU Carrie Bradshaw.
A dilemma many modern brides are having is the great debate between cupcake versus cake.  Which one do you choose?
Well, let me break it down for you:
Wedding Cake
The Tradition. A wedding without a cake seems almost unheard of.  If you were paying Read More
1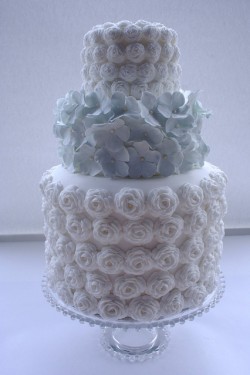 When this photo popped up on flickr today I almost fell out of my chair.  Just LOOK how gorgeous it is.  The flickr page gave me little info so I knew I had to go digging…and digging I went.
I found the baker of this beautiful cake to be Victoria of Victoria Made.  Much to my surprise we featured another one of her beauties last month.  Check out that other post and decide which one is your favorite.  It's difficult for me to choose but I think I'm sticking with this one.  I love the light blue and white color scheme.  This cake includes a double height tier at the base (a new trend which I am loving lately) that is covered in Read More
0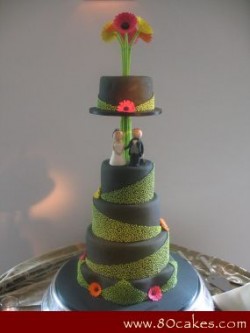 To me a black wedding cake is chic and classy.  I just adore them..and they are typically few and far between.  Especially the good ones.  We've featured a few here like this one.
Today I am so excited because now I get to show you a classic black wedding cake covered in what else..GERBERA DAISIES!  Hi, my name is Christen and I have a tiny obsession with all things gerbera.  Anyway, on with the cake business.  This cake was made by the talented Around the World in 80 Cakes.(Don't you just adore that name?  I wish I was a baker so I could Read More
0

Oh yes. We are going there. I was recently having a conversation with a friend of mine about this blog. He was asking me what the point of blogging about cake was. He didn't get it.
I had to explain that a wedding cake isn't just something you see, it's something you taste. If you go to a wedding and their cake is disgusting, you remember. If you go to a wedding and their cake is awesome, you remember. There have been more times than I'd like to count that I take a look at a gorgeous wedding cake and I cannot wait to dive in. Then after about six hours of dancing we FINALLY get to the cake cutting hoopla and I finally get my piece. (Because, of course, their wedding is ALL about me right?) Then after much anticipation…the cake sucks.
Have no fear though, because times they are a changing. Cake bakers are becoming more and Read More