Themed Wedding Cakes
A themed wedding cake may be just what you're looking for to set your cake and reception apart. While a themed cake would be a natural fit for a wedding that also invokes a theme – say an "Alice in Wonderland" wedding, or a renaissance wedding – a bride and groom may also choose a theme for their cake based upon the a favorite amusement park ride or a preferred hobby, a favorite location, or a season or holiday. For the couple enjoys the daring fun of an amusement park ride, we've seen cakes that immortalize attractions like Disney's Splash Mountain – fun! Likewise, the bicycling-enthusiast couple might prefer a cake that shows a mountain bike ride. Less specific would be the couple who incorporate images and items from the ocean into a beach cake, which might include gum paste shells and star fish, sand-like or pearly finish, and maybe a sand castle topper. Finally, if your wedding takes place near a beloved holiday or season, like the Fourth of July, or autumn, or Christmas time, consider incorporating themes that echo those holidays or times of the year. A July wedding cake might be decorated with stars and sparklers, while autumn might show off colorful marzipan leaves and chocolate twigs and acorns. Christmas might inspire the use of traditional garnets and greens, or cool and snowy blues and silvers. If there is a theme that you love, consider celebrating it with your wedding cake. It will make your day even more memorable, for both you and your guests.
0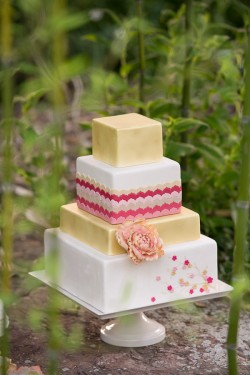 Erica of  Erica O'Brien Cake Design takes us in a decidedly unexpected direction with today's Thai-inspired cake.
I have seen some really beautiful cakes that pull from Asian inspiration, but most of the time, they featured deep, bright colors. But with this cake, which was featured in a stylized shoot, we see beautiful Thai design elements approached with the light, deft touch of pastel.  And it works beautifully.  I absolutely love the stacked fondant Thai arches, and the way that Erica alternates a couple of gold layers into the mix.  And the sweet flower blossoms, as well as the gold-tinged peony, are breathtaking.  She even plays with Read More
0
This is one of my all-time favorite cakes that I've featured.  Why am I providing you with a re-run today, you ask?  A couple of reasons:
1. A cake loved should be shared more than once.
2. We will never forget.
So today, although I will not dwell on what September 11 has come to mean to Americans as well as others around the world, I do offer you this apple cake Read More
0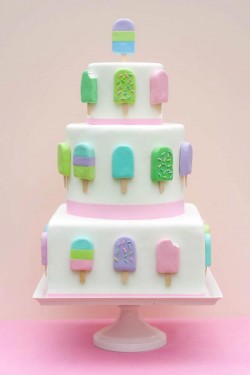 And so, it is upon us.  That time of year that Floridians hate the most.  While the rest of you are flaunting your about-to-dip-into-crispness temperature, we continue to swelter. And since making hay while the sun shines sounds incredibly boring, I'll embrace my lot, Sunshine State Style – with a trip to the beach and an ice cream treat.
I've said it before:  Erica O'Brien is a cake goddess. Check out this simply, stunningly adorable Ice Cream Pop Cake that she came up with.  Her inspiration? Read More
0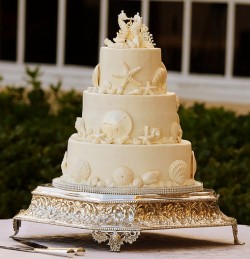 I hope you aren't tired of beach-inspired wedding cakes, because I probably never will be.
I know that I've featured my fair share of wedding cakes that incorporate ocean elements over the last couple of years, like this Teal Seashell Wedding Cake from a wedding in Key West.  Well, today's cake has kind of an interesting story, too.
This cake was made for a recent wedding at Read More
0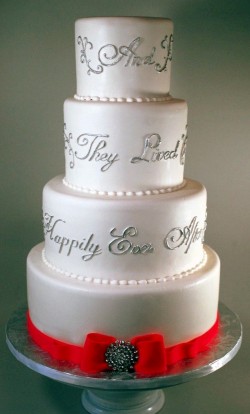 Those with any sense know that "And They Lived Happily Ever After" signifies not the end of the story, but the beginning.
Today, we feature another beautiful cake by Jenniffer at Cup A Dee Cakes in Tunnel Hill, Georgia.  Clearly, Jenniffer knows this secret, and so does the couple for whom she made this beautiful cake.
So there are lots of fun things to love here.  First, be sure to read Jen's original blog post about how she got that pretty silver lettering onto that cake without going all wonky and downhill like most of us would.  Next, don't you love that vivid pop of Read More
0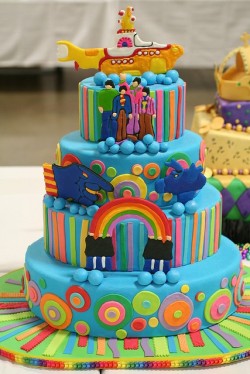 And we live
A life of ease.
Everyone of us
Has all we need.
Sigh.  Love LOVE The Beatles.  Always have, always will.  And what better homage to their idealistic work, than to immortalize their songs in your wedding cake?
So, I adore Yellow Submarine.  You can totally catch me bobbing my head back and forth, driving my Honda, and singing along.  And I think you do, too, and that is why I had to show you this cake.  Originally, it was posted on Read More
0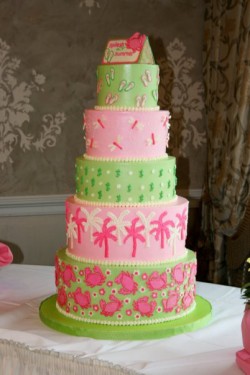 Hello pink and green! Calling all sorority girls and Lilly Pulitzer fans…today's featured cake is inspired by the designs of Lilly Pulitzer. For those of you who aren't familiar with Lilly Pulitzer think bright colors, fun beachy patterns, and all around girly-ness!
I love this cake for SO many reasons BUT we shall start with the bright colors! I love love LOVE! pink and green together (I know that trend is considered "out"…but bear with me) because the colors are so happy and vibrant…and they make me smile. And speaking of things I love…I love how the cake designer chose a different pattern for each tier. The design incorporates Read More
0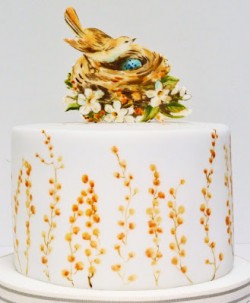 This cake is vintage and gorgeous and I am in love! Amelie's House is responsible for this wonderful concoction. They actually designed and made it for a baby shower but I think it would make a beautiful cake for a wedding (or a bridal shower).
Around the cake they painted a mimosa border (the flower not the delicious drink) because the featured refreshment at the shower were mimosa cocktails (yum!). But this cake isn't all about the decor. The actual cake itself was Read More
3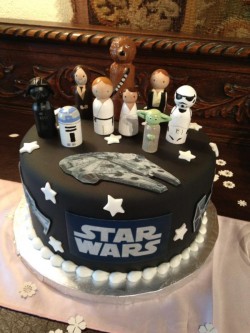 Oh. My. Star. Wars.  This cake by Anna Cakes of Winter Springs, FL is all kinds of amazing!
I grew up in a house filled with Star Wars.  My little brother was in elementary school when they released Episode I The Phantom Menace, and it played non-stop in our house for years. I swear I can probably still recite it to you. There may have also been a few epic light saber battles that went down in our kitchen (much to my mother's dismay).
So when I saw this cake I was Read More
1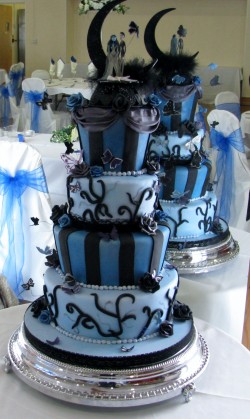 I think I spy Victor Van Dort and his Corpse Bride!
Isn't this fabulous?  This gothic cake by Marianne of Dazzlelicious Cakes in Plymouth, UK, is the talk of the town.  I absolutely LOVE the cool, ghosty blue and black motif. Black and blue roses, y'all!  And swags and swags and stripes and swirls.  This is an amazing cake, and this was a really fun wedding, I just know it.
There is just so much going on here!  Check out the Read More