Circle Wedding Cakes
Think of a traditional wedding cake, and chances are, you will immediately envision a tiered white cake with round layers. Round, or circle, wedding cakes are the standard for tradition. Whether the layers are separated by columns, or rest one upon another, it is safe to say that the majority of tiered cakes favor layers that are round in shape. In recent years, bakers have added interest to the otherwise traditional (and sometimes unexciting) profile of a round cake by stacking layers that are very similar in size, or by varying the height of various layers. But regardless of the size and height, circle wedding cakes are here to stay. And what could be more appropriate to signify and celebrate unending love, than the circle?
0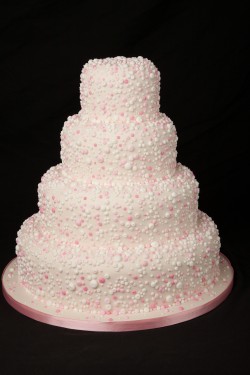 I'm quickly becoming a fan of pink wedding cakes, and this cake covered with tiny pink dots is one of my new favorites.
This four-tier cake is so pretty and delicate, but also fun and whimsical with all those tiny dots in varying shades.
Our friends at Hockleys Cakes in the United Kingdom created this lovely cake (called the "Carnaby") and it took them eight hours (yes, 8 hours!) to hand pipe the dots onto the icing. Read More
0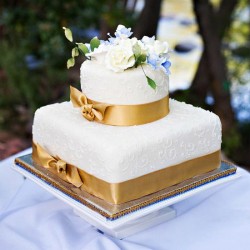 I've been showcasing quite a few showstopping (and rather large) wedding cakes lately, so today I wanted to go smaller.
Much smaller. Like a two-tier wedding cake for a small wedding.
I love this cake wrapped with gold ribbon. It's so pretty and elegant and if you're planning a small wedding, you still need to have a gorgeous cake. Read More
0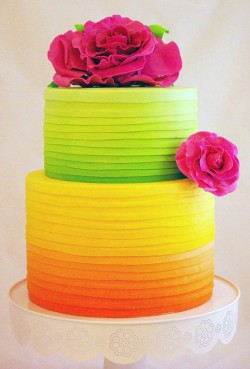 Since we are just days away from the "official" start of the summer season (Memorial Day!), I wanted to find a cake that featured bright and vibrant colors that remind me of summer.
I think this cake fits the bill.
Behold the neon wedding cake!
Can you imagine seeing this very bright and very cheery cake at a summer wedding? Can you imagine having a cake like this at your own summer wedding? Read More
0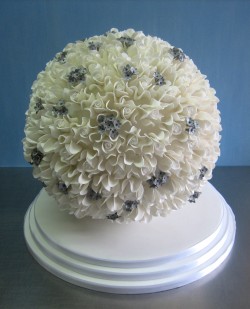 As non-traditional wedding cakes go, this one … well, it takes the cake.
How much love do you have for this posey wedding cake? It's rather amazing, don't you think?
And for those of you wondering, a "posey" is a small flower bouquet. (Of course, right now I'm singing "a pocket full of posies" over and over in my head).
Our incredibly talented friends at Hockleys Cakes created this posey wedding cake, Read More
0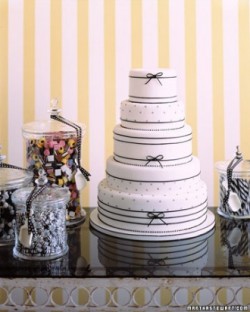 Truth be told, I'm not a fan of black licorice. If I had to eat licorice I would choose the red (strawberry or cherry flavored) kind.
But, I am a fan of black and white wedding cakes, so this cake embellished with black licorice is a new favorite. (Plus, I could totally not eat the licorice if I had this cake served to me!)
This cake is stunning in its simple elegance – it's just a stark white wedding cake adorned with black rope licorice and black polka dots created with royal icing. Read More
0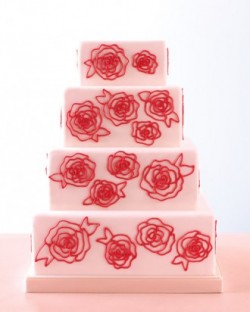 I am loving this pretty pink cake with hand-piped red roses. It's so pretty and elegant.
And, believe it or not, this gorgeous and somewhat abstract wedding cake can be a DIY project.
That's right! If you – or someone in your wedding party – is feeling particularly ambitious, this is a cake that you can create by following a few simple instructions.
I love this cake for a couple of reasons. Read More
0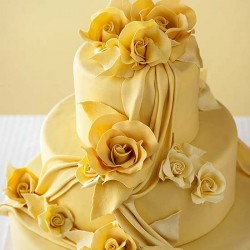 There's just something about the color yellow – it's so bright and cheerful and instantly puts me in a good mood.
The same can be said for this wedding cake.
It's bright and cheerful and very elegant.
Now, yellow might not be your first color choice when deciding on a wedding cake, but I have to ask "why not?" Read More
0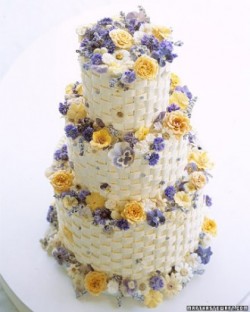 Everything is coming up roses (and violets, pansies, lavender, and cornflowers) with this stunning wedding cake!
I absolutely love this cake because it elegantly screams 'spring!' and because those are real flowers that have been crystallized with sugar.
The three-tier cake is frosted with buttercream icing that was piped on to resemble a basket weave – so the cake actually looks like baskets full of fresh flowers. Read More
0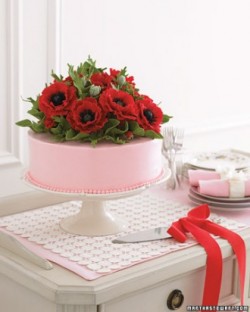 Since your wedding cake is the centerpiece at your reception, it makes sense to pick a cake that will make you and your guests smile.
This super cheerful – and very pink! – wedding cake fits the bill.
I am loving the simplicity of this cake. One tier, pink icing, and fresh poppies.
No muss. No fuss.
This cake would be perfect for a small, outdoor wedding in the spring or summer. It would even be lovely at your bridal shower. Read More
0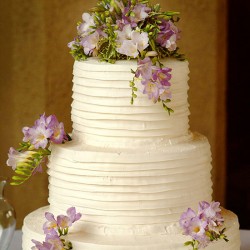 Sometimes all it takes to make a cake stunning is a simple design and some fresh flowers.
Take this cake for example – the icing is simple and the only embellishment is fresh flowers. That's it.
And it doesn't need anything else to make it look spectacular. Read More