Circle Wedding Cakes
Think of a traditional wedding cake, and chances are, you will immediately envision a tiered white cake with round layers. Round, or circle, wedding cakes are the standard for tradition. Whether the layers are separated by columns, or rest one upon another, it is safe to say that the majority of tiered cakes favor layers that are round in shape. In recent years, bakers have added interest to the otherwise traditional (and sometimes unexciting) profile of a round cake by stacking layers that are very similar in size, or by varying the height of various layers. But regardless of the size and height, circle wedding cakes are here to stay. And what could be more appropriate to signify and celebrate unending love, than the circle?
0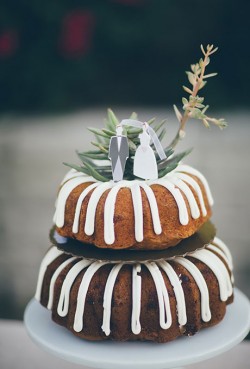 I'm always looking for great non-traditional wedding cakes – something out of the ordinary and unique.
I think today's cake fits that description.
I give you the "bundt cake wedding cake."
Now, when I think about bundt cakes I think about birthday cakes with chocolate glaze drizzled on the cake. I have never thought about a bundt wedding cake. Until now.
I love the simplicity of this cake – there's no muss, no fuss. It just a two-tier bundt cake frosted with simple white icing drizzled down the sides. Read More
0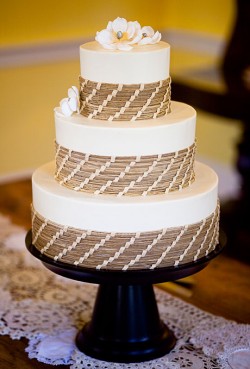 With Labor Day just around the corner, we're all trying to hold on to the last weeks of summer.
And while the heat and humidity outside might make you doubt fall's return in a few weeks, the calendar says it's coming. So it's time to transition into thinking about fall weddings and pumpkins and rustic wedding cakes.
Which brings us to today's cake.
I love the rustic simplicity of this cake and think it would be ideal for that late summer/early fall wedding. Read More
0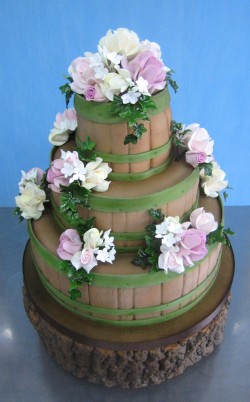 Now this is a fun wedding cake!
How often have you seen a wedding cake shaped like a barrel? Never, right?
Well now you can say that you've seen it all.
I absolutely love the charm and humor of this wedding cake from our friends at Hockleys Cakes over in the United Kingdom!
The story behind this cake is that the reception was held in a rustic, traditional English pub and the cake was created to reflect the venue. Now that's a pub I'd like to visit! Read More
0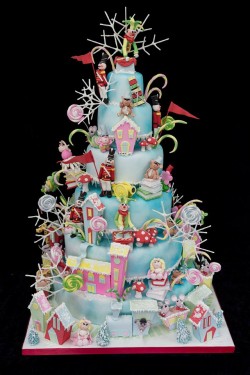 I recently saw someone post on Facebook that there are only 20 Fridays left until Christmas.
And while that seems a little bit crazy, I figured today was as good a day as any to feature this Winter Wonderland wedding cake.
Our good friends at Hockleys Cakes created this whimsical cake for a winter wedding. The cake reflects a "Toytown" theme.
The six tier cake features a blue sky background which enhances the colors of the toys, animals, and buildings that are on display. Read More
0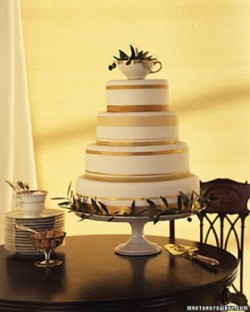 It used to be a tradition for a bride and groom to pick out a china pattern before they married.
Then, guests would purchase items from the china pattern and gift them to the new couple. I was one of those brides who registered for a china pattern. I've used it exactly once in the past 12 years.
But just because choosing a china pattern has fallen out of favor with some modern brides doesn't mean your cake can't be inspired by a china pattern. Read More
0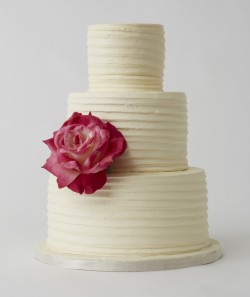 Sometimes all you need to make a statement is a simple yet elegant wedding cake.
This is that cake.
The three tier cake features elegant buttercream icing that almost resembles pleats in a wedding dress. And the only embellishment the cake needs is a brightly colored fresh flower.
This version of the cake features a lovely red rose, but if roses aren't your favorite it would look stunning with other big and bright flowers. Read More
0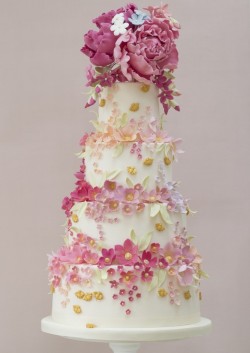 As we inch ever closer to the last month of summer, I'm doing my best to keep a firm grip on the warm weather and flowers, because we all know fall is just around the corner.
That being said, I had to share this cake today because as soon as I saw it I was in love. With a cake.
At first glance you might think "wow, this is a busy cake"…and while you'd be right, I would argue that it's busy in a good way. A really good way.
I love the stark white icing on the four-tiered cake. But what I love more are the brightly colored flowers that adorn the cake from top to bottom. Read More
0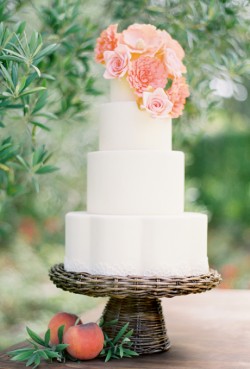 Sometimes all you need for a gorgeous wedding cake is a simple white cake topped with pretty flowers.
Like this cake.
It's so simple and so pretty and I would love to see this at a summer wedding.
I love wedding cakes with fresh flowers – it's such an easy and elegant way to add something special to your cake.
And you can personalize it by incorporating the flowers from your bouquet or what your bridesmaids are carrying. Read More
0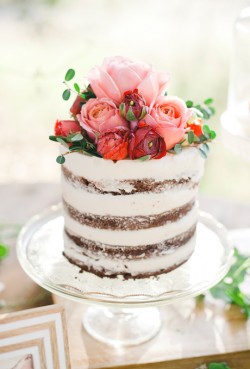 I have to admit, I find the unfrosted – or "naked" – wedding cakes a bit jarring.
I think that's because I want my cake to be overloaded with frosting. I'm the "corner of the cake" kind of girl because that's where the highest concentration of frosting hides.
So when I see a wedding cake sans frosting, it makes me wonder "why?"
However, I am always one to give cakes the benefit of the doubt (unless there's carrot cake involved) so let's go forth and explore the wonder that is the naked wedding cake. Read More