Circle Wedding Cakes
Think of a traditional wedding cake, and chances are, you will immediately envision a tiered white cake with round layers. Round, or circle, wedding cakes are the standard for tradition. Whether the layers are separated by columns, or rest one upon another, it is safe to say that the majority of tiered cakes favor layers that are round in shape. In recent years, bakers have added interest to the otherwise traditional (and sometimes unexciting) profile of a round cake by stacking layers that are very similar in size, or by varying the height of various layers. But regardless of the size and height, circle wedding cakes are here to stay. And what could be more appropriate to signify and celebrate unending love, than the circle?
0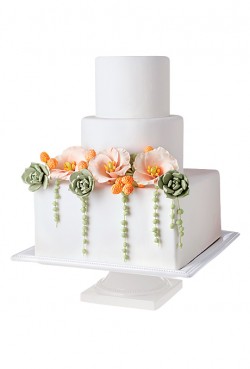 It's the first day of April and spring is in the air and that's no joke!
As I look outside I'm spying buds on the trees and tulips popping out of the ground and I'm convinced that the warmer weather is here to stay.
Which means I just had to find a gorgeous wedding cake today with springtime flowers!
This cake is that perfect springtime confection. Read More
0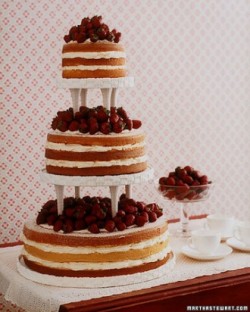 One of my favorite summertime fruits is the strawberry! They're sweet and perfect and can be used in so many ways, even on a wedding cake!
I love strawberry shortcake and today's naked wedding cake reminds of that sweet treat.
This wedding cake was created with pound cake (of course!) and layers of mascarpone cream and strawberries. I think it might be my new favorite spring or summer wedding cake. Read More
0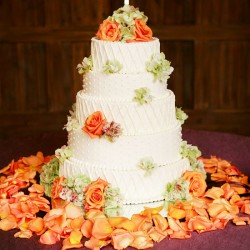 There's something to be said for a traditional white wedding cake.
While I do love the non-traditional, oddly shaped, bright colored cakes that I often feature here sometimes it is nice to just find a lovely white wedding cake.
This four tier cake is simple and elegant and practically perfect in every way. There's nothing boring about it either. The tiers are are iced with traditional butter cream icing.
But instead of leaving them plain the icing is decorated with Swiss dots and diamonds that were piped onto the icing – giving it just the right amount of elegance and pop!
To add even more to the cake – without going overboard – fresh flowers are used to adorn the cake. This is a fun idea because you can use any flower you like. Smaller buds would be ideal for the cake but larger blooms would work for the cake topper.
And, a traditional white cake is perfect in any season.
You can find this cake here.
0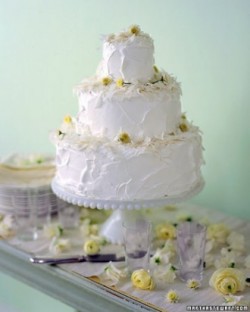 Despite the cooler-than-normal temperatures that won't let go, it is officially spring! And that means fresh flowers are on my mind, especially when it comes to wedding cakes.
I love seeing wedding cakes with fresh flowers – they give the cake a nice pop of color while keeping things elegant and classy. Plus, it's a good way to incorporate your bouquet flowers into the reception.
Now while you might not be carrying mums in your bouquet, I'm still a fan of this springy white wedding cake. Read More
0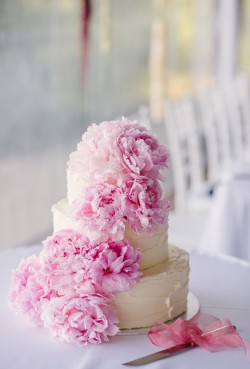 When I'm looking for wedding cakes to share with you I'm always searching for that one cake that stops me in mid-scroll.
That cake that wows me from my computer screen. And today that cake is this one with the pretty pink flowers.
As we inch closer and closer to spring and the much-anticipated blooming of springtime I flowers I just had to find a cake that had lovely blooms as part of the decorating.
I love this cake for its simplicity and elegance. Read More
0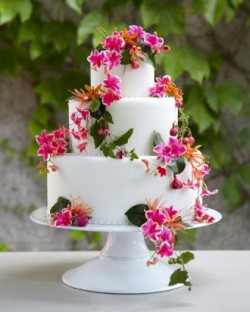 It's March! So that means spring MUST be just around the corner, right?
Well I'm convinced that the snow has to end soon so I'm showcasing spring wedding cakes today. And this all-white cake with cascading fresh flowers is perfect for a spring wedding!
The wedding cake itself is a classic and elegant three-tier white fondant cake. On its own, the cake would be pretty but boring. But when you add a splash of bright colors with fresh flowers it changes everything! Read More
0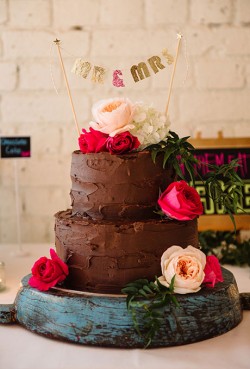 If there's one non-traditional wedding cake that I'll always be a fan of it's the chocolate wedding cake.
Everyone is expecting a cake with white icing, even if the cake inside is a variety of flavors. So why not wow your guests and surprise them with a chocolate frosted cake?
The cake flavors could vary – chocolate, marble, yellow – but to see a wedding cake frosted with gloriously delicious chocolate icing? That would be incredible! Read More
0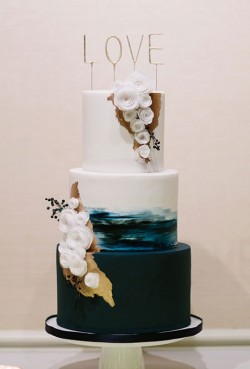 Since it seems as though winter is never going to end here in the Midwest, I find myself daydreaming about the beach nearly every day.
Which brings me to today's cake.
This three-tier creation reminds me of my favorite beach – with white sand and beautiful blue water.
It's quite lovely. Read More
0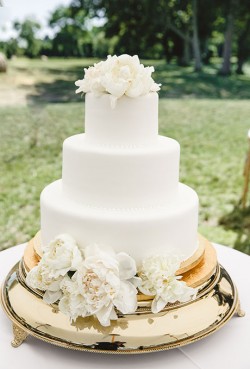 Since a good portion of the country is buried in white fluffy snow, it seemed appropriate to focus on an all-white wedding cake today.
Granted this cake is way prettier than any pile of snow – and it won't make your toes cold either!
You know I'm a sucker for traditional all-white wedding cakes – call my old fashioned but I like traditional cakes. Sure a pop of color or a whimsical cake is good every now and then, but I like white cakes. Read More
0
OK so maybe you haven't given much thought to a gray wedding cake – after all gray is usually synonymous with dreary things.
But it can actually be a stunning color on your cake when it's done the right way.
This three-tier cake isn't drab or depressing – the charcoal gray icing is dark and elegant and set off by colorful fruit, succulents, and gold leaves.
As much as I'm a fan of traditional wedding cakes when I see cakes that showcase 'thinking outside the cake box' design it's exciting. And this charcoal gray cake is a new favorite. Read More