Circle Wedding Cakes
Think of a traditional wedding cake, and chances are, you will immediately envision a tiered white cake with round layers. Round, or circle, wedding cakes are the standard for tradition. Whether the layers are separated by columns, or rest one upon another, it is safe to say that the majority of tiered cakes favor layers that are round in shape. In recent years, bakers have added interest to the otherwise traditional (and sometimes unexciting) profile of a round cake by stacking layers that are very similar in size, or by varying the height of various layers. But regardless of the size and height, circle wedding cakes are here to stay. And what could be more appropriate to signify and celebrate unending love, than the circle?
0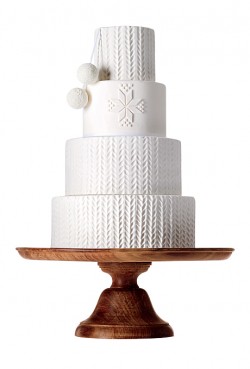 Baby it's cold outside!
So why not pick a cake for your winter wedding that reminds your guests of a warm – and very stylish – sweater?
OK, that doesn't sound very intriguing does it? But just look at this beautiful all-white wedding cake and tell me it's not stunning!
Aside from the whole all-white-cake vibe going on, just look at the design on this cake. It reminds me of one of those very cozy winter ski sweaters that are all the rage during the winter. Read More
0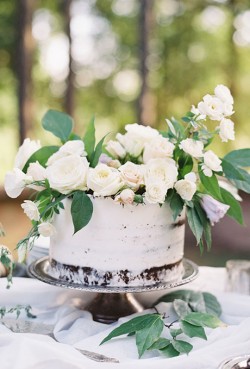 There's something to be said for an elegant, one-tier wedding cake.
With a smaller cake there's no muss, no fuss but the cake can still steal the show.
While I'm a fan of big, elegant and fancy wedding cakes I also like the smaller cakes.
Whether you're hosting a small, intimate reception and you don't need a big cake, or you're planning on serving other desserts (cupcakes, a dessert bar, or maybe a cheese wedding cake) – a one-tier cake can be perfect for so many reasons. Read More
0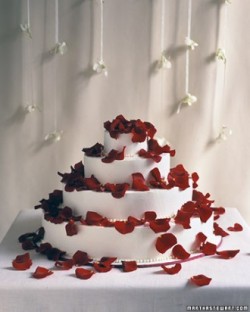 I've been writing a lot about the use of fresh flowers on wedding cakes and how much I love the trend.
Heck I even used fresh Black Magic Roses and greenery on my own wedding cake more than a decade ago.
Fresh flowers just never go out of style (in my humble opinion).
But, instead of using the whole flower, consider for a moment using just the petals from those fresh flowers – just like this cake. Read More
0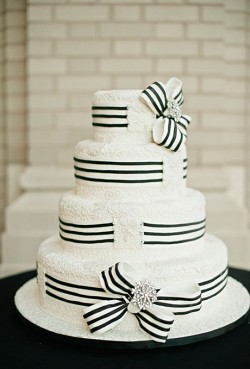 There's just something about a black and white wedding cake that (subtly) screams glamour and elegance.
I'm a fan of the traditional white wedding cake – even though I do love cakes with pops of color too – but when the only color added is black it takes the cake to a whole new level of awesome.
I love this wedding cake. The tiers are iced to resemble lace – perhaps just like the lace in your wedding dress. And then each tier is embellished with a gorgeous and modern black and white fondant ribbon. Read More
0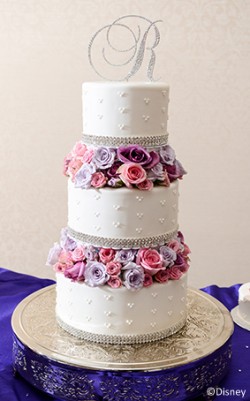 It's been a while since we featured a wedding cake from Disney's Fairytale Weddings and Honeymoons, so when I saw this cake I just had to share it!
My favorite aspect of this cake – the purple flowers. Sure there are also some pastel pink flowers in there but I am in love with the lilac roses!
I love wedding cakes with fresh flowers and when those flowers are roses I love it more. But when they're purple (and pink) roses? It's all over. I think this could be my new favorite wedding cake. Read More
0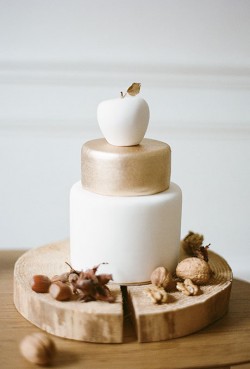 One of the best things about fall? Apples!
Picking apples, drinking apple cider, and of course wedding cakes with apples as the topper.
OK, so maybe that last one isn't so typical of fall but it should be.
Just look at this monochromatic white and gold cake – it is so perfect for fall. It is so elegant and yet simple at the same time. Read More
0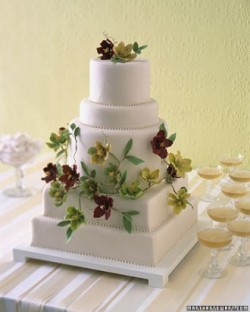 As much as I love seeing a wedding cake adorned with fresh flowers, there is something equally as gorgeous and elegant about sugar flowers.
Not only can sugar flower be beautiful but they're also edible – which is a win-win in my book.
This cake is both elegant and modern. I love that the bottom tiers are square while the top half of the cake features round tiers. It gives the cake just enough of an "edge" without being too over-the-top modern. Read More
0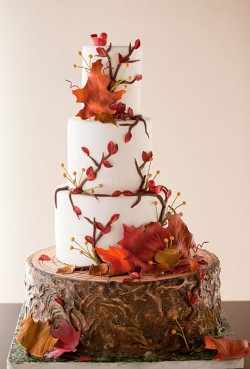 I think it's safe to say that fall is officially here.
There's a chill in the air, the leaves are changing color (at least around here), and I'm starting to see more fall decorations with a lot of orange and brown. So I figured it was a good time to feature a very fall wedding cake.
This is the perfect fall wedding cake – it has rustic colors, leaves, and even an edible tree stump as the cake's base.
The three-tier cake is iced with a beautiful white fondant that is embellished with gum paste leaves and branches in oranges, browns, reds, and greens. Read More
0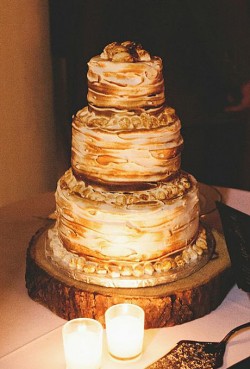 If there's one sweet treat that almost everyone loves it has to be s'mores.
The ooey, gooey marshmallow and melted chocolate sandwiched between graham crackers – well, it's heavenly.
So why wouldn't you want your wedding cake to be a s'mores wedding cake? I can't think of one reason.
This gorgeous wedding cake is that s'mores wedding cake we've all dreamed of and it looks delicious. Read More