Circle Wedding Cakes
Think of a traditional wedding cake, and chances are, you will immediately envision a tiered white cake with round layers. Round, or circle, wedding cakes are the standard for tradition. Whether the layers are separated by columns, or rest one upon another, it is safe to say that the majority of tiered cakes favor layers that are round in shape. In recent years, bakers have added interest to the otherwise traditional (and sometimes unexciting) profile of a round cake by stacking layers that are very similar in size, or by varying the height of various layers. But regardless of the size and height, circle wedding cakes are here to stay. And what could be more appropriate to signify and celebrate unending love, than the circle?
1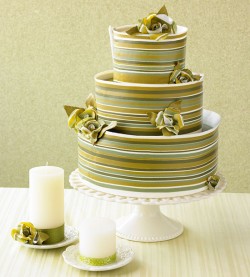 The holidays are the one time of year when I really enjoy the color green.
buy cheap software
It's just such a festive color when it's paired with the other holiday hues like silver, gold, and red. And this cake really caught my eye because it features more than just one shade of green.
While it might look like the cake is wrapped with fabric, each tier of the cake is actually wrapped with bands of chocolate (yes, that's chocolate!) with stripes in varying green hues accented with white to make the greens really pop. Read More
Other Posts You May Enjoy:
0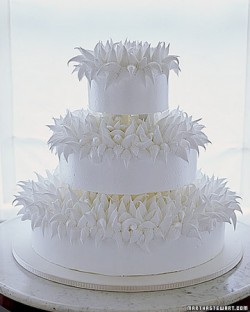 This cake might be called the "chrysanthemum wedding cake" but in my humble opinion it looks more like something the Snow Queen created.
essay editing service
I love the dramatic spikes on this cake – it's just so stunning.
The three tiers of this cake are accented by spiky petals created by stark white meringue and the effect is incredible. No other embellishment is needed on this cake – it's just so breathtaking on its own. Read More
Other Posts You May Enjoy:
0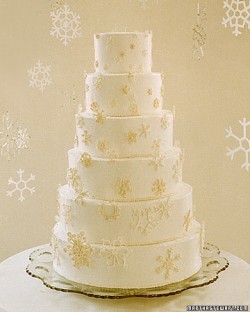 I have begrudgingly accepted the fact that it's not going to get warm anytime soon and snow is very, very likely here in the Midwest.
And so, I decided to share a cake that evokes that wintry feeling – the snowflake wedding cake.
You have to admit, even if you aren't a fan of snow this is a beautiful cake.
It's a six-tier stunner frosted with Swiss meringue that really looks like snow. And the royal icing snowflakes grow in size from top to bottom, giving the effect of falling snow. Read More
Other Posts You May Enjoy:
0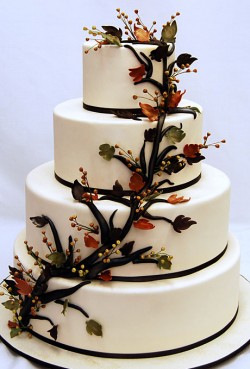 Here we are, a day before Thanksgiving and I wanted to find a cake that looked and felt like fall (despite the fact that it's probably snowing in certain parts of the country).
I think this cake hits the mark.
I love the elegance and simplicity of the colors on the cake against the very white icing.
This four-tier cake is decorated with brown ribbon in between each tier, adding a dramatic flair to the overall look. But what really makes it a "fall" wedding cake are the cascading leaves and berries. Read More
Other Posts You May Enjoy:
2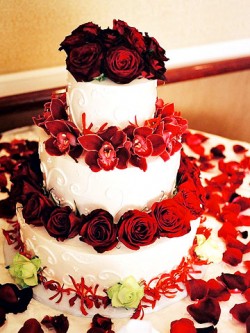 There's just something about dark red roses that I love.
They're dramatic. And beautiful. And they're the perfect flower to represent all things love.
They're also a perfect flower to adorn a lovely white wedding cake, adding both beauty and drama to the cake.
And when you add in some deep red orchids and green roses, you have an incredibly gorgeous cake. Read More
Other Posts You May Enjoy:
0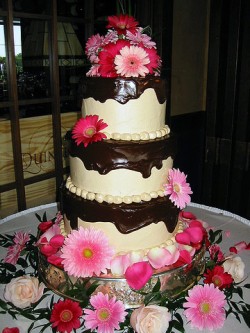 So here we are a week after Halloween and I still have chocolate, chocolate, chocolate on the brain! Admittedly that might have something to do with the three bowls of candy in my house.
Whatever the reason, I had to find a cake today that was all about the chocolate and would you look at this beauty?!
This three-tier cake looks like it is dripping with chocolate ganache. Really, what could be better than that? Read More
Other Posts You May Enjoy:
0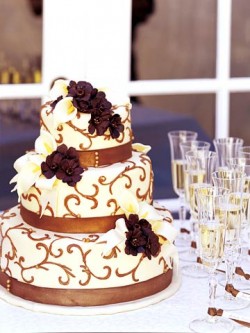 Did you know today is National Chocolate Day?
As a lifelong fan of all things chocolate, I will admit that I am definitely a fan of the "including chocolate in your wedding cake" trend that I have been seeing lately.
Sure, anyone can have a chocolate tier or two (or four) in their multi-tiered wedding cake, but I'm talking about having chocolate front and center on your wedding cake.
Take this cake for example.
It doesn't matter what flavor cake is inside, we have chocolate on the outside! Read More
Other Posts You May Enjoy:
0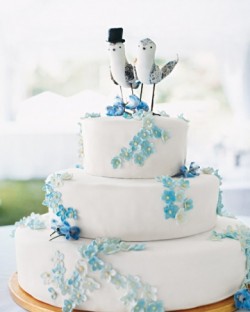 The weather in my neck of the woods is reminiscent of winter today, so I figured it was a good day to share a wedding cake that reminded me of ice and snow.
I absolutely love this cute little three-tier cake. I love the smooth icing and the fact that it's only three tiers. Keeping it simple is a great idea when it comes to wedding cakes.
But more than the size and simplicity of the icing, I adore the dainty blue flowers. I'm not usually a fan of blue – it isn't on my list of favorite colors. But these tiny blue daisies really made me perk up and smile. Read More
Other Posts You May Enjoy:
0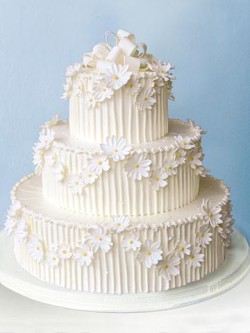 I have mentioned my love of daisies before, and since we're in the middle of the week I thought I'd share a cheery and happy daisy wedding cake again.
You can't look at daisies and not feel happy inside, so they're really a perfect flower to feature on a wedding cake. Everyone at a wedding is already smiling from ear to ear, so why not keep the happy theme going with your cake? Read More
Other Posts You May Enjoy: