Circle Wedding Cakes
Think of a traditional wedding cake, and chances are, you will immediately envision a tiered white cake with round layers. Round, or circle, wedding cakes are the standard for tradition. Whether the layers are separated by columns, or rest one upon another, it is safe to say that the majority of tiered cakes favor layers that are round in shape. In recent years, bakers have added interest to the otherwise traditional (and sometimes unexciting) profile of a round cake by stacking layers that are very similar in size, or by varying the height of various layers. But regardless of the size and height, circle wedding cakes are here to stay. And what could be more appropriate to signify and celebrate unending love, than the circle?
0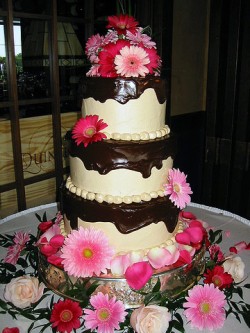 So here we are a week after Halloween and I still have chocolate, chocolate, chocolate on the brain! Admittedly that might have something to do with the three bowls of candy in my house.
Whatever the reason, I had to find a cake today that was all about the chocolate and would you look at this beauty?!
This three-tier cake looks like it is dripping with chocolate ganache. Really, what could be better than that? Read More
Other Posts You May Enjoy:
0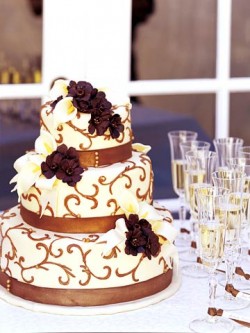 Did you know today is National Chocolate Day?
As a lifelong fan of all things chocolate, I will admit that I am definitely a fan of the "including chocolate in your wedding cake" trend that I have been seeing lately.
Sure, anyone can have a chocolate tier or two (or four) in their multi-tiered wedding cake, but I'm talking about having chocolate front and center on your wedding cake.
Take this cake for example.
It doesn't matter what flavor cake is inside, we have chocolate on the outside! Read More
Other Posts You May Enjoy:
0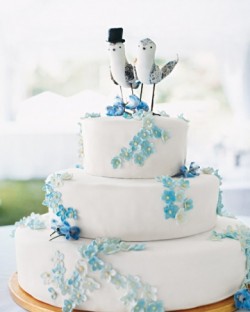 The weather in my neck of the woods is reminiscent of winter today, so I figured it was a good day to share a wedding cake that reminded me of ice and snow.
I absolutely love this cute little three-tier cake. I love the smooth icing and the fact that it's only three tiers. Keeping it simple is a great idea when it comes to wedding cakes.
But more than the size and simplicity of the icing, I adore the dainty blue flowers. I'm not usually a fan of blue – it isn't on my list of favorite colors. But these tiny blue daisies really made me perk up and smile. Read More
Other Posts You May Enjoy:
0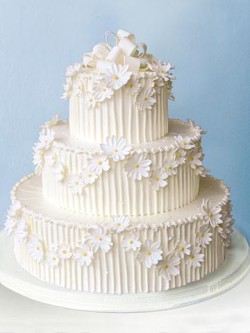 I have mentioned my love of daisies before, and since we're in the middle of the week I thought I'd share a cheery and happy daisy wedding cake again.
You can't look at daisies and not feel happy inside, so they're really a perfect flower to feature on a wedding cake. Everyone at a wedding is already smiling from ear to ear, so why not keep the happy theme going with your cake? Read More
Other Posts You May Enjoy:
0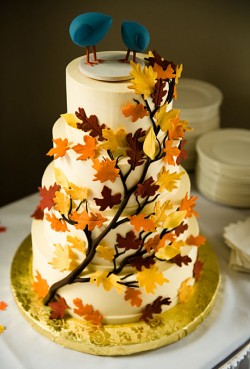 I think it's finally safe to say that fall is (really) in the air!
The air conditioning has been turned off for (hopefully) the last time until next spring, the stores are full of everything pumpkin, and the grass is covered in a carpet of brightly colored leaves.
Which brings us to this stunner of a fall wedding cake.
This cake is perfect for your fall wedding with its simple tiers and stark white icing accented by the single tree branch covered in fondant leaves.
I love the bright, vibrant fall colors of the edible leaves – the orange, yellow, and brown are just stunning and whimsical at the same time. Read More
Other Posts You May Enjoy:
1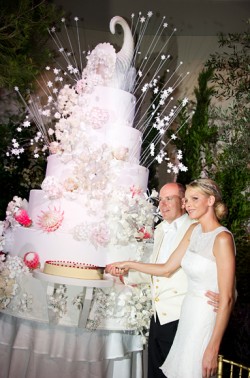 This week's installment of Flashback Friday has a royal twist to it, simply because when I saw this cake I was shocked at its sheer size and just had to share it with all of you.
Apparently when you're part of the royal family of Monaco – the second smallest country in the world at only 1.95 square kilometers in size (that's 0.75 square miles for us non-metric folk) – your wedding cake has to be enormous.
And when Prince Albert of Monaco wed his bride, the lovely Princess Charlene in July 2011 their cake was definitely the centerpiece of the reception. Read More
Other Posts You May Enjoy:
0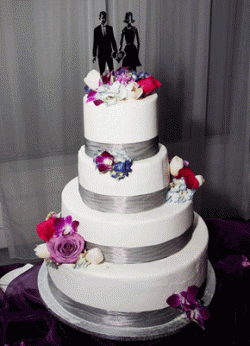 This week'
s Flashback Friday features another reality TV star – and while they aren't really celebrities – sometimes they do have really amazing wedding cakes.
Jesse Lenoir was a contestant on Project Runway a few years ago, and while his wedding cake is quite incredible I also have to point out that he designed the bridesmaid dresses for his wedding.
But let's talk about this cake. Read More
Other Posts You May Enjoy:
0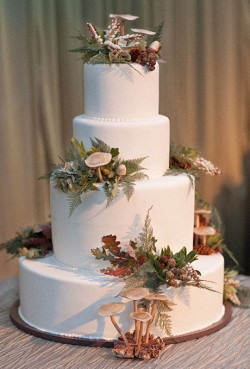 There's a
distinct chill in the air and the leaves are finally changing, so in my mind it is officially fall.
Which means I'm going to start sharing some great fall-inspired wedding cakes and other goodies. I absolutely love fall weddings – maybe because I had one many moons ago – and there is so much you can do to spruce up your fall wedding day.
For example, you could have a beautiful cake like this woodland themed cake.
Look closely, those ARE mushrooms on a wedding cake. Read More
Other Posts You May Enjoy:
0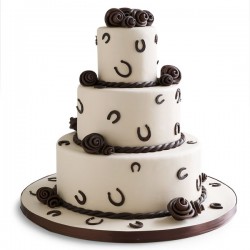 Today is your lucky day – even if it is Friday the 13th!
I discovered that there is a lot of old folklore on the interwebs about how getting married on Fridays can bring bad luck, but I say pish posh! Go ahead and get married on a Friday. And if you're feeling especially lucky, throw all caution to the wind and get married on a Friday the 13th! (In case you're wondering, there's still one more for this year – December 13, 2013). Read More
Other Posts You May Enjoy:
0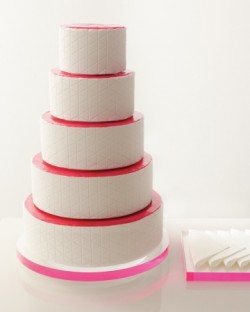 Sometimes when I'm looking for wedding cakes it's all flowers and embellishments. But every now and then I find a cake where simplicity is what makes it gorgeous.
This is one of those cakes.
It's your basic, run-of-the-mill five tier white cake. And on its own that would be a stunning cake and you could add some fresh flowers to make it really pop.  And you'd have a pretty but basic wedding cake.
I love this cake for the simple fact that it goes beyond the flowers with a brightly hued glaze in between each layer. Read More
Other Posts You May Enjoy: