Circle Wedding Cakes
Think of a traditional wedding cake, and chances are, you will immediately envision a tiered white cake with round layers. Round, or circle, wedding cakes are the standard for tradition. Whether the layers are separated by columns, or rest one upon another, it is safe to say that the majority of tiered cakes favor layers that are round in shape. In recent years, bakers have added interest to the otherwise traditional (and sometimes unexciting) profile of a round cake by stacking layers that are very similar in size, or by varying the height of various layers. But regardless of the size and height, circle wedding cakes are here to stay. And what could be more appropriate to signify and celebrate unending love, than the circle?
0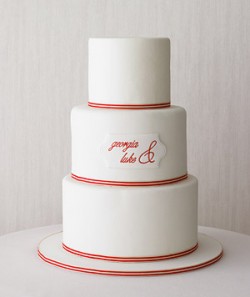 Remember when I wanted preppy yesterday? Well, I wanted it today, too, but I thought it would be fun to go in search of horizontal lines instead of vertical ones.
I adore the simplicity of the this cake.  And it's really no shock that it's simple, since it's featured on Real Simple Magazine's website!  Plain white fondant on tall tiers, trimmed with a border of thin red and white striped ribbon.  The cake's only Read More
Other Posts You May Enjoy:
0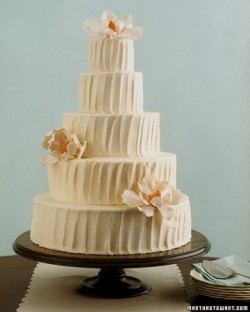 I was in the mood for simple today. Maybe it's because life seems so fast and so complicated. So I went in search of simplicity, and this is what I found. If life can't be simple today, my choice of cake sure can be!
Remember all those times that you helped to frost those cakes, and Mom or Grandma took extra care to make the frosting all loopy and swoopy before calling it a done deal for the Read More
Other Posts You May Enjoy:
0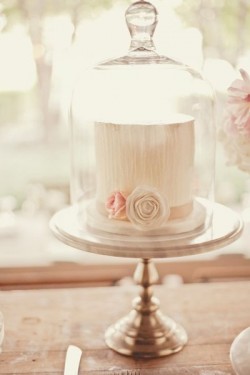 I espied this on Wedding Wire today and just had to share it with you.
I just love a little cake.  Now, this one is billed as a cake for a shower or a bridesmaids' luncheon, but having gone through the big wedding hoopla, I love the idea of a wedding intimate enough that this darling little cake would be enough for all your guests.
There's so much to Read More
Other Posts You May Enjoy:
0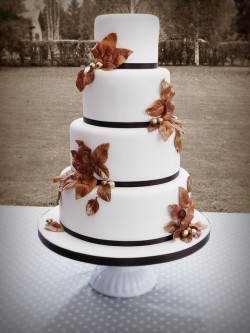 I spied this wedding cake and just had to share it with you.
We love fall weddings, don't we?  That hint of chill in the area with the glorious warmth of leaves changing, setting hills and fields ablaze with their beautiful colors.  But when you distill and dress up the essence of all of those colors, you come away with gold.  If silver is for winter, then gold is surely for fall.
To an otherwise plain, fondant-covered cake with black ribbon trim, cake artist Mina from My Read More
Other Posts You May Enjoy:
0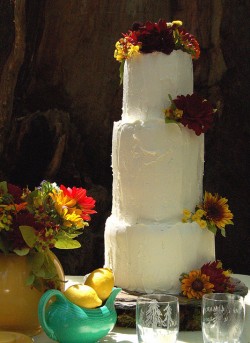 Congratulations!  You're engaged!  Now, get to it, because you've got about 8,972 details to attend to.
Now, the one that we're most interested in happens to be your cake.  Because, well, we love cake.
But, there's just one leetle problem.  There are just so. many. choices out there.
So, how are you to pick how it should look, or what it should taste like?
We think we can help with that.  You see, inspiration lies EVERYWHERE.  Think about what you love.  And build a cake around it.
Your favorite shared hobby. So you're marrying this guy, right?  Well, we're going to assume that you have some common interests since you're planning to spend your lives together.  Would they lend themselves to a cake?  We've seen cakes with cyclists and Harry Potter, with books and scrabble boards.  If you'd like to say, "Hi, World.  This is who we are, and this is some of the cool stuff we like to do together!" – well, why don't you let your cake say it instead?
Your dress.  His shoes. We lurve this idea.  You spend a fortune on your dress because you love the details, right?  Well, how fun would it be to have the very same lace or trim, or design element on your cake?  Or did he just buy the COOLEST CONVERSE EVER to wear for the wedding?  If you take a picture or a fabric swatch when you meet with your baker to discuss details, you should have no trouble replicating some cool aspect of your dream-come-true wedding dress.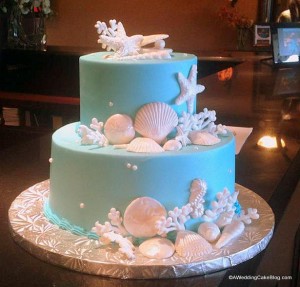 The seasons and surroundings. Getting married when there's sumptuous fall foliage surrounding you?  Perfect!  The crisp scents and sights of fall can lend excellent inspiration for your special cake – picture a towering confection, enrobed in a glossy ganache finish, and trimmed with beautiful sugar paste leaves tinted to match the colors outdoors.  Or maybe your special day will take place on a beach.  Few and far between are the designs and curlycues that can compete with the natural beauty of seashells and starfish.
So my advice?  Don't flip through thousands of pictures on Google or Martha Stewart.  Because you will be overwhelmed by the sheer volume of all that is gorgeous and out there.  Start at the beginning.  Start with yourselves, and work out from there.  In my opinion, that's the very best way to make the wedding – and the wedding cake – reflect who you are as a couple.
Other Posts You May Enjoy:
0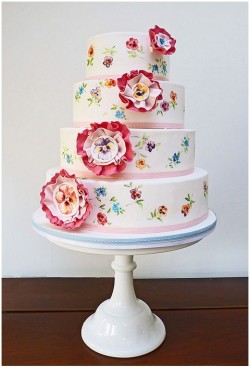 Hello, hello!  How are you this very fine Sunday?  I'm swell, and happy that it's the weekend.
How is the weather in your neck of the woods?  Cool and crisp?  Well…lucky YOU.  'Cause we are totally sweltering here in the southeast.  It happens this way every year, but it's always so tiring…watching everyone else's mercury plummet while ours holds steady.  But in just a few weeks, it will be the dry season…or what we call in Florida…bliss.
Isn't this just the BEST time for weddings, though?  Rich foods, rich colors, and that excitement that just Read More
Other Posts You May Enjoy:
0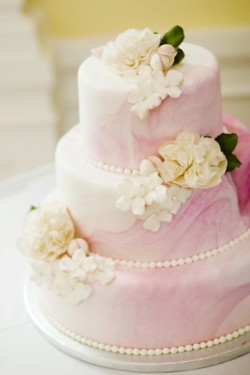 It happens.
As you can imagine, I spend a wee bit of time looking at wedding cakes.  (Okay.  A LOT of time.)  And every once in a while, I find one, and save it, and "ooh" and "ahh" over it…but sorta kinda forget to, you know, note where it came from.
Enter this beautiful cake.
I love LOVE this marbleized technique. And whether it's achieved with fondant or modeling chocolate, I think it's just so cool.  That's obviously what I thought when I saw this one, except I must have gotten so excited that I didn't credit it.
I can't really make out some of the flowers, but I believe the smaller ones are dogwood blossoms, some of my springtime favorites.  And the simple piped beading is a nice finish.
So please, feel free to let me know if you know who baked this lovely cake, because I just HAD to show it to you.  But I certainly love to give credit where it's due.  I'd really enjoy seeing more of their work, or hearing the story behind this one.
Other Posts You May Enjoy:
2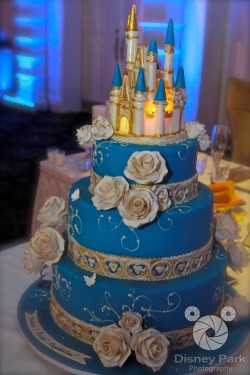 You know we love us some Disney here at A Wedding Cake Blog.  In fact, as I write this, I am entertaining a visit on Wednesday to Epcot and reliving a jaunt to Magic Kingdom last week!  Sigh.  I heart living in Florida.
But I didn't come here today to make you green with envy.  Oh no.  I came to show you a FABULOUS cake.
DisneyRob tapped me on the shoulder a while back and asked me if I'd like to feature his cake on our blog?  And I said, Read More
Other Posts You May Enjoy:
0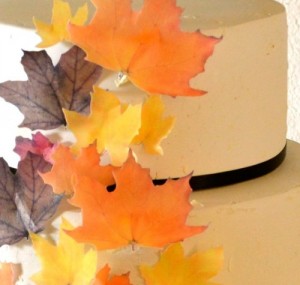 Happy Fall, Y'all!  No, really!  This time, it really is fall!  As of yesterday.  And I'm so excited for all the fun stuff ahead, aren't you?
It's been a busy week around here, so I'm gonna get right to it with a round up of our own stuff.  Enjoy!
On Monday, we asked the very important question, Read More
Other Posts You May Enjoy: