Circle Wedding Cakes
Think of a traditional wedding cake, and chances are, you will immediately envision a tiered white cake with round layers. Round, or circle, wedding cakes are the standard for tradition. Whether the layers are separated by columns, or rest one upon another, it is safe to say that the majority of tiered cakes favor layers that are round in shape. In recent years, bakers have added interest to the otherwise traditional (and sometimes unexciting) profile of a round cake by stacking layers that are very similar in size, or by varying the height of various layers. But regardless of the size and height, circle wedding cakes are here to stay. And what could be more appropriate to signify and celebrate unending love, than the circle?
0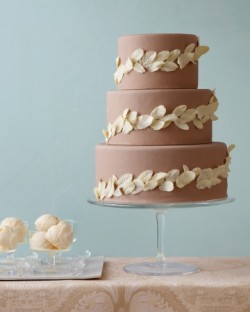 There must be something in the air this week as I'm still slightly obsessing over all things fall.
And while this cake would look great at any time of year – but would look amazing in the fall – I had to share it with you.
I found this cake while searching "DIY decorations" and perhaps a DIY wedding is not in the cards for you. However, I'm sure your baker could create some lovely leaves to wrap around your wedding cake. Read More
Other Posts You May Enjoy:
0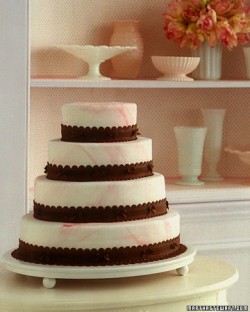 Chocolate and coffee – is there anything better than these two flavors? I think not.
Which is why I just had to feature this cake today – it's a marble chocolate and mocha cake with a marbleized fondant. It's such a pretty – and unique – cake that I couldn't resist sharing it with you!
The four-tiered cake features alternate layers of chocolate marble and mocha marble. And as good as chocolate and coffee are as separate flavors, you know when they're combined to make mocha it's that much better! Read More
Other Posts You May Enjoy:
0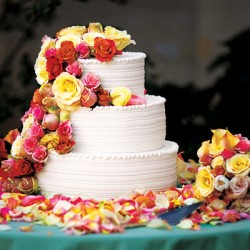 I was looking at celebrity wedding cakes this week and found so many over-the-top, 10-foot-tall creations that I just wanted something simply and pretty.
So when I saw this lovely and simple cake I knew I had to feature it.
This three-tiered cake was created for the wedding of actress Jaime King anddirector Kyle Newman in November 2007. The cake was a berry and coconut creation, with simple yet lovely white frosting. Read More
Other Posts You May Enjoy:
0
When I saw this cake I instantly adored it, probably because it evokes a little bit of The Great Gatsby vibe with the elegant cake topper and diamond brooch decoration. It's just classically beautiful and elegant.
This four-tiered cake was created for the celebrity wedding of former Survivor contestant Stephenie LaGrossa and Major League Baseball pitcher Kyle Kendrick. Their wedding took place in California in November 2010. Read More
Other Posts You May Enjoy:
0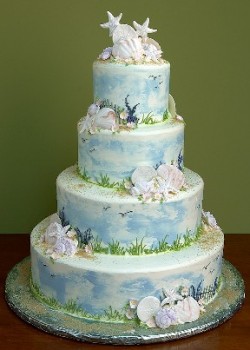 If given the choice I would live at the beach because I'm a firm believer in the theory that life is better in flip flops.
I love everything about the beach – the sand, the surf, the colors of the ocean. And, I always thought it would be romantic to be married on the beach. Which is why I love this beach-themed wedding cake. It just screams romance and you can almost hear the waves crashing in the distance, right?
The four-tiered cake appears to be hand painted with a seascape theme of blue skies, picket fences, sea grass and sand. Read More
Other Posts You May Enjoy:
0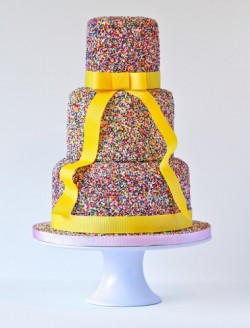 I'll admit, when I think of the typical wedding cake the first thing that comes to mind is white frosting and flowers.
But I'm always looking for something new and fun and well, I think I found it with this cake! There's nary a spot of white frosting to be found because the entire cake is covered with rainbow sprinkles! Honestly, how fun and festive is this cake?
Sure, it doesn't look like a wedding cake, but that's the charm. In today's Pinterest-fueled world of wedding planning this cake would certainly be the show stopper at your reception. Read More
Other Posts You May Enjoy:
0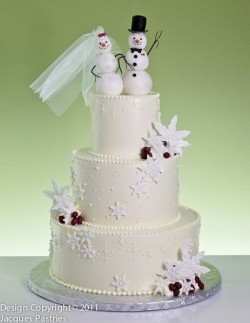 After sweltering and nearly melting in last week's heat wave, I had to find a cake that made me think of cooler temps, and this super cute Snowman Couple cake is it!
I love the simplicity of the cake itself – just white frosting and some gorgeous snowflakes accented with red berries which make the whole cake just pop!
But what really made me smile were the adorable snow people standing atop the snowy white cake. Seriously – how cute are they, dressed in their snowperson wedding best? Who knew Frosty could be so handsome? Read More
Other Posts You May Enjoy:
0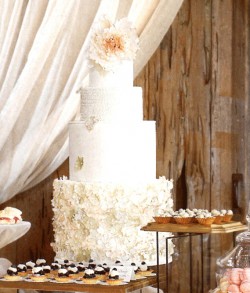 We all know that celebrity wedding cakes can sometimes be a bit over-the-top and audacious. But not this one. I love the shabby chic simpleness of Blake Lively's wedding cake, which was part of her Martha Stewart-styled wedding to Hollywood heartthrob Ryan Reynolds last year.
The cake was the centerpiece of a dessert table that was full of the couple's favorite sweet treats including mini strawberry shortcakes, lemon meringue tartlets, and s'mores bars. Read More
Other Posts You May Enjoy:
0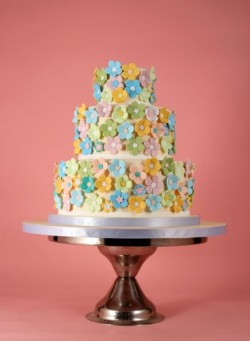 I absolutely love daisies – they're such a cheerful flower! And as soon as I saw this cake, I fell in love with it because it's so cute and whimsical.
This cake would be perfect for a spring or summer wedding, especially if your color palette included pastels. I love that the flowers aren't just light pinks and purples, but also include the bright yellow, green, and blue. Those really makes the cake pop with color.

Imagine how amazing this cake would look at an outdoor wedding! And since daisies are the world's happiest flowers, you can't help but smile when you see it.
This cake was created by Charm City Cakes West. Check them out here.
Other Posts You May Enjoy:
0
There's cheesecake and then there's cheese cake. Yes, that's right. Today we're talking about "cakes" made out of wheels of cheese. Is there anything more glorious really?
We have featured cheese cakes here Read More
Other Posts You May Enjoy: