Circle Wedding Cakes
Think of a traditional wedding cake, and chances are, you will immediately envision a tiered white cake with round layers. Round, or circle, wedding cakes are the standard for tradition. Whether the layers are separated by columns, or rest one upon another, it is safe to say that the majority of tiered cakes favor layers that are round in shape. In recent years, bakers have added interest to the otherwise traditional (and sometimes unexciting) profile of a round cake by stacking layers that are very similar in size, or by varying the height of various layers. But regardless of the size and height, circle wedding cakes are here to stay. And what could be more appropriate to signify and celebrate unending love, than the circle?
0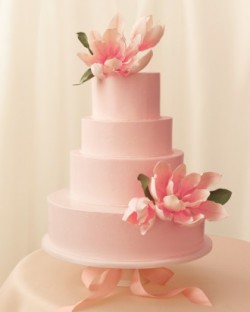 Since we're only about a month away from Valentine's Day, I'm starting to look for everything in shades of pink.
And what luck! I found this pretty little gem today.
I love, love, love this pretty pink confection. It's so pink and so romantic and it practically perfect in every way. Read More
0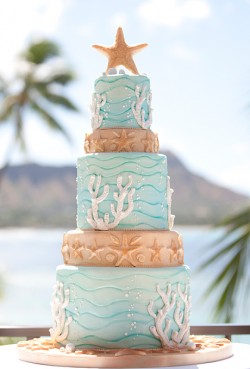 With much of the country coming out of a very deep freeze, I think today is the perfect day to dream about a beach wedding.
And if you're planning a beach-themed wedding, you're going to need a cake that has a tropical vibe – just like this beautiful creation!
I love how this cake plays on the ocean theme with alternating layers of blue icing for the sea and sand colored icing. It really makes me want to head to a beach right this minute.
As pretty as this cake is, it's also beautifully simple and doesn't go too far in the decor department. Read More
0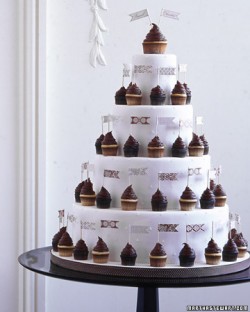 Sure, cupcakes were all the rage for weddings in 2013 and that trend is likely to continue this year.
But if you're looking for something that goes beyond "just cupcakes" why not consider serving a wedding cake and cupcakes! That's right – it's the best of both worlds.
I saw this whimsical idea here and just had to share it with you because it's really brilliant. Read More
0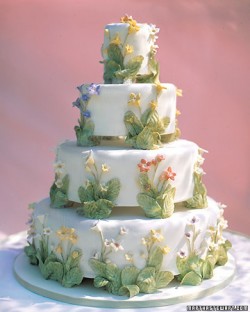 The weather outside might be frightful, but this cake is so delightful.
Yes, we might have just "celebrated" the first full day of winter, but that just means that we have a mere 86 days until the first day of spring, so I think right now is the perfect time to start daydreaming about lovely springy flowers.
And so, I give you the primrose wedding cake.
This gorgeous four-tier cake looks like it has a garden of flowers blooming around each tier. Read More
0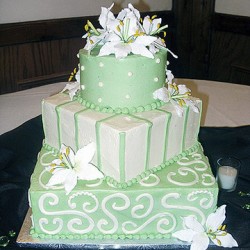 I might have mentioned recently that green isn't a color I often go to, except when it's the holiday season.
However, I am loving this mint green confection and would adore it at any time of the year, holiday season or not.
The color of this cake is so cool and really creates a beautiful cake when paired with the white embellishment and lillies as decoration. Read More
1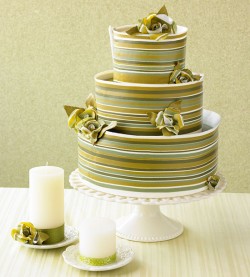 The holidays are the one time of year when I really enjoy the color green.
It's just such a festive color when it's paired with the other holiday hues like silver, gold, and red. And this cake really caught my eye because it features more than just one shade of green.
While it might look like the cake is wrapped with fabric, each tier of the cake is actually wrapped with bands of chocolate (yes, that's chocolate!) with stripes in varying green hues accented with white to make the greens really pop. Read More
0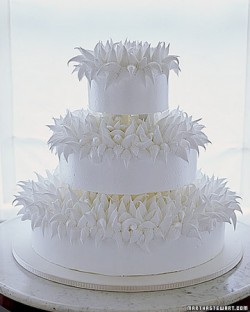 This cake might be called the "chrysanthemum wedding cake" but in my humble opinion it looks more like something the Snow Queen created.
I love the dramatic spikes on this cake – it's just so stunning.
The three tiers of this cake are accented by spiky petals created by stark white meringue and the effect is incredible. No other embellishment is needed on this cake – it's just so breathtaking on its own. Read More
0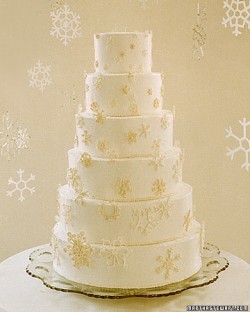 I have begrudgingly accepted the fact that it's not going to get warm anytime soon and snow is very, very likely here in the Midwest.
And so, I decided to share a cake that evokes that wintry feeling – the snowflake wedding cake.
You have to admit, even if you aren't a fan of snow this is a beautiful cake.
It's a six-tier stunner frosted with Swiss meringue that really looks like snow. And the royal icing snowflakes grow in size from top to bottom, giving the effect of falling snow. Read More
0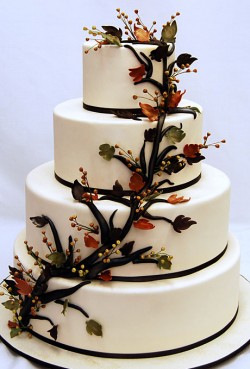 Here we are, a day before Thanksgiving and I wanted to find a cake that looked and felt like fall (despite the fact that it's probably snowing in certain parts of the country).
I think this cake hits the mark.
I love the elegance and simplicity of the colors on the cake against the very white icing.
This four-tier cake is decorated with brown ribbon in between each tier, adding a dramatic flair to the overall look. But what really makes it a "fall" wedding cake are the cascading leaves and berries. Read More
2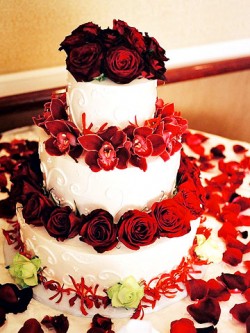 There's just something about dark red roses that I love.
They're dramatic. And beautiful. And they're the perfect flower to represent all things love.
They're also a perfect flower to adorn a lovely white wedding cake, adding both beauty and drama to the cake.
And when you add in some deep red orchids and green roses, you have an incredibly gorgeous cake. Read More