Circle Wedding Cakes
Think of a traditional wedding cake, and chances are, you will immediately envision a tiered white cake with round layers. Round, or circle, wedding cakes are the standard for tradition. Whether the layers are separated by columns, or rest one upon another, it is safe to say that the majority of tiered cakes favor layers that are round in shape. In recent years, bakers have added interest to the otherwise traditional (and sometimes unexciting) profile of a round cake by stacking layers that are very similar in size, or by varying the height of various layers. But regardless of the size and height, circle wedding cakes are here to stay. And what could be more appropriate to signify and celebrate unending love, than the circle?
0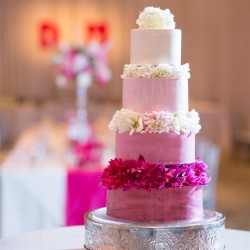 Valentine's Day 2013 may be behind us, but I thought we could still use a little blush o' love.  What do you think?
Ombre has been Read More
Other Posts You May Enjoy:
0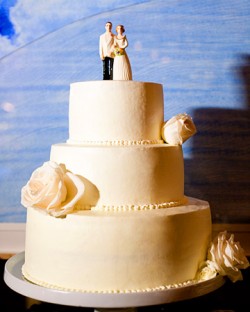 I'm feeling a little — okay, a whole lot — classic today. And so my cake choice reflects that.
I love the elegant simplicity of the white buttercream wedding cake that's trimmed with roses and topped with an uber traditional bride and groom.  It would seem that the wedding was an affair with lots of "glitzy ambiance" so this cake struck the balance between the indulgence and the simple.  And when you go with the classics, you don't really need birds flying around the top or fireworks shooting off the sides, do you?
At the end of the day, after Read More
Other Posts You May Enjoy:
0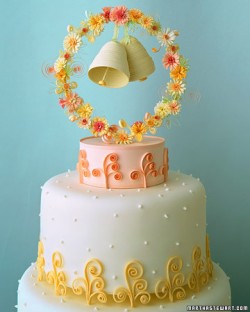 Doesn't this cake just say spring wedding to you?
If you're a bride looking forward to spring or summer nuptials, I super think you need this cake. I adore the nod to tradition with the wedding bells. And the whimsy of the daisies makes Read More
Other Posts You May Enjoy:
0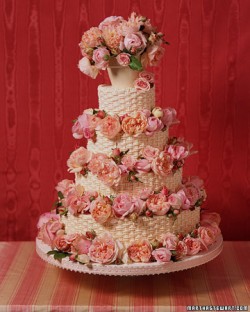 I can't help it. Blame it on living in the mild-weather southeast, but once Christmas is over, I'm on to summer and beach outings. This beautiful wedding cake, with its basket weave motif and full blown roses, shouts "Summer!" to me.
But it could also be shouting Read More
Other Posts You May Enjoy:
0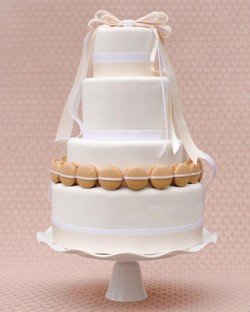 I don't think that I've mentioned in the last five minutes how much I love Paris.
The hubs and I honeymooned there.  Sounds like a no brainer, right? Honeymoon in the City of Love (or Lights, if you prefer.)  But it actually wasn't our first choice.
We wanted something domestic – in North America more or less – so we didn't have to hassle with passports and the like. But as we researched, we kept finding super affordable flights to Europe (ah, the good ole, pre-9/11 days…) — until suddenly, we looked at each other, and Read More
Other Posts You May Enjoy:
0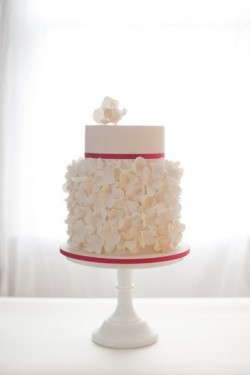 Hello, Dears!
Today, I'm starting to turn away from the sparse winterishness of January, and toward the ardent blush of Valentine's Day, which is just around the corner.
Do you celebrate?  We don't do much with it around these parts, but I love the sentiment of being sweet to everyone on V Day. It can be about romance, or you can expand the scope and make it a day to show love to all or those close to you.  Remember those fun Read More
Other Posts You May Enjoy:
0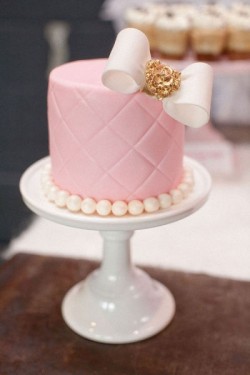 I just found my new favorite wedding.  Well, for today, anyway.
This one is adorably quirky, and brings in elements of both the bride's and groom's heritages — which, I'm guessing, were Asian and Russian, respectively. My favorite touches?  The ab Read More
Other Posts You May Enjoy:
0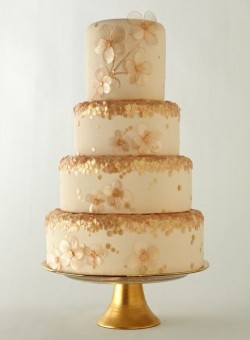 Does anything glitter quite like gold?
This cake is, in a nutshell, drop-dead gorgeous.  It's so luxurious, and just completely fantastic. For possibly the first time, I am saying this silly sentence: it's too pretty to cut.
It's not often that I'm Read More
Other Posts You May Enjoy:
0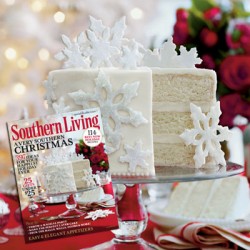 It will come as no surprise to regular readers of A Wedding Cake Blog that I am an avid Southern Living magazine fan.
The world stops once a month when an issue comes. I peruse every feature, and file away recipes for that week's menu or upcoming party, and I dream — and sometimes use — the travel advice on the pages.
So I look forward every year to the December issue, and what has come to be known as "the big white cake" on the cover.
This year's big white cake is beautiful in its simplicity, and I applaud the powers that be who chose it, because it's the perfect all purpose white cake.  Perfect for birthdays, perfect for weddings.
We've gotten so fancy, haven't we?  And there's nothing wrong with fancy.  But every good cook should have a very basic, completely perfect cake in their repertoire, and this is a good candidate for that job.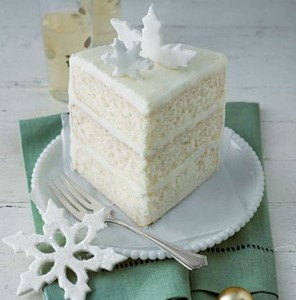 The cake — Mrs. Billett's White Cake — is done up in lovely, minimalist fashion with white buttercream and fondant snowflakes.  I was excited to share this with you because it would make a sensational winter wedding cake, and the fondant snowflakes are easy AND spectacular (which just happens to be the perfect combo IMO.)
adobe cs6 download mac
Find the recipe here.  Find the fondant snowflake DIY here (this one's a video.)
Ah, Southern Living.  I love how fabulous you continue to be.
Photo: Iain Bagwell; Styling: Heather Chadduck.
Other Posts You May Enjoy:
0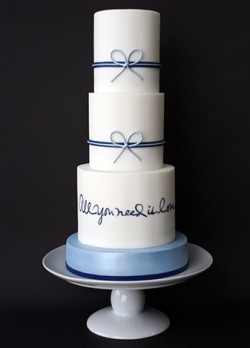 I love me some Beatles.  I have since I was a kid.  It's a cool mom who passes on her love of 60s bands to her children.
This cake is extraordinarily fabulous.  I mean, look at its simplicity, but it's perfectly complete. The double-height tiers and the simple corded bows are just fab, and I'm such a sucker for blue.  And that teeny tiny base layer!
But the real genius is, Read More
Other Posts You May Enjoy: