Circle Wedding Cakes
Think of a traditional wedding cake, and chances are, you will immediately envision a tiered white cake with round layers. Round, or circle, wedding cakes are the standard for tradition. Whether the layers are separated by columns, or rest one upon another, it is safe to say that the majority of tiered cakes favor layers that are round in shape. In recent years, bakers have added interest to the otherwise traditional (and sometimes unexciting) profile of a round cake by stacking layers that are very similar in size, or by varying the height of various layers. But regardless of the size and height, circle wedding cakes are here to stay. And what could be more appropriate to signify and celebrate unending love, than the circle?
0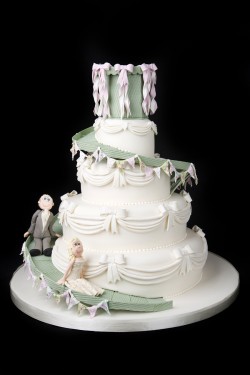 I always enjoying finding cakes that are whimsical and add an element of fun to the wedding reception.
This cake from our friends at Hockleys Cakes is just what I was looking for! It's whimsical, fun, and even has a spring-like look and feel to it.
The four-tier cake was created for a bride and groom who were celebrating their big day at an old stately home, according to Michael Hockley. The couple wanted a "vintage fairgroud" feel to the reception and wanted their cake to fit the bill.
And so, the Helter Skelter cake was created. Read More
0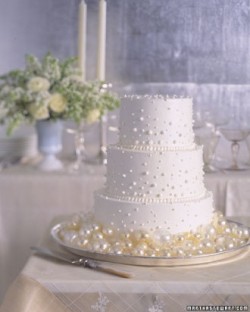 Bubbles are one of my favorite things.
They're fun and whimsical and oh so bubbly! And you can't help but smile when you think of bubbles. Even the word itself is funny. Say it with me – bubbles!
Which bring us to today's wedding cake that is surrounded by bubbles.
The wedding cake itself is simple enough – iced with a lovely buttercream icing. But what makes it really incredible is the sea of bubbles that surround the bottom of the cake. It's almost as though the cake is floating on the bubbles. Read More
0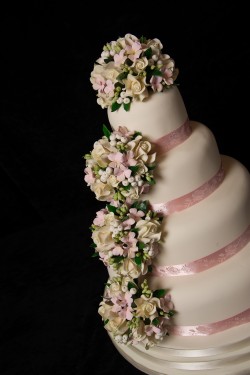 Spring is in the air!
Yes, it's true! The first day of spring is this tomorrow and therefore I'm focusing on all things pretty and floral and springy.
Just like this beautiful wedding cake adorned with balls of flowers.
This gorgeous contemporary wedding cake – called the 'Marlborough' –  is another incredible creation from our friends at Hockleys Cakes in the United Kingdom.
I am in love with this cake. It's so pretty and delicate and just downright gorgeous that I can't imagine wanting to cut into it, no matter how delicious it is! Read More
0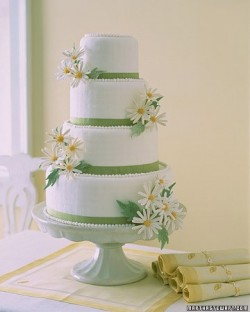 It isn't easy being green, especially when it comes to wedding cakes.
But since we're celebrating St. Patrick's Day today, I wanted to find a cake that had a little bit o' green in its design.
I think this cake with the green ribbons and cheery daisies is perfect. The green isn't too overpowering, and the daisies are such a fun flower that you just feel happier looking at them. Read More
0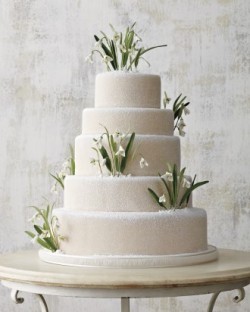 Since there are only a few weeks of winter left I decided we should feature one more winter themed dress before we go all spring-y.
And to that end, I present a white wedding cake with wintery snowdrop flowers that seem to be growing out of the tiers.
Whether you're a fan of winter or not, you have to admit this is a rather spectacular cake.
It's so pretty and elegant and it would be a stunning cake at any winter wedding. Read More
0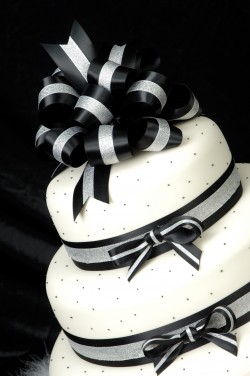 I have, over the past year or so, become a fan of non-traditional wedding cakes particularly those that go beyond a white wedding cake.
I love finding cakes that use different hues, whether they're bright and colorful or more muted black and white.
Which brings me to today's cake – this lovely black and white cake with ribbons.
It's another amazing creation from our friends across the pond, Hockleys Cakes and I absolutely love this cake. Read More
0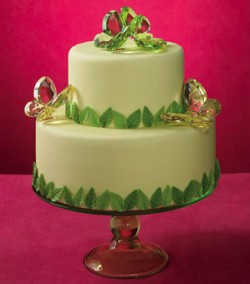 Despite the winter wonderland outside my window, I have decided it's time to embrace all things spring in the hope that there's a thaw on the way and we'll see green grass again sometime soon.
As part of this 'let's think spring' movement, I had to find a spring-y wedding cake to share today, and I think I found it!
This lovely light green cake is perfect for a spring wedding! Read More
0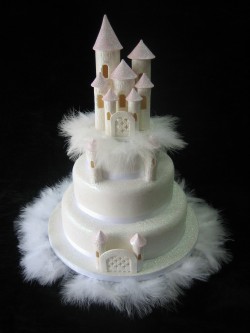 It's quite possible that this wedding cake is the most romantic cake I have ever seen.
Take a moment to look at this gorgeous creation.
Doesn't it just take your breath away?
This castle with feathers cake is another creation from our friends across the pond – Hockleys Cakes. And honestly, it might be my favorite cake of theirs to date. Read More
0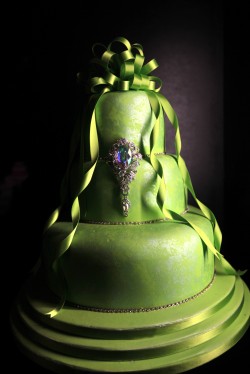 Before I saw today's wedding cake I will admit that I never once thought about green as a wedding cake color.
But this cake – courtesy of Hockleys Cakes – has me singing a different tune!
I absolutely love this emerald green cake. It is so stunning and so unique and will leave other cakes "green" with envy!
And it isn't just the green color of the cake that has me saying WOW – it's that brooch. Seriously that is just downright incredible. And stunning. And it adds to the rich look and feel of the cake. Read More
0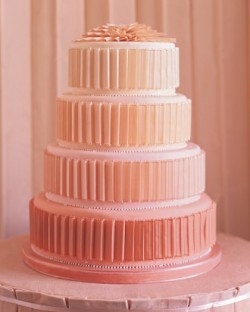 Every February I flirt with the idea of picking pink as a favorite color.
Maybe I'm inspired by all of the hearts and flowers that abound at this time of year. Or maybe it's because I secretly really like pink just a little bit more than I'm willing to admit.
Either way, I am loving this pink and peachy confection that I found!
As soon as I saw this cake, the line from Steel Magnolias ran through my head.
"Your colors are pink and pink."
"My colors are blush and bashful." Read More