Circle Wedding Cakes
Think of a traditional wedding cake, and chances are, you will immediately envision a tiered white cake with round layers. Round, or circle, wedding cakes are the standard for tradition. Whether the layers are separated by columns, or rest one upon another, it is safe to say that the majority of tiered cakes favor layers that are round in shape. In recent years, bakers have added interest to the otherwise traditional (and sometimes unexciting) profile of a round cake by stacking layers that are very similar in size, or by varying the height of various layers. But regardless of the size and height, circle wedding cakes are here to stay. And what could be more appropriate to signify and celebrate unending love, than the circle?
0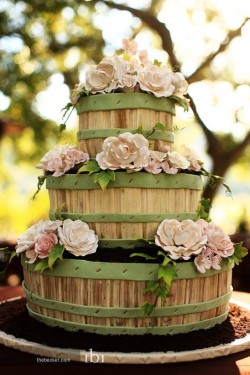 I wanted to feature a cake today that was sort of an homage to summer's last big hurrah.  After all, it's still summer. It's too hot to call it fall yet, and besides, we haven't hit the equinox.

So what signals the end of summer better than gathering an overgrown bounty?  This Flower Basket Wedding Cake was the perfect fit.
Look closely, because those baskets are, in fact, cakes.  The sugar paste flowers appear to be the star of the show when really, they're just garnish.
Isn't the detail Read More
Other Posts You May Enjoy:
0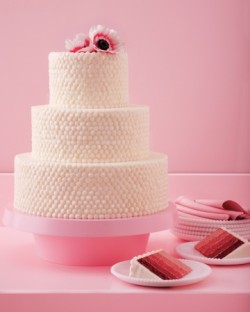 From the pages of Martha Stewart, we find this new take on a much loved classic, Red Velvet Cake.
Everybody knows that the BEST red velvet cakes must be covered in a thick layer of cream cheese frosting, right?  I mean, you do know that?  Well, that doesn't leave a lot of wiggle room for creativity on the outside of your cake…so this baker, Francina Stewart of One Girl Cookies in Brooklyn, took to the inside to set her cake apart.  The outside is covered with Read More
Other Posts You May Enjoy:
0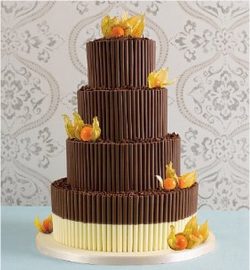 Hey Y'all!  Happy Labor Day Weekend!
I hope you're taking a break from your labor, actually, and having a good time on this, the unofficial last weekend of summer.  And if you, like me, live in a place where school has been back for a few weeks, it probably feels like this milestone came awhile back.
But we can still get out and enjoy each other, yes?
We are off to Read More
Other Posts You May Enjoy:
0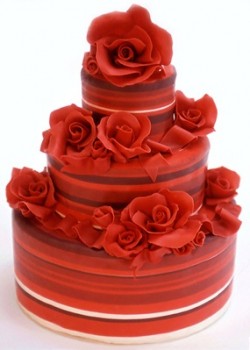 I'm not feeling very subtle today. So I went in search of a cake that would set Brooke convention (you know, beachy, classic, pearls, blah blah blah) on its head.  And this is what I found.
Isn't this stunning?  Bands of different red hues encircle an otherwise simple three-tiered round cake.  A band of white is added on the top and bottom layers for contrast, and the whole thing is trimmed out in Read More
Other Posts You May Enjoy:
0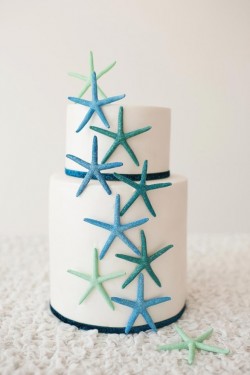 It's beachy, and it's sea glass blue and green.  That makes it perfect.
Now, while I wouldn't put actual starfish on a wedding cake, these gumpaste buddies are just the thing.  The cool colors – all greens and blues and hues in between – are some of my favorite, evoking water and calm…two things that speak to me in soft, soothing tones. The wonky ginormous bottom layer – is triple height the new Read More
Other Posts You May Enjoy:
0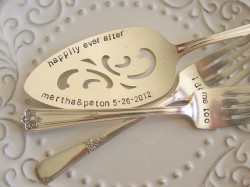 Hi There!
Oh my, but the autumn bug has officially bitten in this household!  Oh, sure.  There's some summer fun left here, and we're still wearing shorts and all, but it's actually been, well, NOT hotter than the hinges of Read More
Other Posts You May Enjoy:
0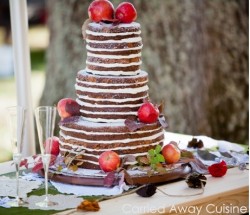 I'm feelin' fall, y'all.
Blame it on all the back to school pics.  My sweet girl went back last week, but just about everyone in my circle – far and wide – have seen their kids off to the school bus by this point.  And so begins the yearning for crisp, cool weather that never comes where I live.
Well, if I can't have Read More
Other Posts You May Enjoy:
2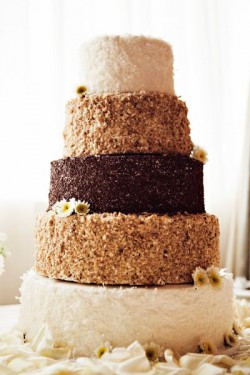 Don't you just want to grab a cup of coffee or a glass of ice cold milk and dig right into this baby?
Lots of cakes that we feature are all about the looks.  And so often, I almost can't imagine cutting into them because of the hours and hours of work they took to make.  But this cake invites you to get comfortable and cut a big ole' slab!
If I had to guess (and I do, since I know not who made the cake or what the flavors are) I would say that we have here layers of Read More
Other Posts You May Enjoy:
0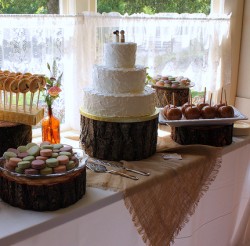 Don't you love when a plan really comes together?
I thought this sweets table was adorable.  Now, I could be missing my mark here, but it doesn't appear to be highly stylized…in other words, it might be DIY, y'all.  I'm not sure.  But it's really done well, don't you think?  From the square of burlap that adorns the table to the lace cafe curtains in the back, it's just all lovely.  The macarons are a little Read More
Other Posts You May Enjoy:
0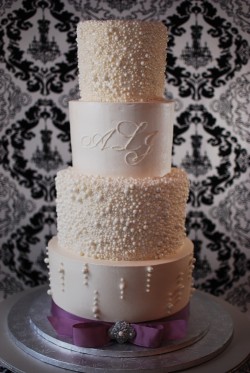 Oh. My. Pearls.
On the heels of Julia Child's 100th birthday last week, I've been in love all over again with pearls.  They are ALWAYS my first choice, the thing I gravitate towards in the case. And so, it should come as NO surprise that I loved the cake the instant I saw it.
It's just so perfect.  And there's something about that many sugar pearls on a cake that seems so, well, elegantly decadent.  That Jenniffer from Cup a Dee Cakes paired the pearls with a Read More
Other Posts You May Enjoy: