Modern Wedding Cakes
The term "modern wedding cake" may mean different things to different people. Here at A Wedding Cake Blog, we take the term to mean anything with a contemporary feel; a cake that eschews the traditional white on white, piped and buttercreamed and trimmed with swags or roses. Modern may refer to a bold use of color, or a contemporary decor or shape. It may also refer to choosing something other than the grand, traditional tiered cake – a cake of macarons, for instance, or an assortment of individual cakes. Modern means that you are updating the tradition: perhaps you aren't entirely throwing it out. You're just giving it a breath of fresh air.
0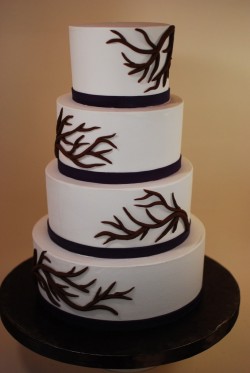 We're gearing up – or maybe you're already in full throttle – for the spectacularity that is the Winter Holiday Season – Merry Christmas and Happy Holidays to YOU!  But do you remember the old days?  The days when Christmas didn't start five minutes after you pushed back from your Thanksgiving seconds?  Or – shudder – right after the Labor Day picnic?
Am I showing my age?  Sigh.
Well…all of that to say that I do remember such a time…a time when you thought…hmm…it's not fall, it's not Christmas…it…just…is.  No pretty leaves, no super crazy snow.  Just beautiful bare Read More
0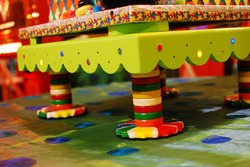 We are no stranger to Jenniffer from Cup A Dee Cakes. We've featured some of her gorgeous cakes before like this Scroll Pattern Cake and we have featured her on our Let Them Eat Cake Round Up more times than I can count.
However, we've never met her Read More
0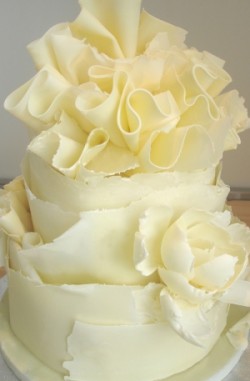 Today, we wrap up Ruffle Week 2011 here on A Wedding Cake Blog with a cake that has a little different take on the frilly furbelows of ruffles.
Ruffles. Meet Chocolate. Helloooo, perfection.
Don't you simply LOVE this cake? Two tiers of cake, enrobed in real chocolate, People. This isn't candy coating, or modeling chocolate. This chocolate has been tempered and made to resemble rustic ruffles, so that each slice of the cake yields a lovely snap. And check out the gorgeous flower pinned to the side, and the topping of – what else? – more Read More
2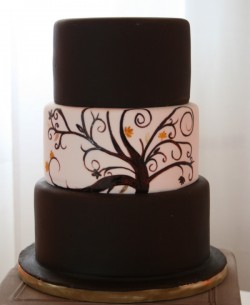 Isn't this pretty? So nice and…autumn-y.  I think Christen will be really impressed with me for posting this one.  What do y'all think?
This beautiful cake, made by Slice Cake Studio in Longmont, CO, was inspired by the couple's wedding invitation!  I would really like to see that stationary personally, because this is stunning and I think it just looks, well…yummy.
Three layers, perfectly uniform in height…the bottom and top covered with a rich, chocolate-brown fondant.  And sandwiched Read More
0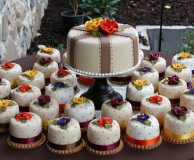 I'm going to answer Brooke's question from yesterday.
I celebrate Thanksgiving and Christmas to the max. From the time November 1st until January 1st I embrace as much of the holidays as possible. I know sometimes Thanksgiving can get brushed over because of the hustle and bustle of Christmas. But not in my house. My mums are blooming and pumpkins and warty gourds Read More
0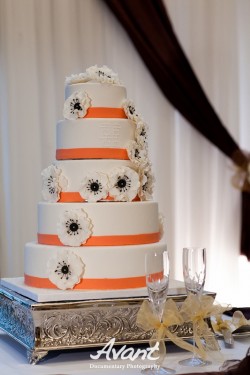 I heart this cake. Majorly.
Okay, with the "majorly" I majorly showed my age just now.
So, this is another fantastic cake from Shawna at Flourish Cakes. We have been working to get this one up for sometime between the two of us. But she had sick kiddoes, and I ran off to the wilds of West Virginia and well…here we are.
I thought this cake was breathtaking the first time I saw it. Its simplicity, the clean lines, the East-meets-West feel, the, I don't know, crispness Read More
0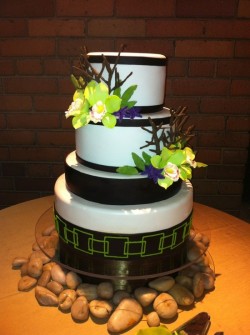 I super need some Zen today.
I am running a half marathon tonight – my first ever race, and I pick a half marathon – and I'm a little nervous about it.  My poor family.  I've been a little on the crabby side this week.
But then I remembered that I had this lovely, Zen-inspired cake tucked away in my "favorites" file for just the right time…and lo and behold, here it is.  Just the right time.
Just looking at this cake calms me the heck down. 
Isn't it elegant?  Four tiers, trimmed in black, Read More
0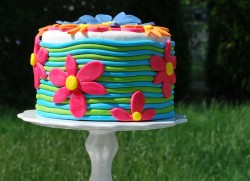 It's September 22nd..and guess what? I'm done with you summer. I'm done with the heat, the miserable heat. Although, I must add I will take the vacation back though. Anyway, as my goodbye to summer I thought I'd share this cute little summer cake in order to make room for all the fall I am going to be throwing in your Read More
0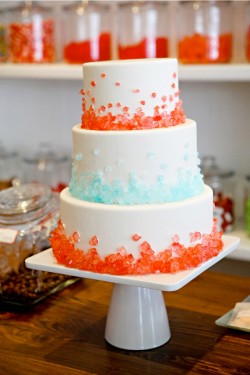 I've had this cake pinned on Pinterest for months. What kept me from posting it? Well, for a long time I had nothing but the picture and in case you haven't noticed I like to ramble and what good is rambling if you don't know what you're talking about?
Even though it's been sitting on my pin board just waiting to be published I loved it from the start. It's a gorgeous traditional three-tiered round cake covered in flawless white fondant. As you can tell the fun doesn't stop there. To add a little pop of color and some fun to this cake, rock candy was added to the base of each tier. That's what you can tell from the picture. What you can't tell just from the picture is that this cake was just a player in a fun and whimsical Read More
0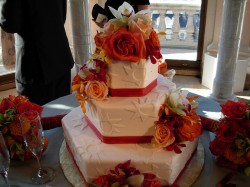 Happy Fall, Y'all!
Well…fall-ish. Reports are tricklin' into me from all over the country, from friends who are waking up to cooler breezes, nicer temperatures…my friend Matt in Texas even told me it cooled down to 90 in Austin yesterday.
But here in Florida, I'm manufacturing my fall Read More