Square Wedding Cakes
Square wedding cakes have gained in popularity over the last few years. While they still trail their round counterparts significantly, they are the second most popular shape that cakes take in today's wedding cake world. The couple who chooses a square cake may have a myriad of reasons for doing so. Maybe they just want something a little different. Or maybe a particular design feature that they have chosen works better with a square cake, such as a monogram. Perhaps the couple (or the bride, or the wedding planner or caterer) has a lovely old cake stand to feature, and it just so happens to be square in shape. Whatever reason, square cakes, whether separated by columns, or stacked with tiers directly on top of one another, emphasize the couple's attention to detail. Round cakes are the default; square cakes must be requested, and for that reason, seem just a little more special.
0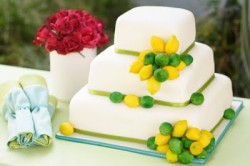 Happy Mother's Day, Everyone!  If you're a mom, I say, take this day off!  Put your feet up!  Insist on chocolate and refuse to do housework!  It will be waiting for you tomorrow, patiently, anyway.
And if you are blessed enough to have your mom still with you, give her a big hug and tell her Read More
1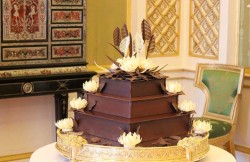 So…I know that we've talked about it.  But we haven't actually seen it.  Well, I hadn't, anyway.
Until now.
While everyone else was mooning over the giant, gorgeous, white behemoth of a cake created to mark the wedding of Read More
0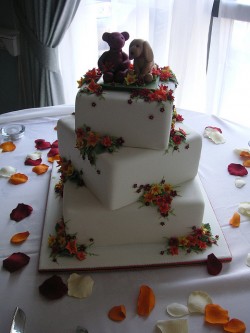 We have had so many days in a row of classic and traditional and stately, and well, regal.  I thought we could use a foil to all of that.  And so, I'm pleased to share this charming cake with you on the day after The Big Wedding.
This adorable cake features edible renditions of stuffed and furry friends – Cran and Ludwig – that played a role in the happy couple's special day.  But while the adorable figures perched atop the cake, decorated in beautiful and vivid pearlized hues, are striking, it was the other trim and the configuration that really Read More
0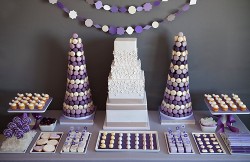 Purple, purple, purple!
So here is a fact.  Devoting an entire table to lollipops, cookies, cupcakes, macaroons, and cake at your wedding may in fact send one into a sugar shock.  Luckily, this particular photo is just a table set up by the talented Shauna Young for the Minneapolis/St. Paul Weddings Magazine Bridal Party.  The cake in the center is gorgeous with fun fondant flowers decorating the tiers.  I'm not even sure Read More
0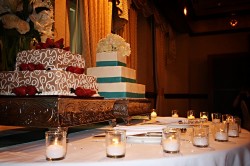 Are you a soon- to-be-bride?  Will your soon-to-be-groom have a groom's cake – and, if so, will it share the cake spotlight?
Let me explain.
We here at aWCB see lots and LOTS of groom's cakes, and they come in every shape and size – Read More
0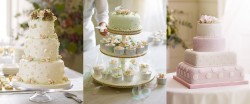 It was announced earlier this week that Fiona Cairns has been chosen by Prince William and Kate Middleton to bake their wedding cake. I've been eagerly counting down the days until my all night Royal Wedding Slumber Party (there will be one guest in attendance…that would be yours truly.) Since I am obsessed totally pumped about this wedding, I had to do a little digging on one Fiona Cairns.
I hit up the Fiona Cairns website and found Read More
0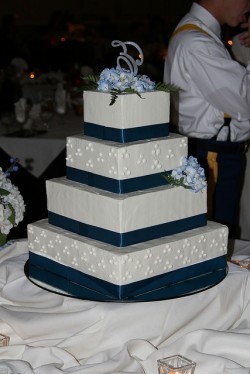 I love the color Peacock Blue. I was about ten seconds away from putting my bridesmaids in head to toe Peacock until my senses got the better of me and I realized I wanted to keep these girls as friends. I mean really is Peacock that bad? You wouldn't believe the glares I got from some of them.
Well ladies..bam! Because here is a gorgeous Peacock Blue wedding cake Read More
0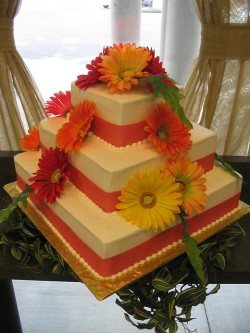 Since two days ago we run in the official start of Spring (do you hear that weather gods..warm UP already)..today I am going to feature a Springtime cake in honor of all those weddings that are just around the corner. Seriously, I have three coming up in the next month and I think every one of my Facebook friends is either expecting a baby or getting married this Spring and Summer. I am going to be busy!
This cake is a simple three tiered square cake with a coral fondant ribbon at the base of each tier. The beauty in this cake is the yellow orange and pink gerber daisies that are perfect for a Spring wedding.
0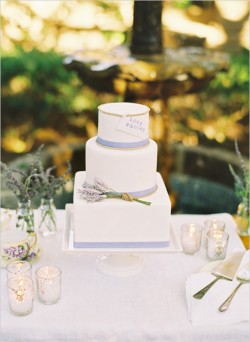 Hello, Fellow Wedding Cake Lovers!  This week, we have sprung forward, the moon appears a full 14% bigger than normal, and we're about to step into spring officially.  You could say that we're a little excited about what's going on around us.  And with pre-Spring Fever in the air (and maybe a touch of the Irish cheer leftover from earlier in the week) Read More
0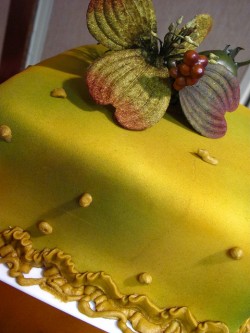 Top 'o the mornin! Erin go braugh! Eat yer Lucky Charms!
As you can tell by my greetings it must be St. Patrick's Day. So pull up your potatoes and let's have a green beer & talk cake shall we?
I must admit..I searched high and low for a St. Patrick's Day themed wedding cake. Wouldn't you know that St. Patrick's Day themed weddings are not entirely popular? By the way, if you've had one please e-mail me pictures for SPD '12. Thanks.
The best I could come up with was this lovely green(ish yellow) cake. While it may not scream "St. Patrick's Day" it does fit in with the theme I am going with here and will allow me not to get e-pinched..right? A green wedding cake is hard to pull off..but I love the way this cake looks! The icing is a cool yellow-green and topped with a gorgeous flower. To me the flower almost looks edible. I can't be sure but a girl can dream. The cool thing about this cake is that it is a smaller sized version of a much larger layered cake. Check out the rest of the Flickr Photo Stream to see the picture cake!