Groom's Cake
Once a rarity at weddings, groom's cakes have gained such popularity that now, it's rare to go to a wedding that doesn't feature this alternative to the main wedding cake. The tradition of groom's cakes in the United States has its roots in the South. Normally, a groom's cake is a gift from bride to groom, and acts as a foil to the often feminine, traditional wedding cake. Normally, groom's cakes do not feature anything flowery or feminine, and often take the shape of something with significance to the groom – a mascot for a favorite sports team, a college logo, a favorite hobby or beverage. Likewise, the flavors of the groom's cake will typically contrast with the wedding cake, and will often be something "dark," such as chocolate or a liquor-soaked cake of some sort. Another popular option for a groom's cake is a cheesecake, which typically does not lend itself well to being stacked in multiple tiers (although it can – and is – done.) Groom's cakes are usually served on a separate table from the wedding cake, and may sometimes even be served at the rehearsal dinner the night before. Want to represent your groom in some meaningful and whimsical way to your wedding guests? A groom's cake may be just the thing.
0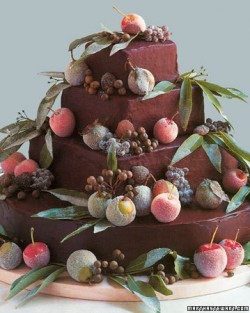 Once again we're talking about chocolate! I can't help myself – with all the Halloween candy at the stores my brain immediately thinks "chocolate."
I think chocolate cakes are perfect for fall and winter weddings – they're dark and decadent and seem to fit in with the colors and themes at this time of the year.
A chocolate cake in the summer would just be too much. But in the fall, when it's cold and blustery outside, it's perfect. Read More
0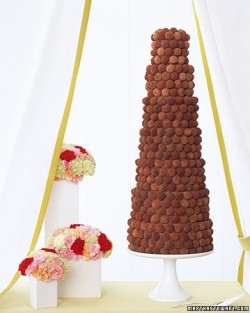 If I'm being totally honest, I have chocolate on the mind this week.
The other day I gave props to the gorgeous chocolate crepe wedding cake and today I'm talking about this amazing chocolate truffle tower cake.
Look at this cake. It is almost too amazing to eat.
Almost.
The cake is inspired by the corquembouche, a traditional French wedding cake. Each of the truffles is rolled in assorted cocoa powders which give the cake layers of color and flavor.
And if the truffles aren't enough to grab you, underneath the chocolate goodness is a yellow butter cake that is filled and frosted with more chocolate – chocolate ganache to be exact.
This is basically the most perfect chocolate wedding cake ever.
And if you're feeling particularly ambitious, you could actually make this cake. You know, as a DIY project. Check out the details here.
You'll find this truffle cake here.
0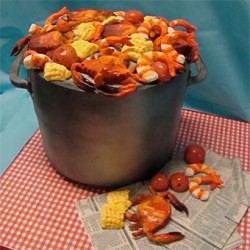 It's been a while since we featured a groom's cake, so I thought today was a good day to talk about them.
And I found a doozy of a groom's cake in my search for something unique and a little different.
I'm talking about this clambake-inspired cake. It is truly one of a kind.
And it's also perfect for your destination or beach-theme wedding.
Let's take a moment to really look at this cake. All of the items – the shrimp, crabs, vegetables – they're all made from sugar paste and white chocolate. Which means they're edible(and apparently the newspaper is also edible). I'm guessing the "bucket" is all cake too, and yes, that's silver-y frosting!
If you want a showstopper kind of cake – and one that your guests will remember for a very long time – this clambake groom's cake is perfect.
You can find this cake here.
The cake was designed by Debbie Does Cakes.
0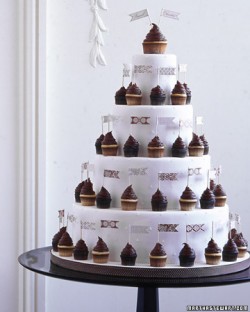 Sure, cupcakes were all the rage for weddings in 2013 and that trend is likely to continue this year.
But if you're looking for something that goes beyond "just cupcakes" why not consider serving a wedding cake and cupcakes! That's right – it's the best of both worlds.
I saw this whimsical idea here and just had to share it with you because it's really brilliant. Read More
0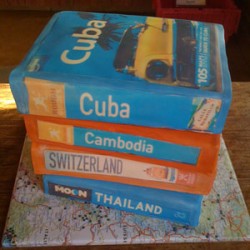 It's been a while since we gave the grooms any sort of cake love, so today I though it would be nice to feature a grooms cake.
And, since I'm in desperate need of a trip anywhere, I just had to show you this really cool groom's cake. It was featured in an article titled "Weird Grooms Cakes" but there's nothing weird about it in my opinion.
In fact, if you and your groom-to-be are avid travelers, this would be a completely awesome cake for him. Read More
0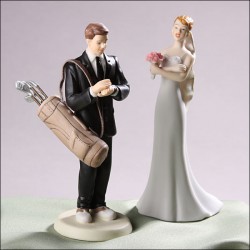 I love a cute wedding cake topper as much as the next girl and when one catches my eye, you can bet I'm going to share it with all of you!
If your groom-to-be is a golf fanatic and you want to surprise him with a nod to his hobby, this is the perfect cake topper for your wedding cake.
The groom figurine is dressed to the nines in his wedding day tux, but is carrying his golf bag, wearing his golf shoes, and checking his watch Read More
0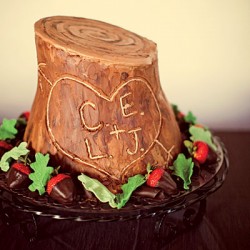 I recently attended a wedding where the bride and groom had an actual tree stump as the centerpiece on the gift table. The story was that they cut the tree down themselves and carved their initials in the trunk. It was quaint and rustic, and admittedly a little bit different. Read More
0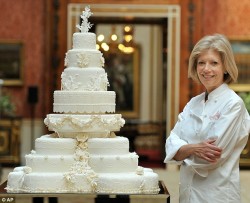 It's time for another wedding cake flashback, and this time it's all about the eight-tier "traditional English fruit cake" served at the wedding of Prince William to Kate Middleton. (I always feel like I should call her Princess Kate, not "Kate Middleton"…I mean, I'm sure she's changed her last name by now, right?)
Anyway, the first thing I want to know about this cake is Read More
0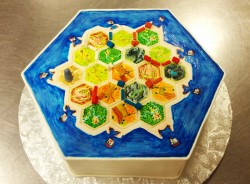 Recently, our friends at For Goodness Cakes, located in Atlanta, Georgia, shared with us one of their most unique groom's cakes to date: a cake depicting the game board from the uber popular board game The Settlers of Catan.
Christina from For Goodness Cakes told us the story behind the cake:
Nothing excites us more than a challenge and groom's cakes are almost always the ones that get our hearts (and minds) racing! This particular cake was a surprise from the bride to her game-loving groom. We had never heard of The Settlers of Catan game before, but the bride surely enlightened us! We soon found out just how many people are fanatical about this game and so we knew we had to do her and her groom justice.

In order for us to get the proper game set-up on the cake, the bride taught us exactly how to play the game – down to what pieces can move where and what tiles can be next to others! We were quite nervous in the beginning, but once she sent us pictures of game pieces in progress, this helped tremendously.

Of course, we could have printed out the board game graphics and merely laid them on top of a cake. But we knew that the whole point of the surprise was to truly recreate the game, by hand. And so we did just that! Each tile is a hand-painted hexagon made out of fondant, as is the board game layout itself. We did our absolute best to recreate the terrain illustrations in the actual game and so we felt a little bit like we were art students, re-creating a master work.

We couldn't have been happier with the results. And the groom, of course, was absolutely stunned and enthralled by it. As you can imagine, it was hard for them to cut into it and ruin a perfectly good game!
I love the story of how the team at For Goodness Cakes painstakingly recreated this board game with TLC for their clients, without taking any shortcuts.  And, as you can see from the photos, the finished product is completely awesome.
0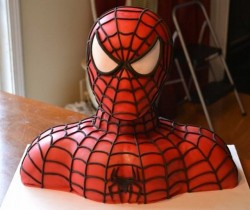 Hola!
We are still away for family Thanksgiving, but I didn't want to neglect the guys. So I'll just leave this right here.
How's your Christmas shopping going, by the way? I'll let you know about mine when I get back.