Modern Wedding Cakes
The term "modern wedding cake" may mean different things to different people. Here at A Wedding Cake Blog, we take the term to mean anything with a contemporary feel; a cake that eschews the traditional white on white, piped and buttercreamed and trimmed with swags or roses. Modern may refer to a bold use of color, or a contemporary decor or shape. It may also refer to choosing something other than the grand, traditional tiered cake – a cake of macarons, for instance, or an assortment of individual cakes. Modern means that you are updating the tradition: perhaps you aren't entirely throwing it out. You're just giving it a breath of fresh air.
0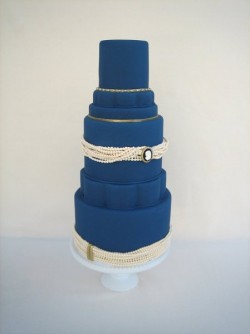 I'm a Pearl Girl, y'all.  And my favorite color?  That would be blue.  So, yes.  This is one fantastic cake.  Silver and blue and pearls, oh my.
Navy blue fondant.  Six tiers of varying height, with a couple of scalloped-edge layers thrown in.  And those pearls?  I believe those are handmade.  Can you even fathom how long those strands took to create?  What a classic and preppy cake.  Wouldn't it be so awesome to see the wedding that it went with?
This lovely showstopper Read More
0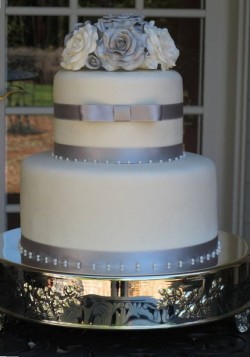 Last week I highlighted my favorite trend for 2012: gold cakes.  This week I've decided to go to the opposite end of the metallic colored spectrum…silver.  While gold is making a resurgence, it's trusty friend silver is still holding strong.  It's like chocolate and white chocolate.  White chocolate might be awesome when you first discover it slathered over pretzels or strawberries.  Then months go by and the white chocolate gets a little old and you need to go back to your old standby…chocolate.  Or in this case…silver.  That analogy was pretty bad.  So I scoured Read More
0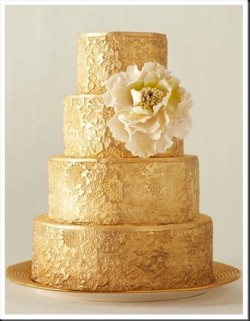 It's 2012 and it's time to start saying "that was sooo 2011″ about everything that we had to have eleven days ago but now is soo not cool.
What was hot in 2011 and (I think) is going to make a strong presence again in 2012 is gold. Gold, gold, gold. I love it. So I decided that for a little hump day treat I would feature some of my favorite gold cakes that have been clogging up my Pinterest file.
Until recently gold got a bad rap. I blame the 80's and gold lame' dresses (I had one..and matching black shoes with a gold lame' bow)  They were Sam & Libby.  Don't hate. Now Read More
0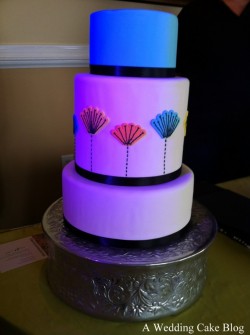 Happy Bridal Show Season!
Most of y'all who are reading us know this, but for those who don't…this isn't exactly the hottest time of the year for the wedding industry.  So, in a creative attempt to keep themselves busy, many vendors get together during the winter months and have bridal shows, so that prospective brides and grooms can meet vendors, learn about trends, and maybe even win a cool prize or two.
Last November (where does the time GOOOO?), I attended the Downtown Disney Resort Area Hotel's Bridal Stroll.  What a neat event!  We saw Read More
2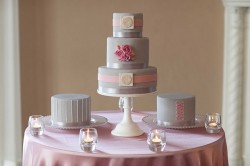 Remember just yesterday when I told you that Multiple Cakes was a trend to look for in 2012. Oh, I had this little beauty (beauties) up my sleeve when I wrote that post!
This Cake Trio takes the stacking away from the cake and separates them into three different cakes.  I can't say if there is any particular reason to do this other than pure aesthetics.  The largest cake is a three tiered cake–however a bit smaller in size than "typical" wedding cakes.  The cake is Read More
0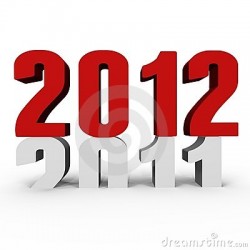 Take my opinion for what it's worth.  I am not a cake artist or a fashion forecaster (a real job…did you know that?)  However, I have been knee deep in cake batter for the last year AND I consider myself a fairly trendy girl.  Although it seems that trendy people never actually call themselves trendy…because that is so untrendy.  So maybe I'm not. Whatever, I have thoughts anyway.
While I can't see things like the ruffle and chevron patterns on cakes going away just yet, there are a few new looks we should keep our eyes on in 2012.  I assume a lot of them will end up on this blog!
The Mini-Cake.  It's not a cupcake or a cake pop, it's a full fledged cake shrunk down to size.  Very Alice in Wonderland if I do say so myself.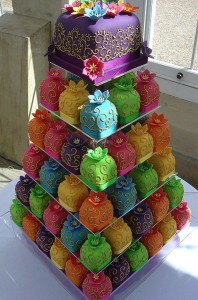 (Note, I never consider Pinterest a source..however this image was actually uploaded by the user).
Many Cakes. You read that right.  Not mini-cakes.  Many cakes.  On blogs and websites I am seeing more and more gorgeous pictures of a plethora of cakes.  I've seen three to as many as ten all in various colors or sizes but they all have a common theme among them that makes them match.  It's a trend I hope we see more of.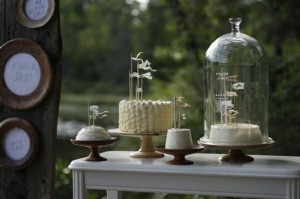 Minimalist Wedding Cakes. I am noticing an "M" theme here.  Wedding cakes are usually over the top and gorgeous.  Occasionally we'll find one with simple fondant and design but they can be pretty scarce (or eerily similiar to another cake we've featured).  Let's face it: there are only so many ways you can say, "This cake is white.  It is also round".  Now cake artists are coming up with alternate ways to stay minimal but always pack a little punch of creativity.  Like this cake that is stacked slightly off center with dark pearls (that may actually be blueberries) and an oyster shell.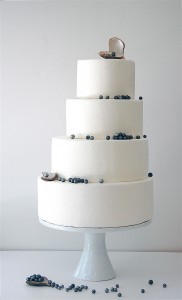 I know it will be another amazing year when it comes to Wedding Cakes.  Which trends are your favorite?  Which trends are you ready to see go?  Personally I love 'em all and can't wait to see what other goodies are in store for us in 2012!
1
Exactly one year ago today I jumped on-board this bandwagon called A Wedding Cake Blog. It's been a great year and I have literally been up to my eyeballs in frosting ever since. I've talked about cupcakes, traditional cakes, very blue cakes and been introduced to Cake Pops and Mini-Cakes. I've over-shared..I mean really..who knew that a simple wedding cake could inspire so much random blubbering? So on the eve of the eve of the New Year I've decided to take a look back at my top ten favorite posts of Read More
0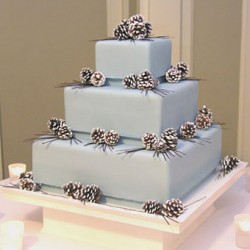 I'm not going to lie.  The day I figured out that spray paint + pine cones = amazing winter accessories for my house I kind of went nuts.  When I figured out that I already owned silver and gold spray paint AND my backyard was littered with pine cones so in essence this DIY decoration was free…I kind of flipped out.
I'm sure these pine cones aren't exactly spray painted (something about that seems incredibly unsafe to be near your edibles) but they are a gorgeous silver on top of an ice Read More
0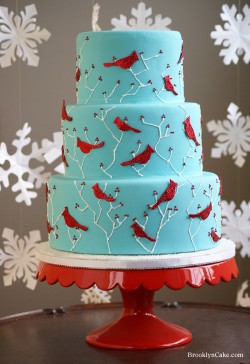 Did you gasp when you saw this cake? I did! If you didn't go ahead and take a minute and look at it again. Okay, now you're gasping.
Simply gorgeous. This cake was made by Brooklyn Cake in..well..Brooklyn of course!  The website says this as well and I totally agree but you don't have to just do red and green or silver and white to have a cake full of holiday cheer!  We are moving beyond Santa and Snowflakes this year people.  Of course if you've Read More
2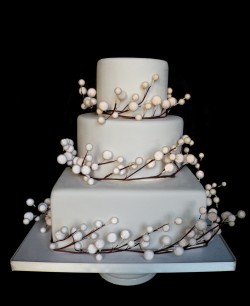 Happy December, Y'all!  We hope that you're having as much fun as we are with this holiday season!
Last night, we celebrated an early Canadian Christmas with good friends.  Keith, you see, grew up in Canada, and Robin keeps some of the fun traditions alive every year.  In the past couple of seasons, we've gotten in on the fun.  Tourtiere, a hearty French onion soup topped with a wonderful Gruyere, potatoes au gratin, and, for the first time, a buche de noel!  And we can't forget the fabulous French wines.  Yum!  It's a special Read More