Square Wedding Cakes
Square wedding cakes have gained in popularity over the last few years. While they still trail their round counterparts significantly, they are the second most popular shape that cakes take in today's wedding cake world. The couple who chooses a square cake may have a myriad of reasons for doing so. Maybe they just want something a little different. Or maybe a particular design feature that they have chosen works better with a square cake, such as a monogram. Perhaps the couple (or the bride, or the wedding planner or caterer) has a lovely old cake stand to feature, and it just so happens to be square in shape. Whatever reason, square cakes, whether separated by columns, or stacked with tiers directly on top of one another, emphasize the couple's attention to detail. Round cakes are the default; square cakes must be requested, and for that reason, seem just a little more special.
0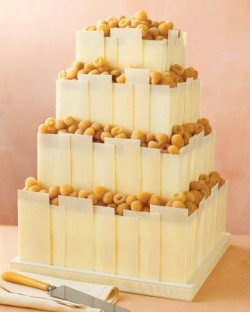 This cake is an amazing architectural masterpiece – four tiers of cake surrounded by white chocolate panels and topped with golden raspberries. And the biggest surprise is that this cake can be a DIY project!
The cake can be purchased frosted but undecorated from your local bakery (or if you're really ambitious, you could make the cake). The chocolate panels can be ordered from Read More
0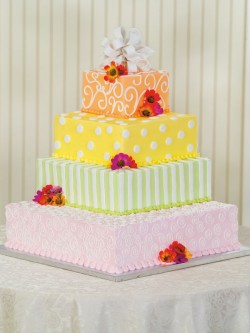 Since it seems like Mother Nature finally has her act together and has allowed spring to stay for a while, what better way to celebrate a wedding than this stunner of a cake?  I feel all springy just looking at it.
Why do I love this cake? Let me count the ways. First, Read More
1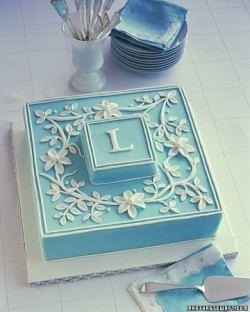 I am shopping for monogrammed stationery; ergo, I am naming this Monogrammed Wedding Cake Week. I know…it's already Wednesday. But there's time to catch up.
I absolutely adore this idea, especially for a small wedding. But even if your gathering is large-ish, what a beautiful cake! And so much prettier than a Read More
0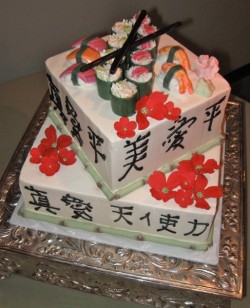 Time for another fabulous themed cake. This one falls in the "juxtaposition of things that definitely don't remind you of cake, but it's so pretty you can't help yourself" category.
I think this cake is absolutely beautiful. The Japanese characters are flawless, and the gumpaste flowers are incredibly lifelike. But the star of the show is the assortment of gumpaste sushi that adorns the top of the cake.
Wrapped in Read More
0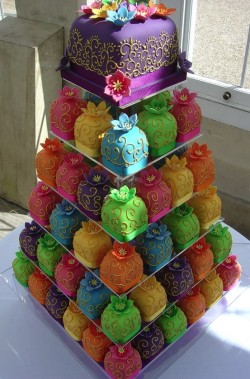 Happy Election Day, Everyone!  Isn't it comforting to know that the sun will go on rising and setting, regardless of who wins this election?
I thought we could all use some Read More
0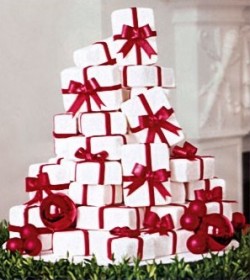 I figure if the big box stores are already advertising, and I'm already shopping, then it's okay for me to start the winter holiday/Christmas-inspired cake posting…yes?  I thought you'd agree.
This one had me at Red Ribbon.  Is this not completely, totally, utterly fabulous?  What appears to be a pile of presents is, in fact, a cake.  Or a pile of cakes.  I'm not sure.
At any rate, I totally Read More
0
Happy November, y'all!
Are they playing Christmas carols where you are?  Commercials featuring red and green?  Well…I don't mind so much.  No decorations will be going up for a month or so, and we've got Thanksgiving to look forward to, so we can keep it in check here pretty well.
If you're Read More
0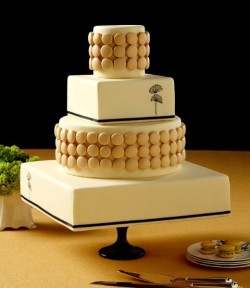 Happy Monday, Girls and Boys!
I wanted something a little minimalist today, and I found this lovely cake by Superfine Bakery on Wedding Wire.
There is nothing that Read More
0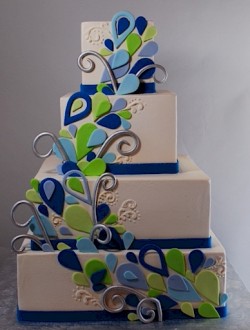 Jenniffer at Cup a Dee Cakes has done it again.  Bloomed out all genius on us.
I know that peacock motifs are hot hot hot right now.  Jenniffer wonders if it has anything to do with Katy Perry.  I wonder if it has to do with the resurgence of Edwardian love we've got goin' on right now. (Vintage once again means something other than 1982.  And I for one am thankful.)
But Read More
0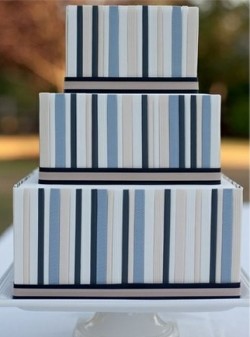 I went in search of preppy today. And preppy I found.
You may not believe this, but I'm not so much a froufrou girl.  My favorite colors?  Khaki and navy blue.  In fact, I'll give you a $100 if you can spy me one day out of my life without khaki on my person somewhere.
I really love tailored and unfussy stuff.  And today, I wanted to declutter a bit, cakewise.
I love this approach to cakery, don't you?  Sure, we've seen Read More